Storm Bronagh that brought some flooding last night particularly to parts of South Yorkshire continues to give bursts of heavy rain and gusts of wind in excess of 40mph towards the East coast, but this'll soon move away. It'll remain quite blustery though, with all parts 'in the same boat' today that'll see a mixture of sunny spells and showers.
There are already showers this morning in the West, and across Northern Ireland, they'll become more widespread for a time. The showers will be most frequent over Scotland, Northern Ireland, northern England and in the West, with some also coming through the Cheshire Gap to affect parts of the West Midlands and the Home Counties. Some will be heavy perhaps giving local hail and thunder, in quite blustery conditions at times. Elsewhere there'll be fewer showers and more in the way of sunny spells, with some eastern areas and places towards the South coast missing them altogether.
---
A storm forecast has been issued for today, which you can read here.
---
A moderate or fresh Westerly wind will continue to give strong or gale force gusts in the North and West and the heavier more squally showers, before moderating a little towards evening. It'll feel chilly particularly when a shower comes along, with a noticeable drop in temperature. This'll come as a 'shock to the system' particularly to southern areas where it's been so warm recently. As a result, temperatures will get no higher than 10 to 14C in the North and 15 to 17C in the South.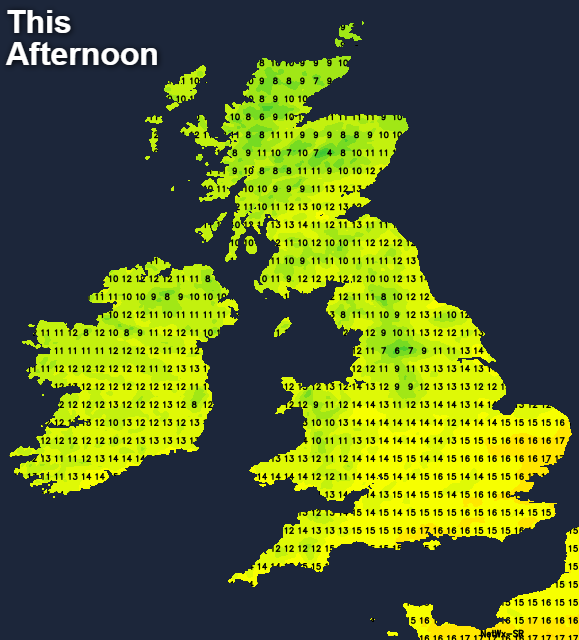 There'll be further blustery showers into the evening, but they'll fade after dark, largely becoming confined to North and West overnight. A few showers will also filter through the 'Cheshire Gap' for a time, but for most, there'll be clearing skies. A still blustery at first West to North West wind will continue to decrease, allowing it to turn quite cold A touch of grass frost is likely in some Scottish glens and rural valleys of the North where temperatures could fall to 1 or 2C, but 4 to 7C will be a more general minimum. During the early hours, cloud increases across the South West and towards the South coast ahead of the next Atlantic system, that'll bring rain to the Channel Islands and Cornwall by dawn.
The North and North East of Scotland continue to see showers on Saturday, but it shouldn't be as windy. For most of Scotland, northern England and probably the North of Northern Ireland though, the weekend will begin fine if though chilly. There'll be sunny spells especially during the morning and with lighter breezes, Saturday afternoon could turn out to be quite pleasant towards Fife, Lothian and The Borders, with probably increasing amounts upper cloud towards the English border. It won't be particularly warm though, with top temperatures only 11 to 14C. Remaining parts of England and Wales after a bright start see rain moving in from the West through the day, that'll probably get as far North as Lancashire and South Yorkshire by evening. Some of it will be heavy in an Easterly breeze, but in the far South milder South Westerlies seem likely to return. Top temperatures here 15 to 18C.
Much of England and Wales will have a wet night with the rain heavy in places. Further North and over Scotland in particular, there'll be clear spells in generally light winds. A ground frost is possible again in vulnerable rural glens, with lowest temperatures mostly between 2 and 6C. Further South in the cloud and rain it'll be milder, with temperatures probably not falling below 7 to 10C. There'll be an Easterly breeze across northern England, but a fresher South Westerly towards the South coast.