As the UK begins to heat up once more, with temperatures into the low, maybe mid 30sC by the weekend, Iberia is facing an even hotter end to the week. Forecast charts are widely showing temperatures of 40C+ across Portugal and for much of inland Spain. Tourists to these areas would usually expect heat and sunshine and the mid 30sC but if you are heading to Spain, Portugal or southern France then beware that extreme heat is forecast Thursday, Friday and Saturday for the start of August 2018.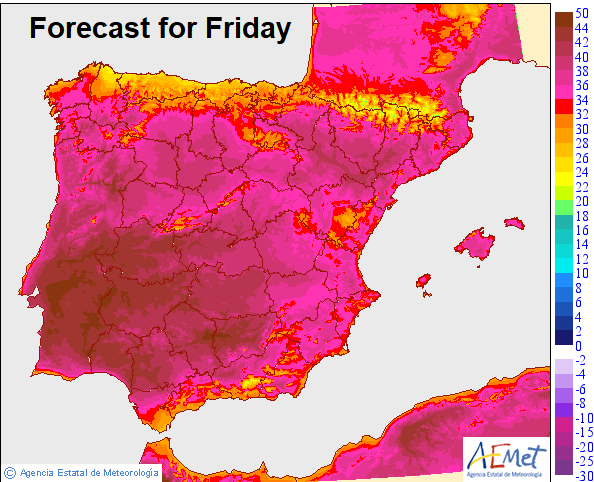 Ola de Calor - Ola - Wave (not Hola! Hello) Wave of Heat
Watch the scale on this chart, the top pinkish red is 44-50C @AEMET_Esp is the Spanish Meteorological Agency. The interior of Spain is always very hot, with most Madrileños leaving the capital city on the central plateau and heading for a month by the coast. Andulasia in the south becomes very hot and Corduba, well inland holds the record, just last summer.
They mention 44C for Guadiana and Guadalquivir in centre/SW regions, and real heat by night too. Cordoba airport officially recorded 46.9C in mid July 2017 and the nearby village of Montoro managed 47.3C on the same day as the current Spanish record. Seville is a large city (population similar to Leeds) and Cordoba itself is a sizeable city, a larger population than Cardiff and red-hot in summer.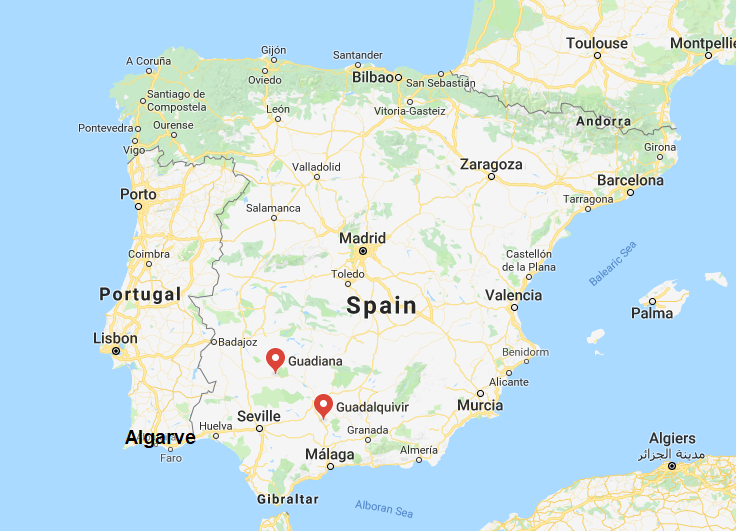 Western areas of the Iberian peninsula get hotter and hotter this week. All areas are now seeing temperature warnings. The individual warnings issued by each European country's Met services get brought together on Meteo Alarm, and you can see the orange colours for two days ahead. <Update 1st Aug now red- extreme high temps>