The June statistics are out. That's with data from the Met Office. It won't be a surprise to anyone that it has been hot and dry. Each day a whole network of observations are taken, either hourly, at regular longer intervals through the day or just every 24 hours for a min and a max in that period. Some of these sets of data have been recorded for decades, even centuries but other sites are new, or just recently included in the official listings. Once all the data arrives at the Met Office climate office at the end of the month, they have a very busy time looking over all the figures and comparing it to the various records. Highest rainfall, most sunshine, highest max temp for a month, for the year, ever. Also, seasonal data sets and comparisons to "average" conditions, the data taken from recent 30 years.
What can happen, and has happened this time in Scotland, is that a record appears to be broken but the data and recording equipment, site and setup needs to be checked and verified so that it meets the strict criteria for weather observations. A site in Motherwell has produced a reading of 33.2C on June 28th, 2018 with the on the day max being from Bishopton, west of Glasgow at 31.9C. The previous Scottish all time record was 32.9C, never mind the June record of 32.2.C. Eskdalemuir beat a 104 year record as temperatures climbed to 29.9C
So meanwhile, Porthmadog gets the top max temperature so far this year 33C 91F. Even that site is looking rather overgrown and so sheltered.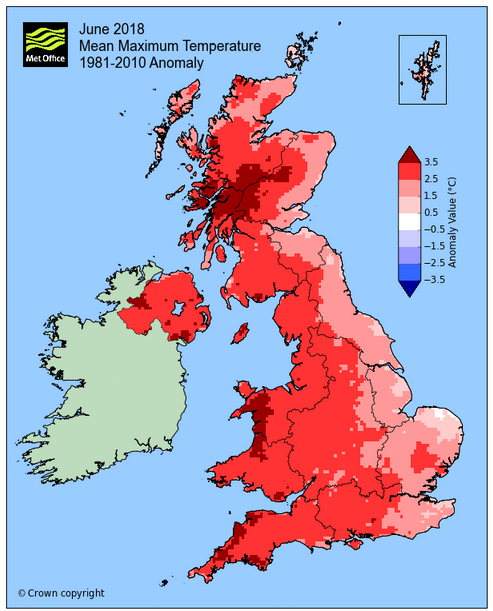 Back in 2003, the on the day top temperature was 38.1C (over 100F) for Gravesend in Kent. This beat the 1990 record of 37.1C in Cheltenham and temperatures records date back to 1875. However, it was months later when the Brogdale near Faversham (Kent) data was announced. That the UK's highest temperature was 38.5 °C on 10 August 2003.
The top temperature in England was in Rostherne, Cheshire on the 26th with 30.7C and Derrylin & Thomastown (Co. Fermanagh) Edenfel (Co. Tyrone) reached 30.5C in June.
The top sunshine amount was for Kinloss in Grampian with 17 hours on the 25th and many places have seen the beautiful noctilucent clouds this month around midnight and the small hours.