Apart from a few pockets around the Welsh marshes and in the South West, it's a virtually frost free start for a change. It's also mainly dry, apart from some patchy light rain and drizzle that'll soon clear from East Anglia and Kent. There's a good deal of cloud, but this'll break in places this morning to let the sun come through, although amounts will remain variable. Through the morning an Atlantic system will be moving into Northern Ireland, bringing rain to much of the province by mid-day.
The afternoon sees cloud and rain moving into the West of Scotland, the Isle of Man, West Wales and the far South West, while Northern Ireland remains wet. There'll be some heavy rain in places, and it'll turn misty, with patches of hill and coastal fog. Elsewhere it continues mainly dry with some early spring sunshine for some, but cloud amounts will continue to vary.
A South West wind will freshen a little and 'back' southerly, with gusts to strong or gale force likely later over exposed western coasts and hills. It'll become pleasantly mild over much of England, Wales and East Scotland where temperatures should reach 10 to 12C locally 13C in the sunshine. In North and West, however, 7 to 9C will be nearer the mark.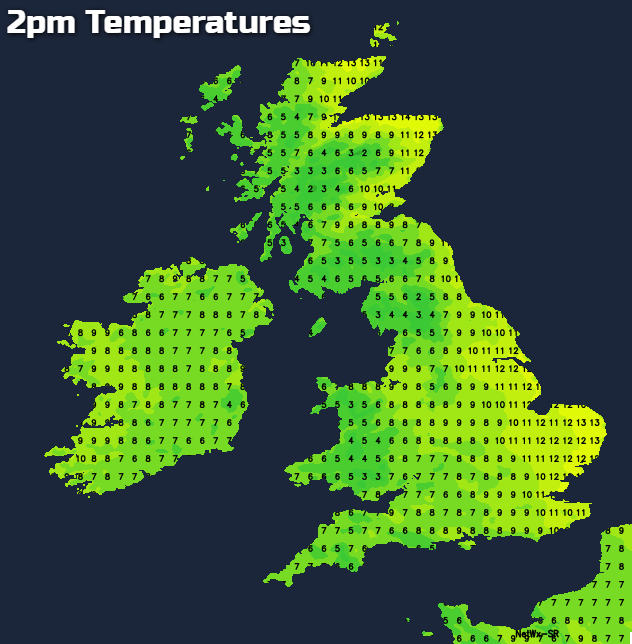 Although beginning dry into the evening in central and eastern areas, outbreaks of rain in the West spread to most parts during the night. The heaviest rain will be mostly over Scotland and in the West, where it'll be misty with patches of hill and coastal fog, but over the East and South of England, the rain should be lighter and patchy. Across Northern Ireland, you'll see a change to more broken skies, but there'll continue to be showers, especially over Tyrone and Fermanagh, with this type of weather spreading to Wales and most western parts by morning. A moderate or fresh South or South Westerly wind will be strong in exposed areas, before decreasing somewhat later. It'll turn chilly where skies clear but for most, it'll be another frost free night, with temperatures generally not falling below 4 to 7C.
Once patchy rain has cleared from the East, much of England and Wales will see some sunshine tomorrow, but it may be into the afternoon before Kent sees an improvement. There'll be a scattering of showers mostly in the West where a few could be heavy, but elsewhere, you'll be unlucky if you see one. Across Northern Ireland and Scotland, it'll be more generally unsettled with showers some lengthy and wintry on hills for a while over Scotland. Later we'll be watching a small depression in the Western Approaches that'll bring rain to the Channel Islands. This could spread to Cornwall and Devon, but its northward extent is uncertain at present. A West wind could be fresh across North Scotland for a while, but elsewhere, lighter breezes will be from the South West or South. It may feel a little chilly in the wind, but temperatures reach 9 to 11 locally 12C in the South, but only 6 or 7C in the far North.
The Channel Islands will have a wet evening and night, with the South West and other parts of southern England also perhaps seeing some rain but with continued uncertainty, this remains a threat rather than a promise. The South East may also see more cloud with patchy drizzle, but for most, it'll be a colder evening and night with clear spells. It should also be mainly dry, but there'll be some showers wintry on hills, most likely over the North and East of Scotland and North East England. Winds generally will be light except across the far North and in the South and South West where a North or North Easterly breeze may 'spring-up' later. There'll be a slight frost in rural areas where skies stay clear, with lowest temperatures mostly between -1 and +4C.