The 'beast from the east' is back but only for this weekend and while this'll be another pipe bursting very cold spell, it won't be quite as severe as the last bout. By Monday pressure will be building across the country bringing a drier spell next week. It'll also become less cold with a more 'spring-like' feel later, although it'll be turning unsettled again towards next weekend.
The very cold weather hasn't quite reached the South West yet but will soon do so. Here scattered showers at first will be replaced by mostly light rain and then snow already across southern England that's left a 'dusting' across Suffolk and parts of Essex. This'll 'peter-out' through the morning and then all areas today will feel the shock of bitterly cold air that's moved in overnight from the Russian steppes. While there be a few sunny intervals, England and Wales will be mostly cloudy. There'll be snow showers, particularly in the East, with Lincolnshire, places to the East of the Pennines and probably the North and East Midlands most prone to these. Some could be heavy later in the day prompting an amber warning of snowfall for these parts, particularly from the mid-late afternoon. Elsewhere the snow showers will be more scattered and not everywhere will see them.
Northern Ireland may be somewhat brighter, but here too there'll be snow showers especially over Down, Armagh and Antrim. Despite the cold, the North and West of Scotland will have the best of the weather today with some sunshine and only a few snow showers. In the East, however, more in the way of snow showers are expected to give a covering later mostly over Fife, Lothian and The Borders.
A fresh, blustery and bitterly cold East or North East wind will give strong or gale force gusts, especially over exposed coasts and hills. As a result, the thermometer will struggle to get much above freezing, with afternoon temperatures generally no higher than 1 to 4C.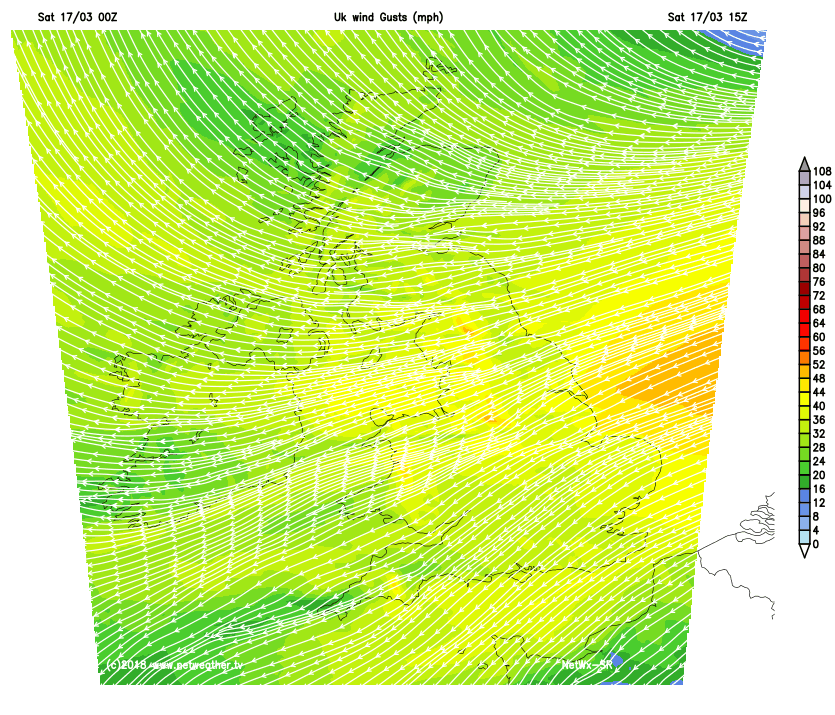 After dark, we have another amber warning of snowfall for southern England, the South West and South Wales. Snow showers may also become heavier and more frequent for a while into the evening across central and eastern England that may cause some disruption. Across North Wales and North West England, the snow showers will be more scattered and shouldn't be as heavy. Northern Ireland and the South and East of Scotland also see scattered snow showers, between clear intervals. In the far North and over Highland, most parts have a dry night with clear spells. A piercing East or North East wind continues to give strong gusts over exposed coasts and hills leading to a widespread moderate or severe and penetrating frost, with lowest temperatures -2 to -7C.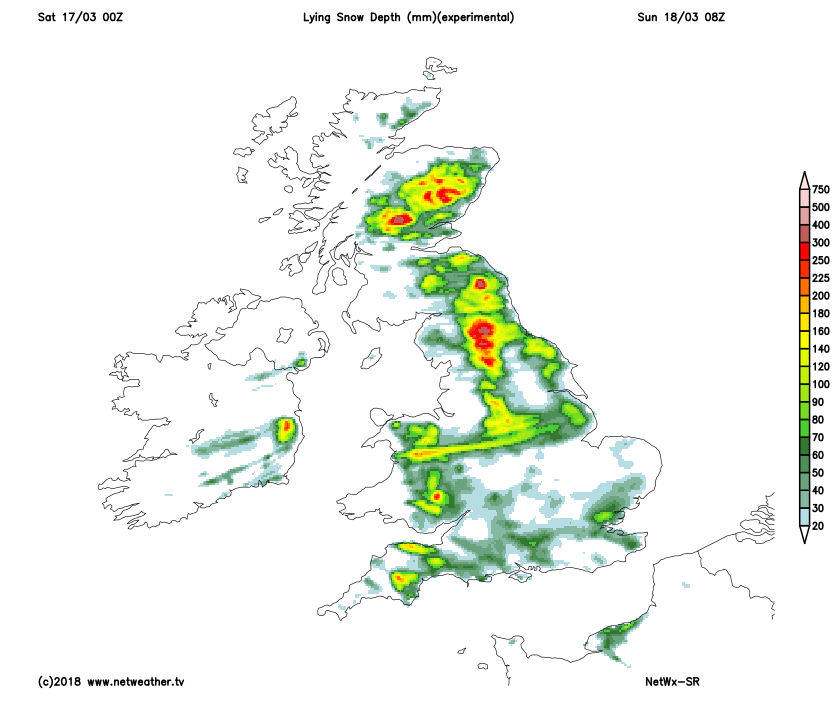 Sunday remains bitterly cold, still with that piercing wind. There'll be sunny intervals mostly in the West, but more snow showers especially over the South and East of England, where a few could be heavy. This'll lead to further falls mostly on hills, with the showers also filtering through to parts of the Midlands, the West Country and East Wales at times. Across the South West, West Country and South Wales, early snow should eventually clear. Elsewhere there'll be fewer snow showers between sunny intervals, with the North and West of Scotland fine if very cold for mid-March.
A moderate or fresh and bitter North East wind will be blustery in showers, but lighter across Highland and the far North of Scotland. Here some well-sheltered spots could briefly reach 6 or 7C into the afternoon, but for most, +2 to +5C will feel more like -2 to -5C in the wind.