Experiencing that will be enough of a winter blast, but the forecast is quite complicated as this low pressure interacting with the unusually cold air, forcing milder air towards the south coast of Britain.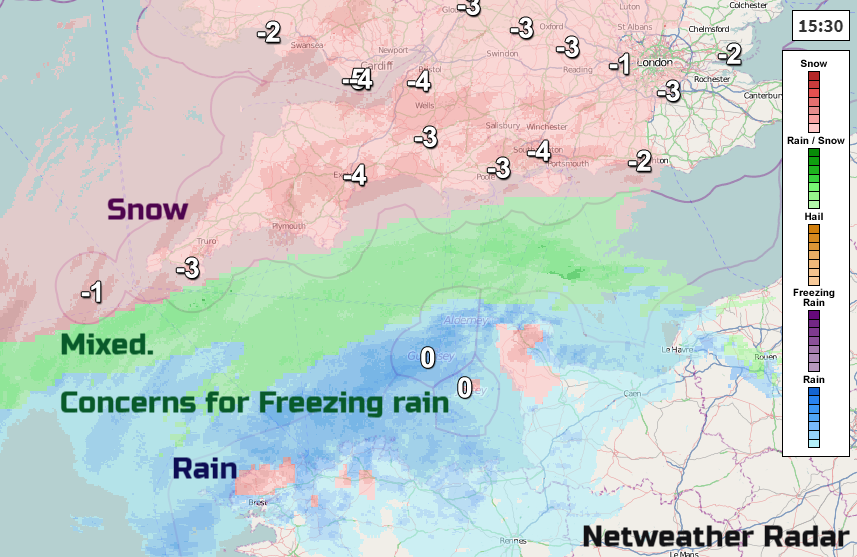 When will it turn to rain? That change from pure snow to a mix of rain and snow (sleet) and then to rain it tricky anyway to pin point. Also added into this situation is the possibility of freezing rain, a nasty precipitation which causes treacherous conditions very quickly. It is very difficult to forecast as small variations in temperatures mean you can get rain, sleet, it all stays as snow or freezing rain occurs. It usually falls in a narrow band, so Snowfall first then sleet, then freezing rain and finally rain as the warm front approaches.
Essentially snow falls and can turn to rain if there is milder air near the surface. If the air is all cold, it stays as snow. Sometimes, when the land is very cold, snow falls and encounters a nose of warm air above the surface and melts early. It then falls into the shallow cold layer, becomes supercooled liquid, hits cold surfaces like roads, runways and powerlines and freezes instantly. It will weigh down cables and it is a lethal surface to move on, even more dangerous as forecasting it is precarious and tricky.
This can lead to power supply cuts, find your candles and a torch now. The worst of this should have passed later on Friday although further snow is likely. There is a gradual easing of the intense cold for the far south by the weekend but for the north, it stays bitter with even more snow showers.