While there's much talk about a very cold spell moving in from the continent before the end of the month, for the moment it remains relatively mild. Pressure is also building across the country, so it'll become mainly dry by tomorrow, but beforehand, we still have a trough that's slow-moving affecting some eastern counties giving showers.
For much of Scotland, Northern Ireland, northern England, Wales, the Midlands, the West Country and the South West, however, it's a different story, where most parts are waking to a bright morning with some sunshine. Cloud amounts will vary, but further sunny spells are expected through the day and apart from a few showers at first mostly over Highland and the Northern Isles, it'll be dry. Across East Yorkshire, Lincolnshire, East Anglia, the South East and through parts of central southern England and the East Midlands there's more cloud that's giving some rain or showers. It could stay this way for much of the day, but the trend should be for skies to brighten to provide some sunshine, mostly over the East Midlands and central southern England and for the rain to become lighter and patchy.
A mostly moderate North West wind over England and Wales will veer northerly and become quite fresh along exposed coasts of East Anglia and Kent later, but despite this, temperatures will reach a relatively mild 7 to 10C. Where you see a lot of sunshine, however, some sheltered parts of South Wales together with Down and Armagh could like yesterday reach a very mild 11 to 13C.
There'll still be that weakening front lying across East Anglia and central southern England after dark that'll bring cloud, some of it quite low. Any rain that's left will 'peter-out' in a mainly dry night, with the cloud helping to keep a frost away in a light or moderate North or North Easterly breeze. As a result, temperatures shouldn't fall below 3 to 5C, but to the South and East of London where skies may clear, the thermometer could fall close to freezing later in the night. Cloud amounts may vary East of the Pennines, but elsewhere it'll be fine with clear spells. Light winds will allow mist, a few fog patches and a slight frost to form particularly in rural Scottish glens, as temperatures fall to between -2 to +2C.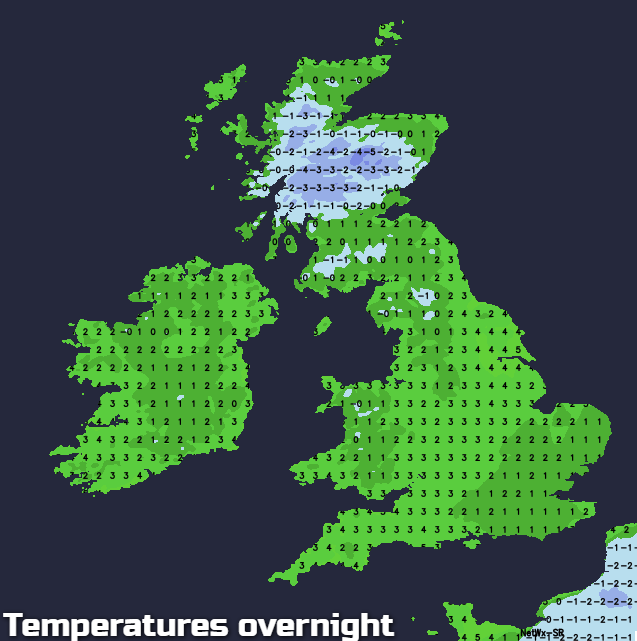 As pressure continues to build across the country on Wednesday, most parts will be dry. It'll probably be cloudy and misty in places at first with patchy drizzle through East Anglia, parts of the Midlands and central southern England, but it should brighten up to allow some sun to come through later. Most other parts once any patches of mist or fog have cleared, will have a fine day with spells of sunshine. Winds will be mostly light, but a North or North Easterly breeze across East Anglia and the South will make it feel chillier here. As a result, top temperatures will be somewhat down on Tuesday's values, although 7 to 10C will still be on the mild side for February.
The East and South East may continue to see patchy cloud into the evening and this coupled with a North Easterly breeze will help to keep a frost away towards the coast. For most though, it'll be a dry night with clear spells under a ridge of high pressure. Light winds will allow, mist and a few fog patches to form again chiefly in the Central Lowlands of Scotland, the east of Northern Ireland and across rural parts of the North West. There'll also be a slight frost that'll be more widespread, with minimum temperatures mostly in the range -3 to +2C. Towards morning Tyrone and Fermanagh may see some increase of cloud and a southerly breeze springing up, but it'll stay dry.