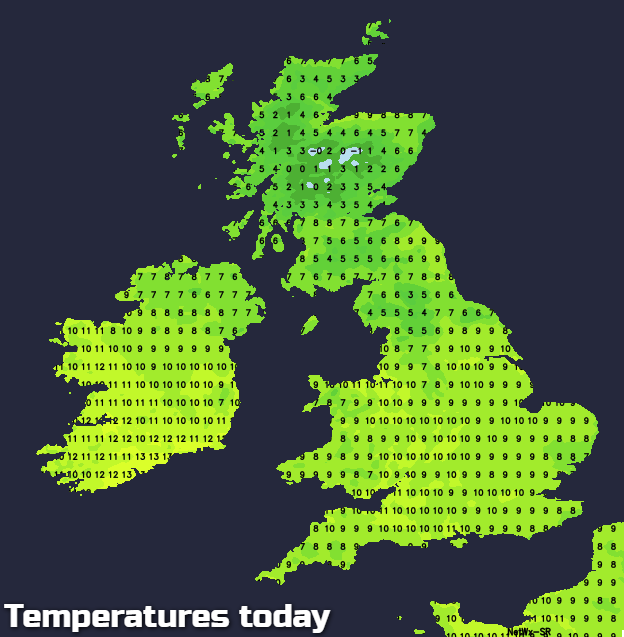 Overnight, those bits and pieces of rain continue to move east into Britain, so a cloudy, murky night on the way, with just the southeast corner perhaps keeping clearer skies long enough for an early touch of ground frost.
Monday then continues in a similar vein - loads of cloud and murk, drizzly, patchy rain coming and going but mild. The cloud and clag will slowly clear from the west though, so maybe a few brighter or sunnier spots in the southwest at least by the end of the day. Further north, a weather front will be arriving, bringing some further rain, and eventually re-introducing some colder, clearer air behind it, for the northern half of the UK at least.
The process continues Monday night, but the front is going to struggle to make too much progress southeast, as high pressure begins to move up from the southwest, turning winds more into the east and stalling its progress. That'll mean Tuesday is likely to keep a good amount of cloud and murk across central and eastern parts of England especially. Further west it may be brighter though, and into Scotland, there'll be colder, clearer weather with some wintry showers in the north.
It's from here on in, as the high pressure drifts ever further northeast that we start to draw in those easterly winds. There's some uncertainty as to the details at this point. Some models keep a decent nose of high pressure over the UK for longer, keeping the easterly winds lighter. One or two others take that nose further northeast and bring a stronger easterly quite soon after midweek, for a time at least. This would increase the chance of wintry showers in the east, but the most likely outcome is the more settled option up until the weekend or early next week at least. That means lots of dry and often sunny weather, with widespread overnight frosts, and just a relatively limited shower risk in eastern regions.
So, lots to keep an eye on and talk about - if you want to get involved head over to the Netweather community, where there are a number of discussions on the go about this potential for an SSW induced cold spell.