There's no getting away from it in weather circles at the moment, the talk of the town is the recent SSW. It's thrown the cat amongst the pigeons, and it's looking increasingly likely that we're in for a very cold end to winter and start to spring.
After our recent spell of model mayhem, caused by the SSW, things are starting to settle down a bit in that respect. But, there's still volatility, and each model and update is bringing a different version of events. So, although the odds are tipping in favour of the 'beast from the east' waking up and giving us a blast, it's still not nailed on. The current modelling is suggesting, that after a milder end to the weekend and start to next week, the first cooldown will be from the northwest. From midweek, we need to start looking east as the first wave of cold arrives. But, it's the weekend and next week that the much colder air is currently expected to arrive.
Here's one take on it from the GFS this morning:
Another model, ECMWF has a different way of getting there, but by next week has very cold air across the whole of the UK and Ireland.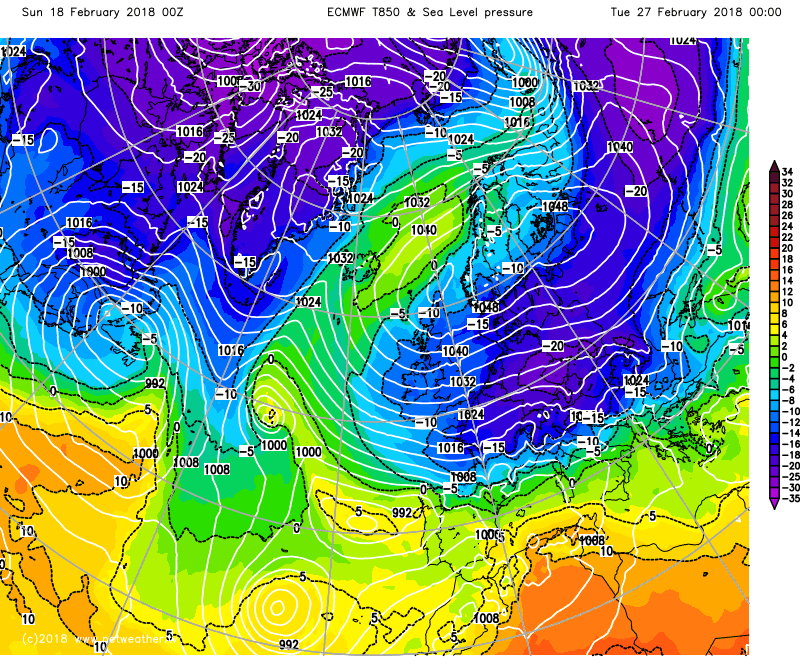 Jumping back in time to today, it's quite a different picture. We have a southerly flow of air, bringing milder temperatures across the whole country. Even Scotland, which saw a colder start to the weekend and yet more snow showers in the highlands, will get a breather from that today.
Just because it's mild, doesn't mean it's especially spring-like or sunny out there though, as we have a lot of cloud across the country. Best places for sunshine will be the southeast corner and also the north of Scotland. There's also some rain about - mostly across Ireland to start the day, but some patchy outbreaks will spread further east as the day wears on, with some showers likely to pop up ahead of it, over the Pennines in particular. Temperatures will reach 8-12c for a good part of England, Wales and Ireland. 6-9c for Scotland and Northern Ireland.