The SSW impact on the troposphere weather patterns can be fairly quick in propagating down, though can take a few weeks. The SSW occurring this weekend looks to have a quick impact on the troposphere. The cross section of the atmosphere, from the GFS model below, shows a zonal wind reversal (easterly winds=blue, westerly/zonal winds=oranges/reds) occurring high up in the stratosphere at high latitudes this weekend, towards the right of the cross section. This reversal in upper zonal winds downwelling over 10 days towards and into the troposphere.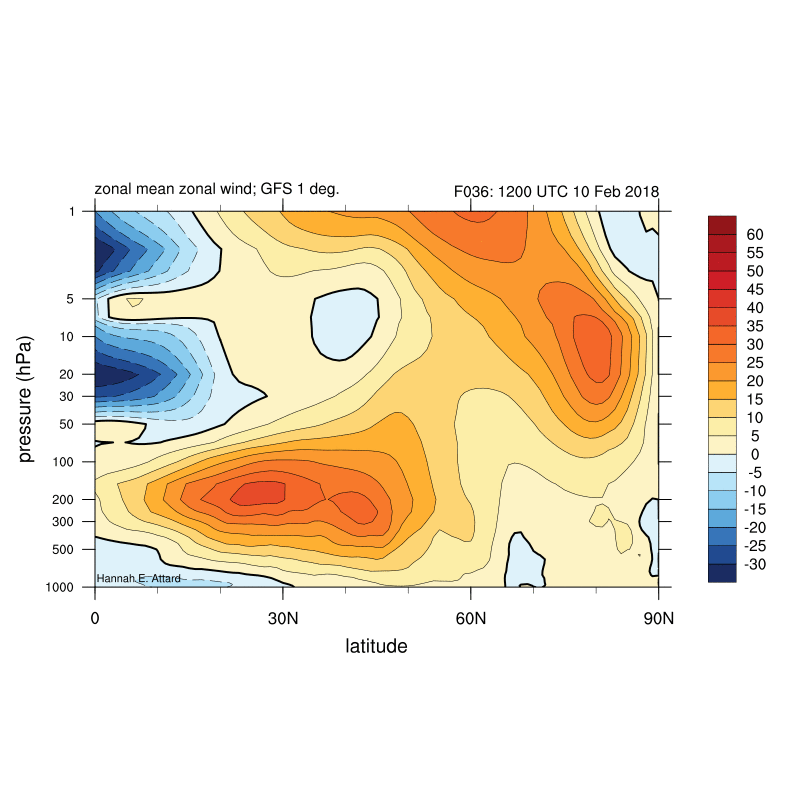 No guarantee of cold and snowy nirvana in winter following a SSW
Not all SSW events lead to cold spells in the UK and Ireland. Since 1981, perhaps almost half of SSW events haven't led to a significant cold spell in the UK, certainly not notable colder spells or cold snaps that aren't part of the usual winter weather in the UK most years.
The last cold and snowy spell which coincided with a SSW was probably January 2013, between the 10-25th. March turned out very cold that year, coldest since 1883 and was colder than any of the winter months preceding. A SSW started on 17th January 2012, there was a cold end to that month and February was slightly colder than average, with some very low minima recorded that month.
SSW in January 2012. Image courtesy of Patrick Martineau
Perhaps the most notable cold spell in fairly recent times which occurred not long after a SSW, was the very cold and snowy month of December 1981, the SSW started around the 5th of that month with that December ending up the coldest of the 20th Century, with the Central England Temperature (CET) was 0.3C for the month, though December 2010 was colder with a CET of -0.7C.
SSW in December 1981. Image courtesy of Patrick Martineau
Sudden Stratospheric Warmings tend to occur between late November and late March, historically they are less likely in November and December and more likely January through to late March.
So are we likely to see a big pattern change with nationwide cold and snow after this SSW?
The numerical weather prediction (NWP) models have, on and off, been showing high pressure over the Atlantic building to the northeast as described above starting around 9-10 days ahead (around 19/20th). The GFS and ECM both indicate this occuring on the Friday 12z output, EC a bit quicker: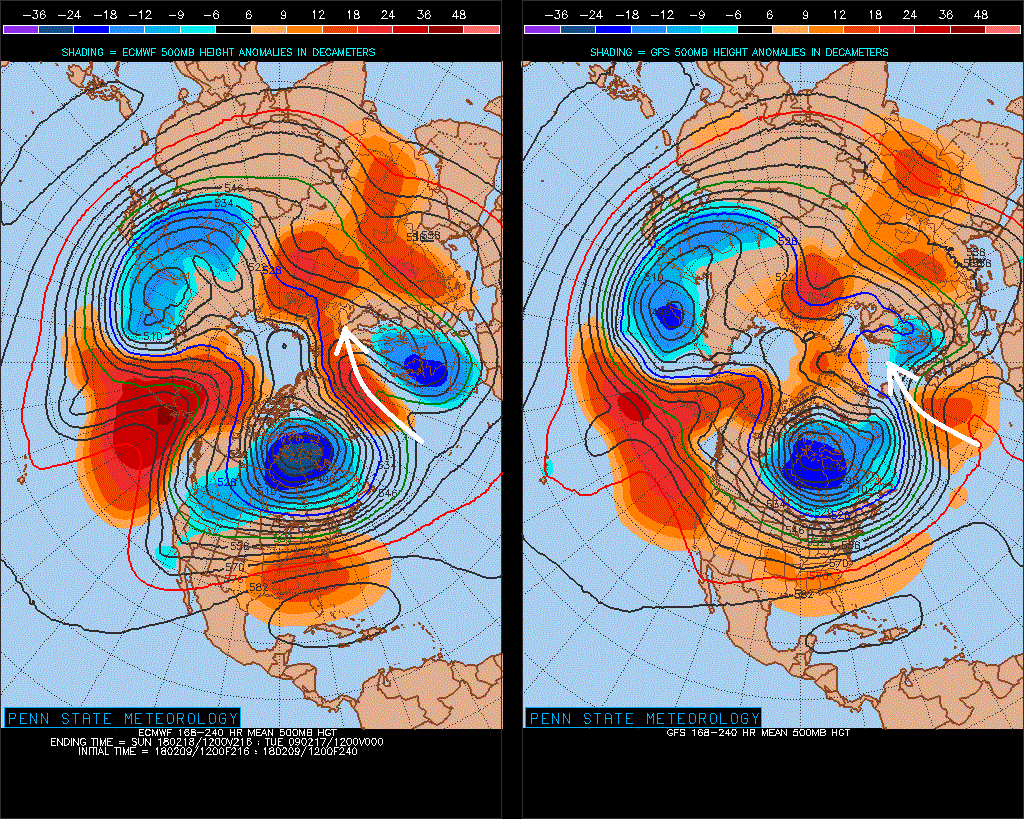 Quite often the models will chop and change when a large atmospheric driver flips and causes a pattern change in the lower atmosphere and this has been the case over the last few days. But as the SSW impacts start to come in the high resolution part of the models, i.e. out to 10 days with most models, then we may start to firm up on what lies in store and whether indeed we will see high latitude blocking manifest to our north and northeast to bring a cold end to the month. But there is no guarantees of such a pattern transpiring, given what I've already described about not all SSW events leading to colder and snowy weather.
The difficulty for the weather models is factoring other atmospheric drivers which maybe working against the impacts of the SSW on the troposphere. Atmospheric Angular Momentum (AAM) is a measure of how fast the atmosphere is spinning relative to the Earth's rotation, and is a complex variable that can have particular effects on flow configurations within the atmosphere.
Low AAM is often linked to a La Nina driven pattern, like currently, and such a combined pattern often drives a zonal or mobile westerly pattern that is not conducive to blocking. However, the Madden Juilan Oscillation (MJO) wave moves through phases 7 and 8 over coming days, phases which are associated with development of colder patterns. Phase 7 often leads to Atlantic high pressure extending further northeast towards Scandinavia, then phase 8 and 1 are associated with high latitude blocking, i.e. blocking either over Greenland or Scandinavia. Couple this with the favourable easterly phase of the Quasi-Biennal Oscillation (QBO), which is associated with weaker polar vortex in winter, and decrease in sun spot activity over the next few years as we approach a solar minimum, then there appears to be a greater probability that we will see high latitude blocking and a risk of nationwide sustained colder weather later this month. But no guarantee.