We are into a mobile, quickly changing weather situation now and it's also quite cold in polar maritime air from the Greenland / Iceland area. We currently have warnings of snow, ice and severe gales over the next few days, in a major change from the dull, dreary weather of last weekend.
Today sees us all 'in the same boat', with a mixture of sunny spells and blustery, wintry showers. These are already falling as snow even at lower levels over Scotland, Northern Ireland and parts of northern England, with the showers most frequent in the North and West. Here some will be heavy and squally giving hail, with local thunder also possible for good measure. Blizzards are likely in the mountains, with lying snow at lower levels turning a little slushy at times Over sheltered parts of East Scotland and to the East of the Pennines, there'll be fewer showers allowing more sunny spells.
View the latest radar here.
Across remaining parts, the showers will be most frequent in the West with the East having the best of the sunny spells. Some of the showers here too will be heavy and squally giving local thunder, hail and sleet. They'll fall mostly as rain in the South, but as snow on hills and at times at lower levels across North Wales and parts of the Midlands, but any snow at lower levels will be reluctant to settle.
A blustery fresh or strong West wind will give gusts in excess of gale force in more squally showers and to severe gale in exposed areas. This'll make it feel particularly raw, with temperatures getting no higher than 2 to 4C in the North and 5 to 7 locally 8C in the South as a result.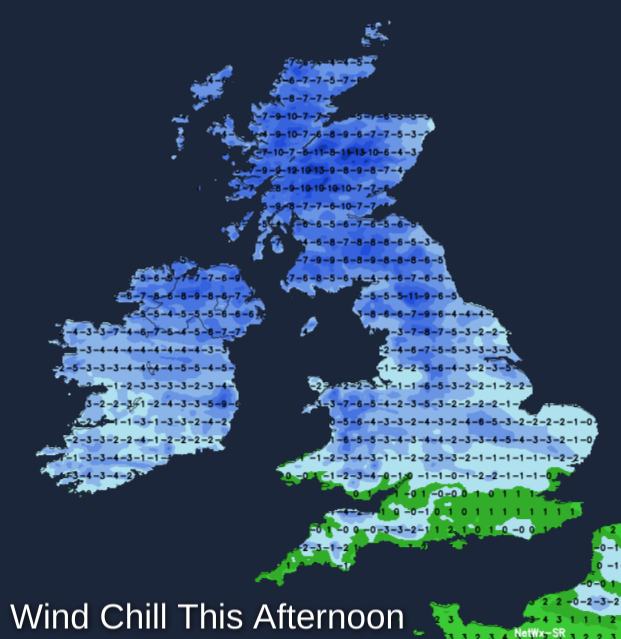 Little change is expected after dark, with further blustery, wintry showers heavy in places, that'll continue to be most frequent in the North and West. Blizzards are likely over the mountains of Scotland, Northern Ireland, the Cumbrian Fells and also the Pennines, with a covering of snow by dawn even at lower levels, particularly in hilly areas such as the Staffordshire Moors. Surfaces made wet by showers will also freeze, leading to hazardous, icy conditions by morning especially in the North and where you have shelter, with eastern areas seeing clear spells and fewer showers.