Little change is expected after dark, with further blustery, wintry showers heavy in places, that'll continue to be most frequent in the North and West. Blizzards are likely over the mountains of Scotland, Northern Ireland, the Cumbrian Fells and also the Pennines, with a covering of snow by dawn even at lower levels, particularly in hilly areas such as the Staffordshire Moors. Surfaces made wet by showers will also freeze, leading to hazardous, icy conditions by morning especially in the North and where you have shelter, with eastern areas seeing clear spells and fewer showers.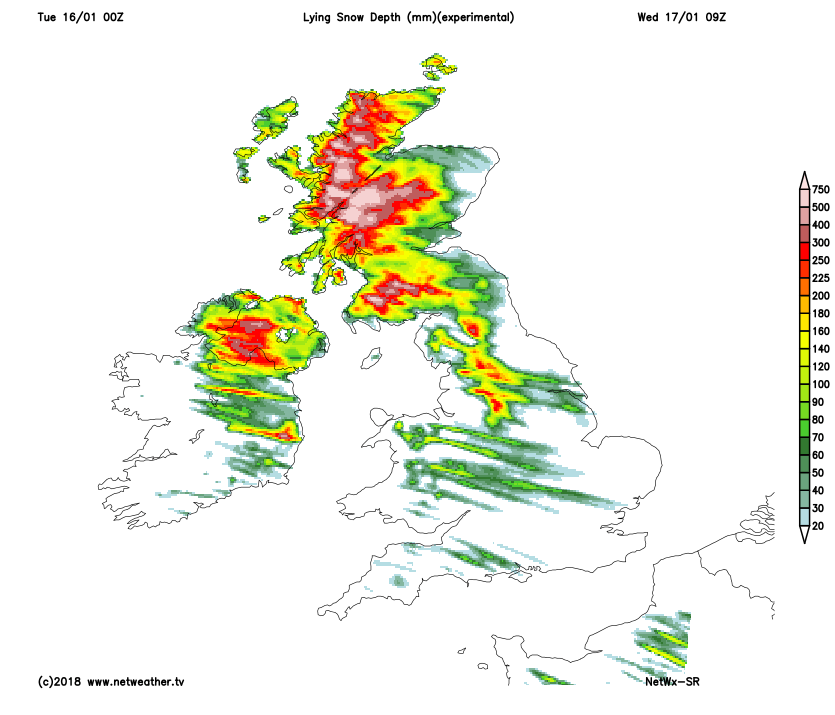 A very raw and blustery West wind may moderate a little but will continue to be fresh or strong, with gusts to gale or severe gale force in exposed areas and during more squally showers. Despite this, a fairly widespread frost is expected, with minimum temperatures mostly in the range -2 to +2C.
Wednesday begins similarly after an icy start, with further blustery, rain, hail, sleet and snow showers. By the afternoon these will be fading giving some sunshine, as a weak transient ridge crosses from the West. By dusk, though cloud will be increasing again across Northern Ireland and in the West ahead of another depression moving in off the Atlantic. A fresh or strong West wind will gust to severe gale force in exposed areas at first, before decreasing somewhat and 'backing' into the South West through the afternoon. It'll also be a little less cold although not feeling so allowing a thaw at lower levels where you have snow, with top temperatures 3 to 5C in the North and 6 to 8C in the South.
After a cold start to the evening in the East with a touch of frost, England and Wales turn wet and windy, with rain preceded by snow on hills. This'll be heavy, accompanied by a South Westerly gale that could give damaging gusts to 70mph in exposed areas. Northern Ireland has heavy rain and hill snow, followed by a severe gale and squally wintry showers. Over Scotland, winds generally should be lighter, but here you'll see snow rather than rain, with heavy, falls possible in the central and northern areas depending on the depressions track. Here temperatures will be close to or just below freezing, while much of England and Wales temporary turn milder with temperatures 7 to 9C for a while.