It has been a cold, frosty night with ice to watch this morning. Temperatures have fallen below freezing for many areas with -12C in northern Scotland. Other parts of the UK could see that low tonight. There is lying snow from yesterday's Sunday falls and school closures, mushy bits which have since frozen. There are still travel delays and disruption and windscreens to defrost. There is still a wintry mix in the wet cloudy weather over SE Britain this morning and a feed of rain/sleet and snow
Sennybridge in mid-Wales saw 33cm of snow, over a foot, Bromsgrove, West Mids had around 16cm. London also had settling snow just for a time with enough for weekend sledging for many parts of southern and central Britain. It's not going to be like that again today
There is a vigorous low pressure over France today which has brought stormy weather to Portugal and Spain and now wind warnings for France with the risk of snow and ice in the north.
This storm is bringing rain over southern and SE England with a bit of wet snow and sleet mixed in, even proper snow for the Downs. Also brisk cold winds, it's quite unpleasant out there with strong NE winds for Kent today. This cloudy damp, slightly wintry weather will rotate over East Anglia today, as central southern counties become brighter and see more winter sunshine. For most of the UK, it will be a clear, cold day with ice issues and a cold north wind.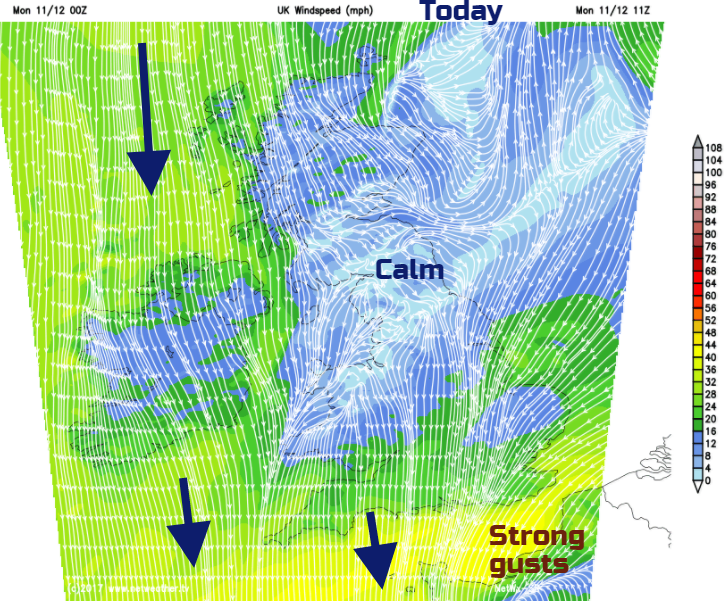 Showers continue to feed down from the north just into N.Ireland for counties Tyrone and Fermanagh, into northern and NE Scotland by this afternoon and clipping western Wales and Cornwall. There could be a few more scattered over Wales and eastern Britain this afternoon so worth keeping an eye on the radar for coastal fringes in the northerly flow.
The skies will be clear overnight, and it will be even colder. A few wintry showers will be blown into North Sea coasts in the evening before the Atlantic begins to have an influence