Parts of Britain have a yellow Be Aware warning for wind, today mostly in the west then overnight into Tuesday morning. Overnight the strongest winds will be across a central swathe of the UK and then move across to NE England and eastern Scotland for the Tuesday morning rush.
STORM SURGE: A dangerous storm surge is expected to produce significant coastal flooding near and to the east of where the centre of the post-tropical cyclone makes landfall. Near the coast, the surge will be accompanied by large and destructive waves.
The coastguard has already warned for people stay away from shores and coastlines. The inshore waters forecast for western Wales mentions Violent Storm force 11. Fastnet and Shannon, the sea areas off southern Ireland mentioned Southerly Hurricane Force 12 expected in the shipping forecast with Phenomenal Sea state.
RAINFALL: Ophelia is expected to produce rainfall amounts of 2 to 3 inches (50 mm to 75 mm) with isolated totals near 4 inches (100mm) through Tuesday across western Ireland and Scotland. Across eastern Ireland, rainfall amounts will average around 1 inch (25 mm)or less.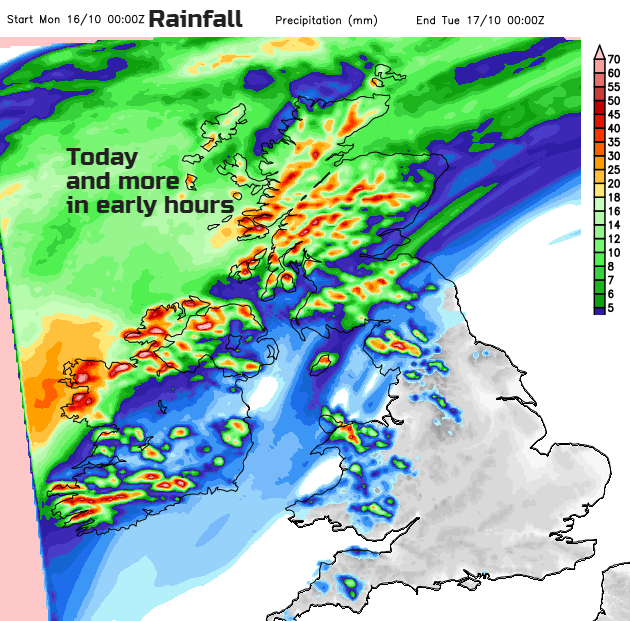 Temperatures
It is very warm. Tropical air has been pumped up ahead of Ophelia and overnight temperatures along the south coast of Britain stayed up I the high teens. The warm front is bringing rain over Scotland and the cold front is already beginning to edge in from the west. So, with lots of cloud and this frontal band on the way, we have to see how high the values reach. 25 or 26C would be possible in this air mass, but there could be too much cloud and not enough time, so 20 to 23C looks more likely. It feels bizarre for mid-October but we do often see a bit of warmth at this time of year. Remember back to 2011, early in October Gravesend, Kent reached 29.9C on the 1st.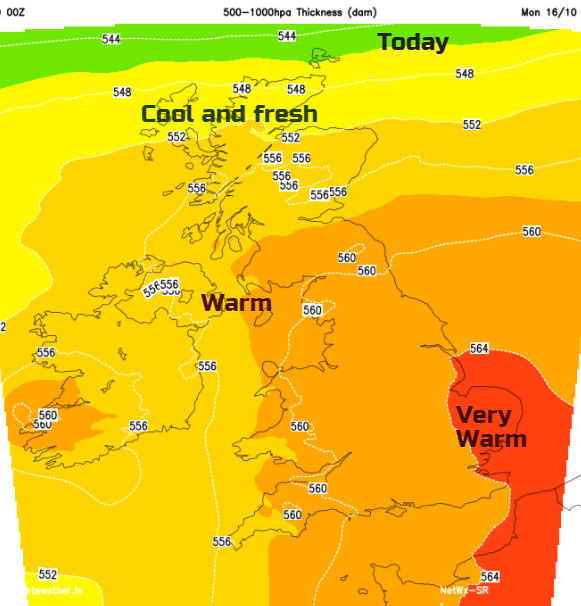 Through this evening much of Ireland, Britani and Northern Ireland will be in strong S to SW winds, still just fresh for SE Britain which is furthest from this storm. A gale force easterly will flow across northern Scotland and then the Northern Isles. The SW winds take hold across the British Isles and Ireland by midnight, still wild in the Irish Sea but hopefully by then without the highest damaging gusts.
The low then draws away through the Moray Firth, with plenty of lee gustiness for NE England and eastern Scotland, through the Forth early on Tuesday. There ends Ophelia's visit, what an astonishing meteorological journey. We will await the analysis.
Wind strengths and Sea states explained
Why this is no longer a hurricane
Hurricane Ophelia community forum thread
Warnings: Met Eireann with timings, UK Met Office, Isle of Man