Bewick swans head from the Russian tundra across Europe in October/November and return in February/March time. A mild early spring in the UK can result in the swans leaving a bit early to head to their Arctic summer home. The question is, do they arrive early before a harsh, snowy UK winter?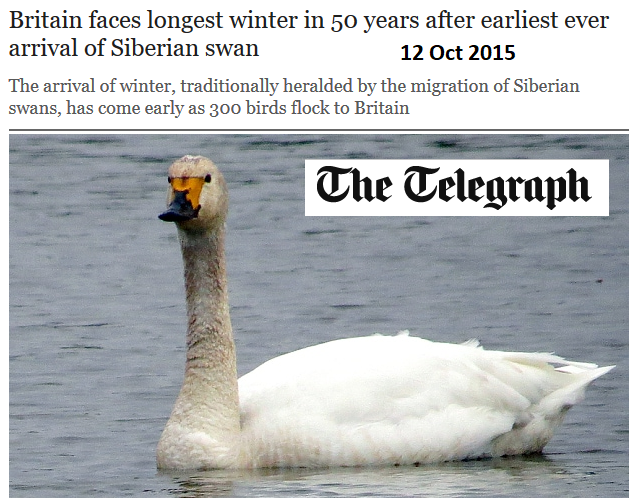 Already questions are being aired about whether we will have another cold winter, with memories of 2010/11 fading somewhat after recent snow-less winters. People talk of hedgerows and bushes laden with berries, farmers have other local indicators. "When the wind is out of the east, tis neither good for man or beast."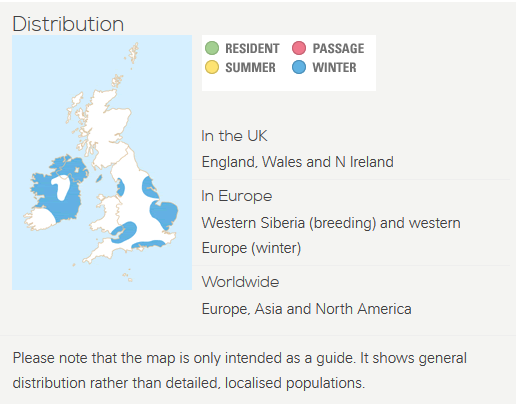 About 7,000 Bewick's swans winter in the UK, clustered in certain regions, leaving behind the severe Arctic conditions for the relative warmth of our winter months. Their arrival and departure dates have been recorded for many years, for example since 1963 by WWT (Wildfowl & Wetlands Trust) at Slimbridge, Gloucestershire. In 2015, the first swan arrived on 11th Oct, a full 25 days earlier than last year and the earliest date on record. In Hampshire the average date around 2nd November. The early arrival in 2015 did not herald a severe winter, even after the usual tabloid hype.
The swans did have more success in 2010.
Thursday, 21 October 2010 As you may have seen in the papers or on breakfast TV earlier in the week, we had a nice a surprise at the beginning of the week at Slimbridge when the first eight Bewick's swans of the winter arrived - a good couple of weeks earlier than the last couple of years. Of course, there's folklore that suggests that an early arrival of the swans means we'll have a cold winter. In 40 years of studying the migration of Bewick's swans here at Slimbridge it does seem that their arrival is accompanied with or followed by a cold snap - like the one we've been having this week.