After the terrible flooding from Hurricane Harvey and Irma battering the Caribbean and Cuba, then pushing a storm surge into Florida; this year's hurricane season has already demanded a lot of attention. Currently lurking in the Atlantic is Cat 1 Hurricane Jose, which has been meandering about, was worrying the Caribbean for a time, but now being watched from North Carolina to New England and eastern Canada.
"SURF: Swells generated by Jose are affecting Bermuda, the Bahamas, and much of the U.S. east coast.
These swells are likely to cause dangerous surf and rip current conditions for the next several days in these areas."
The Hurricane is expected to weaken soon as it moves over cooler waters on its path northwards but there is still a wide area under warnings about sea conditions along much of the east coast of the US.
Next is Depression Lee. This is weakening and looks to be fizzling out, mid ocean.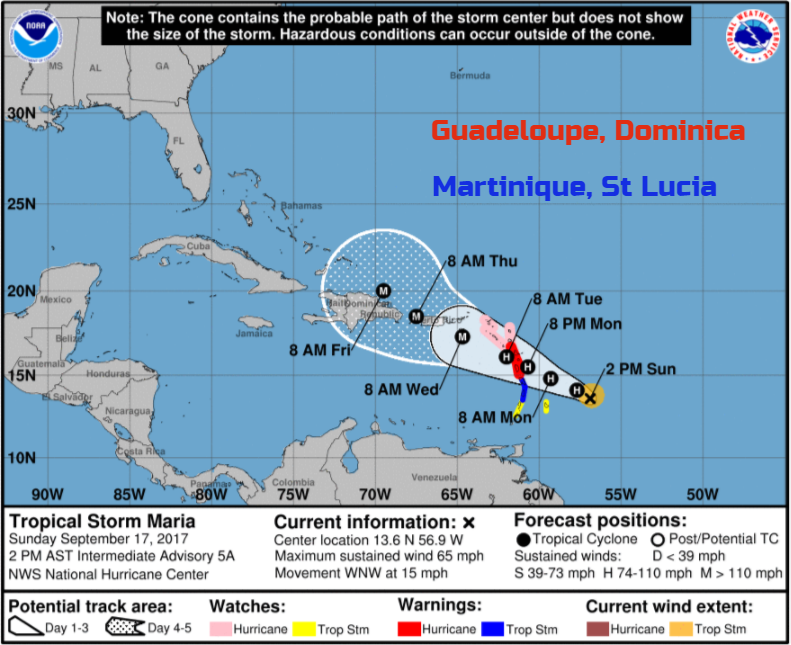 Of more concern is recently upgraded Hurricane Maria. Hurricane warnings are out for Guadeloupe, St Kitts, Nevis and Monserrat, and the island of Dominica. There are wider warnings/watches mentioning destructive winds, heavy rainfall with isolated totals of 20" bringing the risk of flash flooding and mud slides, storm surge of 4-6 feet