As usual, a certain tabloid has run a dramatic weather story. But much like the big freeze stories that run every Autumn, it's best to take it with a large pinch of salt.
The details
Winding back to today, after the showery day yesterday for England and Wales it's a much more settled picture. There'll be some good sunny spells, especially further south, and just the outside risk of a shower or two further north. There is some rain moving southwest to northeast, across Northern Ireland this morning with Scotland following behind. It'll be quite patchy in nature and parts of southeast Scotland may miss it altogether, but with the extra cloud, it'll be a fairly cool feeling day.
Temperatures will peak at 15-18c for much of England and Wales, Northern Ireland and Scotland, 14-16c. The Foehn effect may help somewhere in the northeast of Scotland head a few degrees higher though.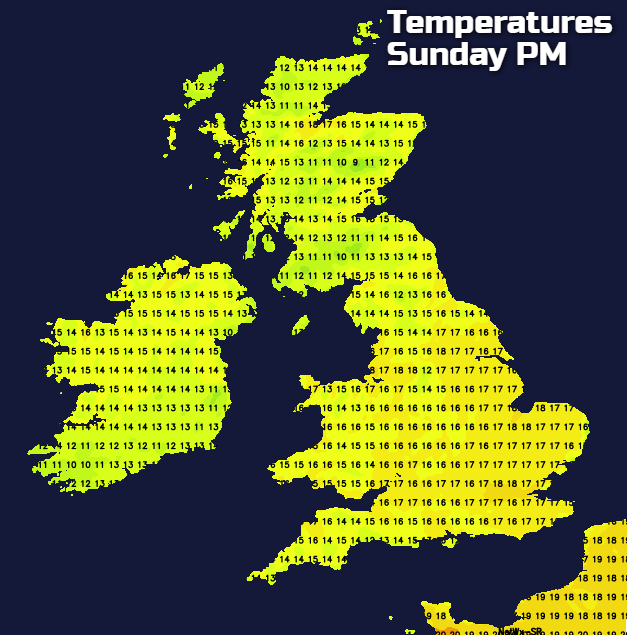 Monday brings with it the threat of some rain, this chiefly for the Midlands north as a weather front moves through. The rain will start the day quite light and patchy as it crosses Ireland and fires a few showers ahead of it over northern Britain. But, we're going to have to watch it as it moves further east during the day as it may well fire up to bring some really heavy, thundery downpours. This is most likely to affect Scotland, but parts of northern England may get in on the act as well.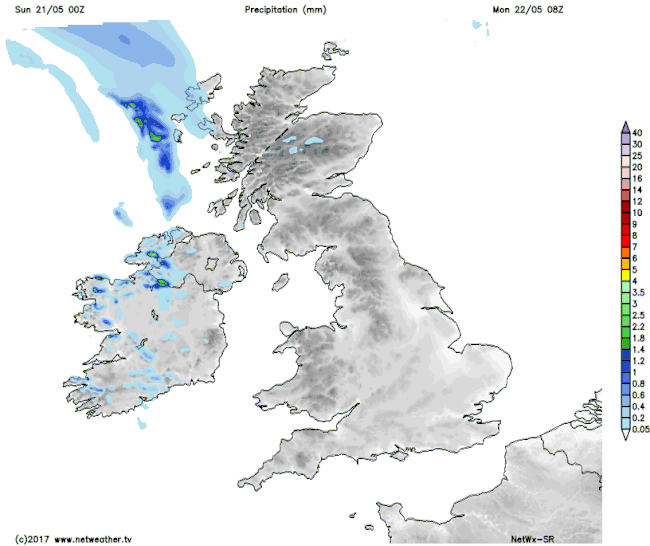 By Tuesday, that should be a fading memory though, as our area of high pressure starts to exert itself. Barring some bits and pieces of rain left over in the north and west, it's set to be a dry day with sunny spells. Temperatures by this point will be starting to rise - creeping into the low-twenties in the southeast, mid-high teens elsewhere.
Wednesday brings a continuation of that theme, with temperatures up a notch or two. There may still be some patchy rain in the far northwest, but away from here, it'll be starting to feel a lot like summer. Thursday and Friday then follow suit, with just about the whole country enjoying the warm sunshine by this point. A few sharp showers may pop up across the north of the country and Ireland during the afternoon, especially on Friday. But they're likely to be isolated should they occur.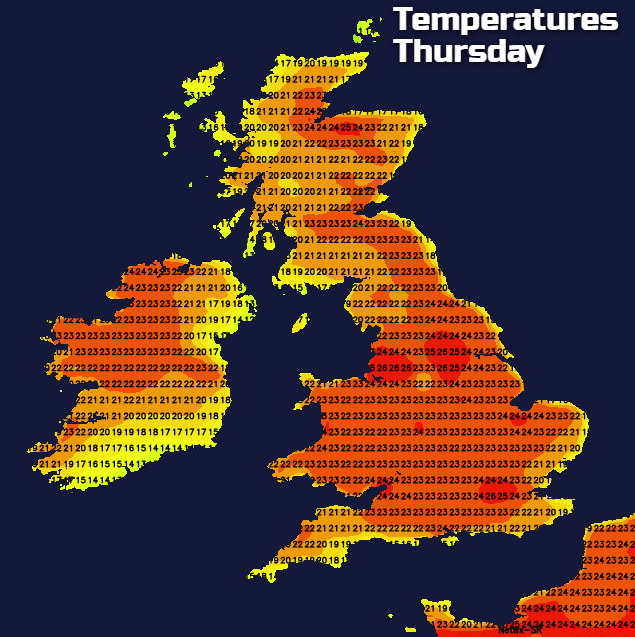 Beyond that, the start of the weekend should be set fair and still very warm for most. We will have to keep an eye on what is happening to our west and southwest though, as a breakdown is likely to arrive from here at some point. Be it during or not long after the weekend.