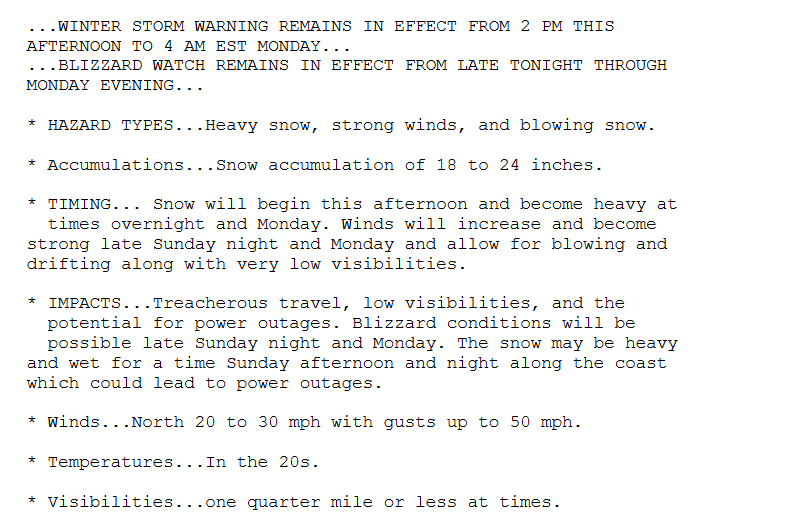 New England winter storm impacts overview (images courtesy of Accuweather.com)
From record summer-like heat back to winter cold in 48 hours
Many locations on the southern Plains of America saw heat records shattered on Saturday, as southwest winds blowing up from Mexico and southerly winds off the Gulf of Mexico (which has above normal SSTs) sent temperatures in to the 80s and 90s Fahrenheit, with a few stations in SW Oklahoma hitting 100F! These sort of temperatures in February across SW Oklahoma are some 50-60F above normal. The very dry southwesterly flow of air downslope across the High Plains saw a big leap in temperatures from 30F (-1C) in the morning at Liberal in SW Kansas to 90F (32C) in the afternoon.
From summer heat to winter in 48 hrs across southern High Plains
However, a potent cold front will sweep south across the southern Plains today, ending the extreme February heatwave. In addition, an upper-level low moving east from SW U.S.A / northern Mexico will bring rain, sleet and snow or freezing rain across the Texas and Oklahoma Panhandles by Tuesday, with temperatures falling to just above freezing by day and below freezing at night after the same areas saw temperatures in the high 80s and low 90s on Saturday!
Cold front sweeping south across southern U.S. scouring away the heat, while low over New England brings winter storm. sleet, snow and freezing rain arriving into High Plains Tuesday: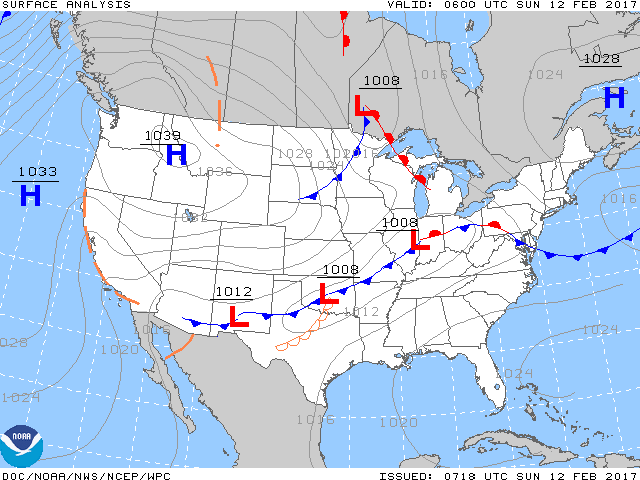 Amarillo in NW Texas hit 89F on Friday (beating previous record of 88F on 1st Feb 1963), 88F on Saturday. Lubbock hit 91F on Saturday, old record was 85F in 1962. These cities are forecast highs of 35-36F on Monday and are expecting snow on Tuesday, which is not unusual in itself in February for the High Plains, but the recent heat is!
Australian Heatwave
Much of Australia is enduring an extreme heatwave, which worsened over the weekend. Interior parts of New South Wales, South Australia and Queensland hit the mid-40s centigrade again on Sunday. Thargomindah in Queensland's hit 47.2C – the Australian state's hottest ever February day. Parts of northwest New South Wales reached 45-46C.
The extreme heat and dry conditions has led to numerous bush fires too, which are burning out of control, especially across NSW where there are close to 100 fire burning across the state, threatening dozens of properties and lives. A trough moving northeast across central Australia and introducing a strong wind is exacerbating the fires. Apparently, some people have been arrested and charged for deliberately starting fires.
After Sydney on the NSW coast hit 40C on Saturday, cooler southerly winds arriving on Sunday have seen a drop in temperature with a high of 30C today, which will bring some relief. But interior parts of NSW and Queensland hung on to temperatures in the 40s today which, along with the strengthening southerly wind, is making firefighting conditions difficult, as a 'fire front' along the strengthening wind shift develops as it moves north.
So, we can't really complain about the weather in the UK, as most of the time, it's pretty benign compared to what some parts of the world experience on a fairly regular basis in winter or summer – when extremes of heat or cold are most acute.