Today will bring a lot of fine, bright, mild and drier weather. However, whizzing in from the Atlantic is Storm Frank (the sixth named low pressure likely to impact the UK or Eire this winter). This will bring gales and more heavy rain.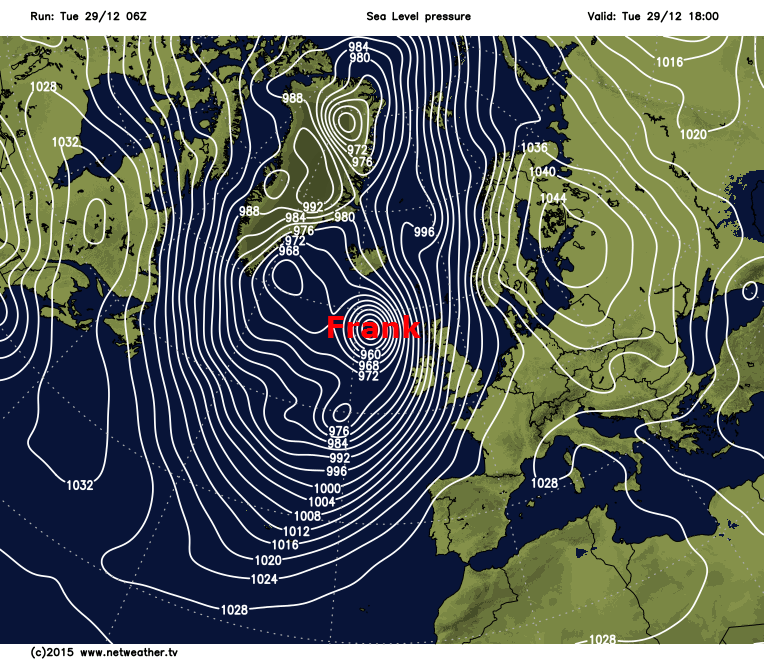 I travelled by train in the last few days through York and Leeds. The images of flooded houses on the news this Christmas have been saddening enough but as you cross northern England, you can see the extent of sodden, submerged farmland. There is already such a lot of water and unfortunately even more rain to come in the forecast.
The flood clear up continues with 9 Severe Flood warnings remaining, mostly for York, also in Lancashire on the Yarrow. River levels on the Ouse and Foss are now falling but city areas are still underwater. Any heavy rain over the Pennines, eventually flows down through Yorkshire or Lancashire which has been the problem and why there have been alter peaks in the river levels, sometimes a few days after the main rain event. The Floodline can tell you timings for your area of forecast high levels 0345 988 1188. York remains with medium risk of flooding today and Cumbria's level rises by Wednesday. Environment Agency 3 day flood risk.
There are a few larger clusters of showers showing up on the radar already this morning, over Cumbria, central Scotland and another area moving over Hampshire/Wiltshire. Most of the early showers will fade, leaving a lot of dry and bright weather over Britain. The moderate southerly breeze will pick up during the day, but it will feel mild enough at 9 to 12C today. N.Ireland will see the early cloud break and sunshine appear this morning. By this afternoon there will be a strengthening S wind with Belfast managing 10C, although cooler elsewhere as the cloud increases again. Patchy rain will arrive from the SW by late afternoon with gales.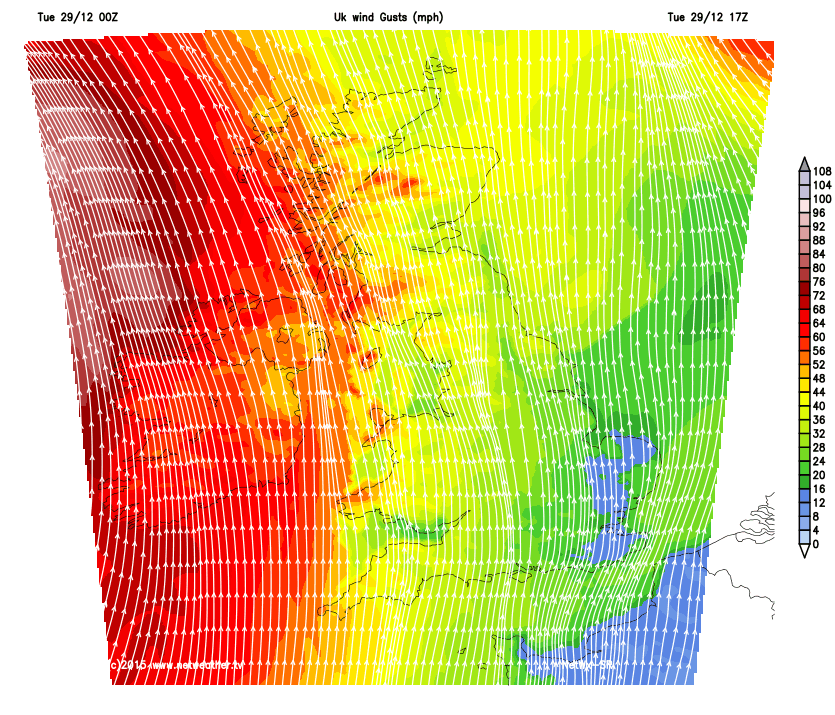 Storm Frank
Overnight into Wednesday we will feel the effects of Storm Frank, a quickly deepening area of low pressure. Its centre will head towards Iceland but the trailing fronts will linger over the UK through midweek.
Winds
From teatime Tuesday 29th, there will be Southerly gales with gusts of 60mph for N.Ireland, the Minch, North Channel, Isle of Man Western Isles and west coast of Scotland. By mid evening, very rough to high seas through Irish Sea and up along western coast of Scotland. Along the coasts winds could reach storm force 10, over 55mph, gusts for the Western Isles over 80mph, 90mph is possible as the storm continues to rage til midnight.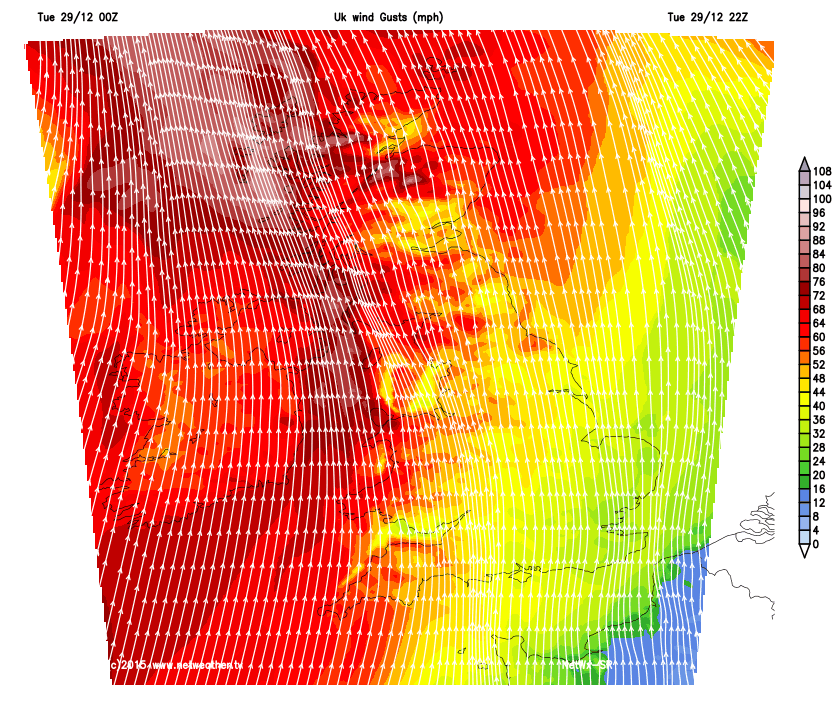 Around midnight the strongest winds will move over Northern Scotland and the Northern Isles again with storm force possible for coasts and mountains, still gusts over 70mph. gales will affect much of western Britain, from Cornwall up through Wales, northern England, severe gales for western Wales and SW England coasts by 6am on Wednesday. The overnight severe S gales clearing NE Scotland and still buffeting the Northern Isles. Wednesday morning looks very windy for England and Wales, strong S winds, gusts 50-60mph and land gales for Devon and Cornwall. N.Ireland will be out of the worst by morning and Scotland's winds ease down by lunchtime.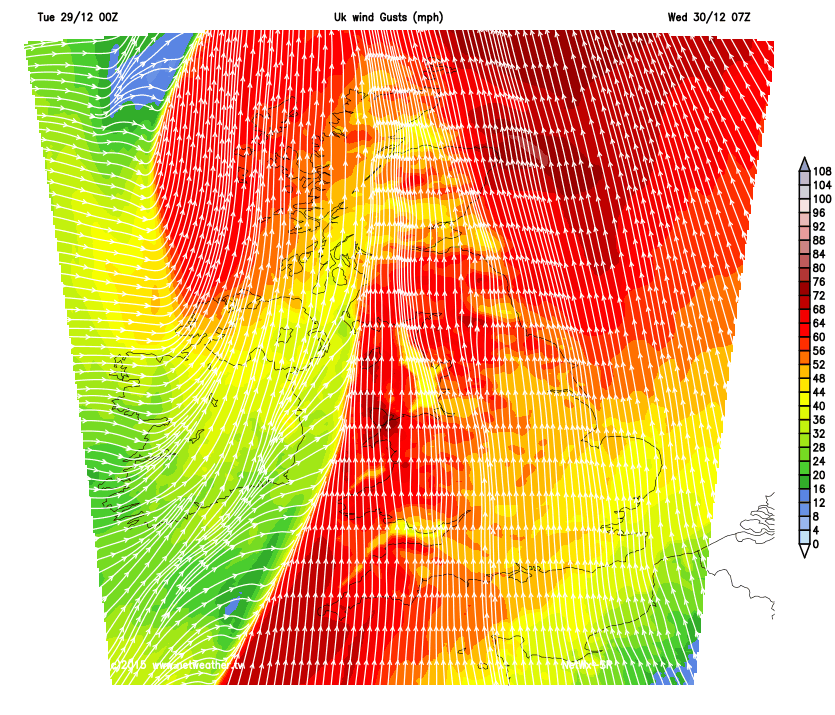 Rain
For Wednesday, heavy rain is forecast for Cumbria, Scotland (central/western and SW), Wales (western parts and Brecons) and Dartmoor. The rainfall totals charts show over 70mm for these areas. Southwest Scotland and Cumbria have Amber warnings for rainfall from the Met Office with 100-150mm of rain expected. N.Ireland and western Britain will turn wet through Tuesday evening and the first part of Wednesday night. Frontal bands will bring the heavy and persistent rain to Scotland during Tuesday night which then sets in for Cumbria and W.Wales during Wednesday. It becomes less intense and more patchy later in through the afternoon, moving over SE Britain and another lighter band up through Scotland during Wednesday evening.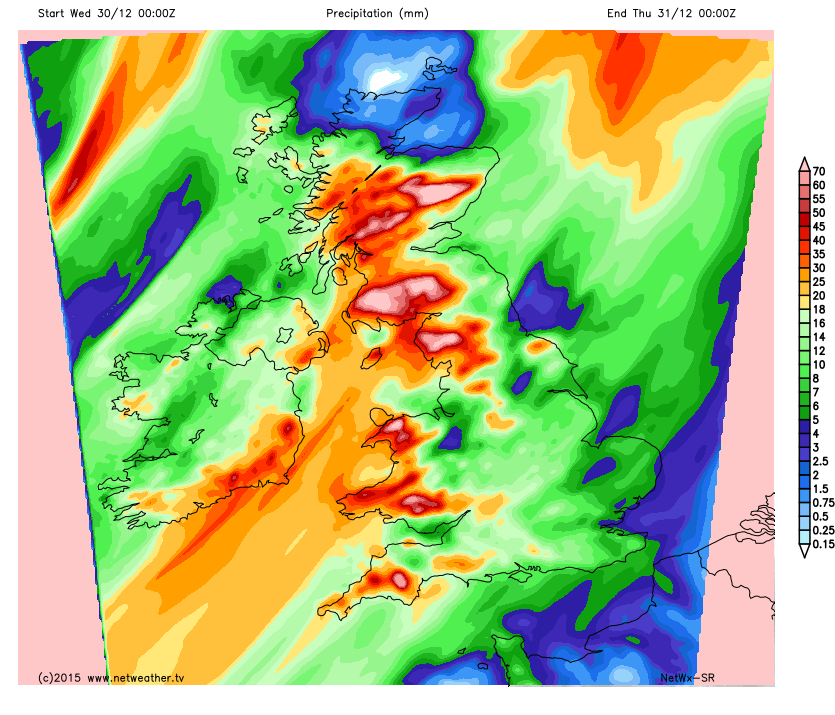 This period of severe weather, Tuesday night evening into Wednesday is likely to cause tricky conditions on the roads in the wind and rain and disruption possible for trains, ferries and on the bridges.
After a colder start it will be a quieter, brighter day for most on Thursday 31st. The only snow of the week shows up on New Year's Eve, again mostly for the Scottish mountains, but some wintry bits possible on the hills of N.Ireland and N.England. This comes with troughs off the Atlantic. A band of hefty showers will move through later on Thursday but hopefully clearing away before midnight to give a dry welcome to 2016. However, it will be quite chilly with a frost likely in places. Warp up warm.
Friday, if you are in need of a New year's Day stroll, it looks fine, bright and dry but will be nippy.
Flooding info:
Environment Agency (England and Wales)
SEPA (Scotland)