Bouts of colder North or Northwest winds often emerge from mid-November. Tomorrow, albeit briefly, one such episode will arrive as a depression over Scotland makes its way into the North Sea. However, today remains mild, though unsettled and blustery.
Near the centre of the low, winds over the northern half of Scotland will be lighter, but there will be showers, especially in the West. Some of these will be heavy, but sunny intervals will also occur, mainly across Angus, Fife, Lothian, and The Borders, where the showers will be less frequent. Top temperatures will be 9 to 11°C, but only 8°C in the far North.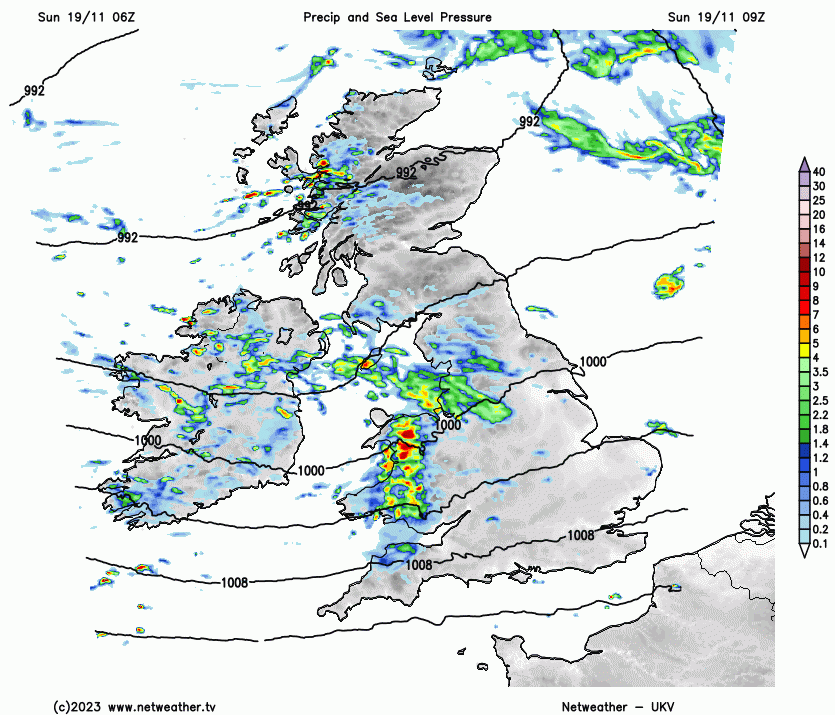 The majority of the showers will occur across northern England and the North and West of Wales today, but they will be more scattered elsewhere. Sheltered eastern areas might stay dry, but this isn't guaranteed. The showers will be blustery, especially in the South, where a Southwest wind could produce gusts up to 50mph along exposed coasts and in the English Channel. There will be considerable cloudiness at times, but also some sunshine, particularly towards Northumberland and in sheltered areas. Despite the blustery conditions, it will be mild, with top temperatures of 12 to 13°C, locally 14°C, slightly lower than yesterday's values.
After dark, scattered showers will continue, especially over Northern Ireland for a time and across the North of England. An area of showers might move into South Wales and southern England later in the night, some of which could be heavy and possibly thundery. A Southwest wind will remain quite blustery in the South, with further gale-force gusts towards the South coast and in the English Channel. Sheltered eastern areas have the best chance of staying dry, with a few clear intervals expected.
Much of Scotland will continue to experience lighter breezes, but with a chilly North or Northeasterly wind across the far North. This will begin to spread South later in the night, possibly reaching as far South as Northern Ireland by dawn. Despite this, temperatures shouldn't fall below about 6 to 7°C in the North and 8 to 11°C in the South.
The new working week brings those chilly winds from the North to most parts, causing a drop in temperature.
Showers will continue, particularly over central and southern parts at first, where they could be heavy, with most showers in the North and East later. However, a few sunny intervals are also expected, mainly across Northern Ireland and in the West later. Top temperatures will be 6 to 8°C across Scotland and Northern Ireland, and 9 to 11°C further South.
After dark, a chilly Northerly wind remains blustery along North Sea coasts, where, together with East Anglia and the Southeast, the majority of the showers will occur. Further West, they will be fewer, and as pressure rises, Northern Ireland and much of Scotland should become dry. Here, clearing skies could lead to a touch of frost and some patchy fog by morning. The lowest temperatures will be close to freezing in parts of the North and 4 to 7°C further South.
Tuesday will be fine and dry with lighter breezes but chilly, as a ridge of high pressure topples over from the Northwest. Milder, breezier, somewhat more unsettled weather returns from the West mid-week, but with hints of colder conditions returning from the North later.