Although quite wet and with winds remaining from a South Westerly quarter until month end, September will be another usually warm month. So much so that I am struggling to find the last time my locality near Nottingham recorded its highest temperature in September, which this year was 30.3C on the 9th, beating 29.9C recorded in the summer.
I was surprised, therefore, to find that somewhere in the country records its highest temperature in September in about 8% of all years. But despite the current spate of warming, the highest ever September temperature of 35.6C recorded on the 2nd at Bawtry South Yorkshire way back in 1906 remains the hottest.
And we continue to see above-average temperatures today after a particularly mild night towards the South East, where the vestiges of overnight rain have already cleared the East coast. For most, it's then a fine day with lots of sunshine once the early patchy mist and fog have cleared. Apart from the odd shower in the West, it'll also be mainly dry. A South Westerly wind will be strongest across Highland and the Northern Isles, where gales are likely at first. The North and West of Scotland will also see more in the way of showers, where some will be heavy and blustery. Top temperatures 14 to 17C in the North, but 19 or 20C locally 21C across the South and South East.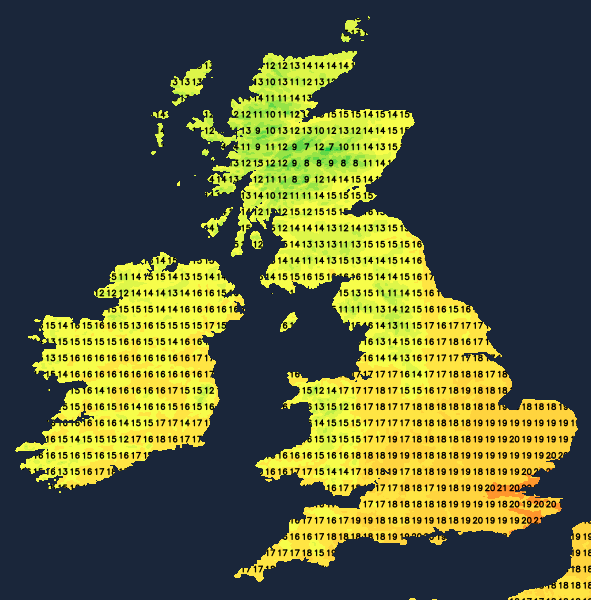 After dark, any showers become confined to the far North and West as a transient ridge settles things down. As winds decrease and with clearing skies, patchy mist and fog will form again, mostly in rural areas. It'll also turn a little chilly, especially in the countryside, with the lowest temperatures mainly in the range of 7 to 10C.
Saturday begins fine with some sunshine, especially in central and eastern areas once early mist, patchy fog, and any low cloud has cleared. It should remain fine across much of East Anglia and the South East but with increasing cloud. However, cloud already moving into Northern Ireland will soon bring rain, spreading to much of Wales, parts of the Midlands, northern England and southern Scotland through the day. A southeast or southerly wind will freshen, becoming strong in the West later, but temperatures from North to South should still manage to reach 14 to 20C.
Most places see rain after dark, although this will probably be lighter and patchy towards the South East. Some of the rain will be heavy across Scotland before clearing to blustery showers across Northern Ireland and in the West overnight. Winds from the South or South West will become fresh and blustery, with gales expected particularly across exposed parts of the North and West. Temperatures, however, shouldn't fall below 9 to 13C.
Cloud and patchy rain may be reluctant to clear the South on Sunday, with a mix of sunshine and scattered showers elsewhere, some heavy and blustery in the North and West. Early October then remains unsettled and breezy, but with the hint of a finer interval later next week, perhaps giving many of us a brief taste of summery weather once again.