Many parts of the UK had a fair start on Wednesday, making it hard to believe that a Storm was on the way. For southeastern Britain, it was only ever going to turn a bit blustery but wind and rain from Storm Agnes soon arrived over southern Ireland on Wednesday morning. Met Eireann had issued numerous yellow and orange warnings with Orange wind and rain warnings for counties Kerry, Cork and Waterford, and the wind ones extending over the far south of Ireland. Next, the rain set in for Northern Ireland with yellow wind and rain warnings from the UK Met Office as the southerly winds picked up through the Irish Sea.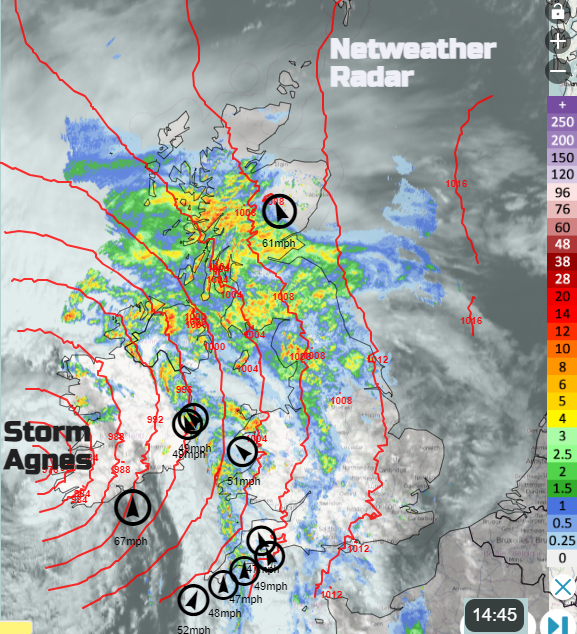 "risk of flooding around the high tide on Wednesday 27th September (early evening) Flooding of low-lying land and roads is expected. Be careful on beaches, coastal footpaths, roads, low-lying land, and close to estuaries. Be careful as sea spray and waves could be dangerous and could contain debris. " Natural Resources Wales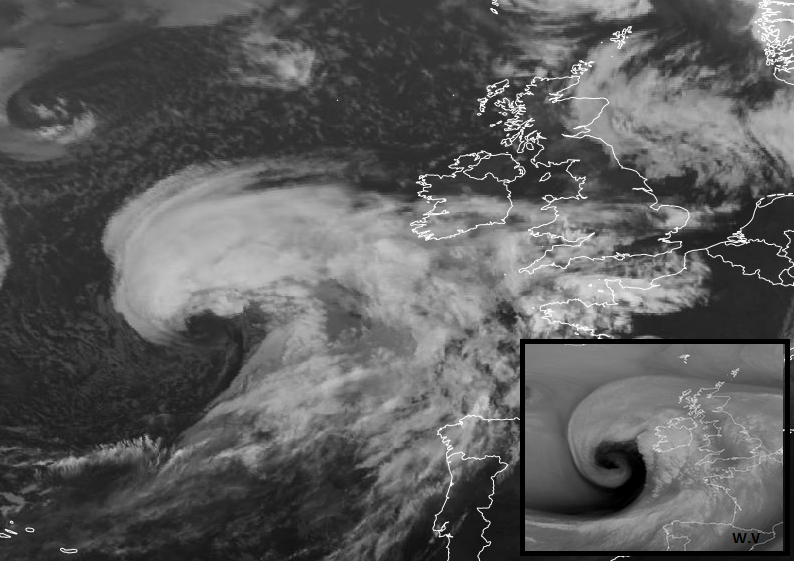 Storm Agnes had undergone significant deepening out of the Atlantic last night with satellite imagery suggesting a pull of dry air down from the Stratosphere and possible Sting Jet formation. This part of the low development was away from land but the maturing low pressure will continue to bring wet and windy weather to parts of the UK later today and overnight. Around the Irish Sea, through the Solway Firth, for Aberdeen and exposed coasts and hills there will be wild conditions tonight.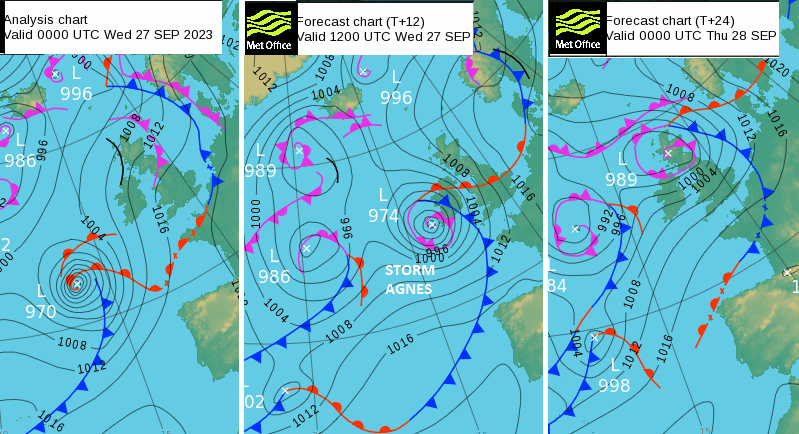 As the low centre continues nudging north/northeastwards pulses of heavy rain will move from Northern Ireland over Scotland. It has already been wet this week for parts of northern Britain so there are flooding concerns. One band of heavy rain looks to move across the windy North Channel into Cumbria and SW Scotland this evening extending up to Glasgow and bringing tricky conditions to the M74, M8 and M6.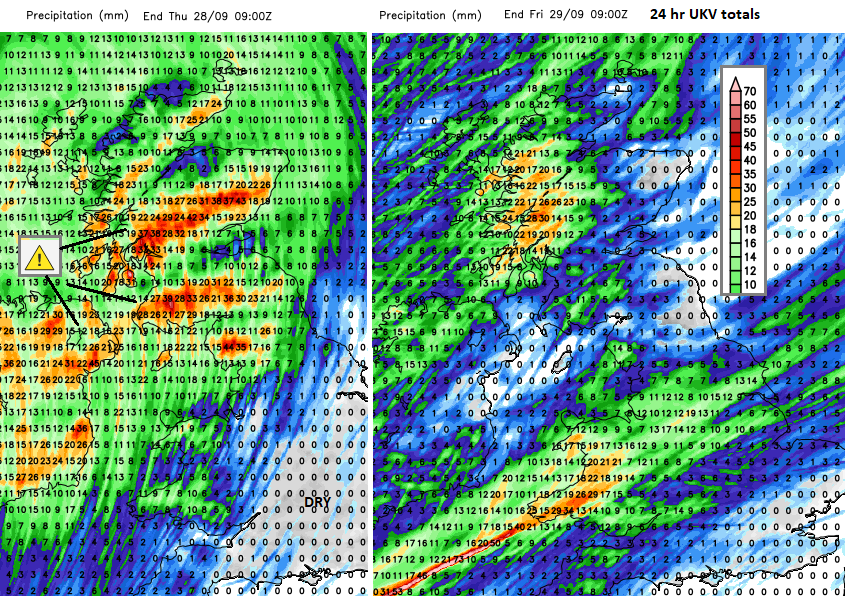 A core of severe Southerly gales will move up through the Irish Sea this evening as the low centre nudges northwards. It looks very windy for a time for coastal County Down, the Isle of Man and the North Channel.
Inshore Waters MO "Storm Agnes will move northeastwards across Ireland this afternoon, and then across Scotland tonight. This will bring gales or severe gales to northern and western waters, and perhaps storm-force winds to a few places in the Irish Sea. Remaining unsettled on Thursday, with strong to gale force winds continuing in the north and west."
Northern Ireland should see some improvement later this evening after a wet and windy day although it will be a short lull in the winds before a brisk south-westerly sets in. This will push across the Irish Sea and there are coastal flooding concerns along the Solway Firth, Dumfries & Galloway coast around high tide time late evening.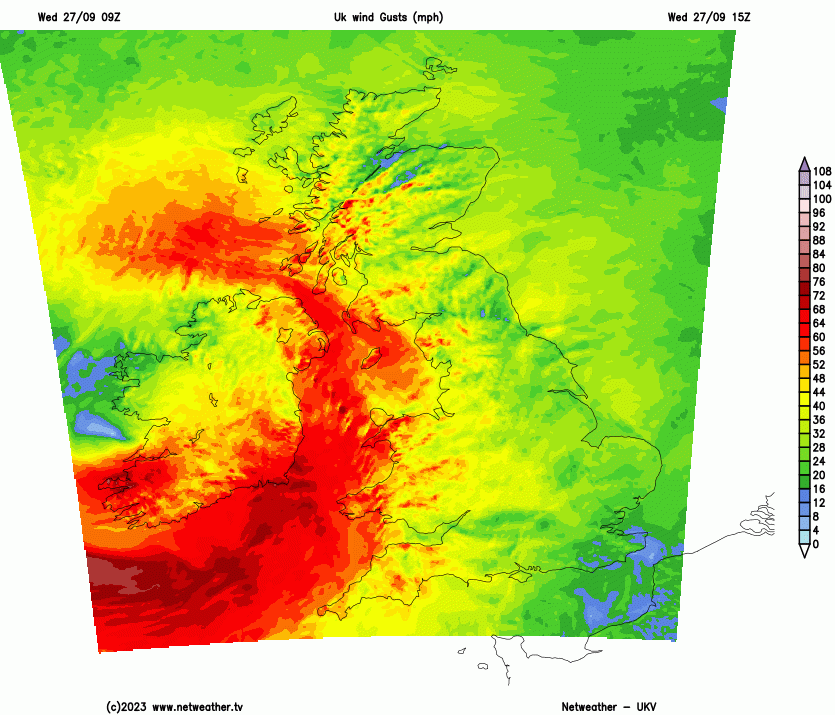 Before midnight there will be a fresh to strong easterly for Orkney and northern Scotland but a fresh southwest wind picking up for northern England, Wales and Yorkshire overnight. The rain begins to ease as it fades over northern Scotland and a brisk SW wind is left. Southern Britain will see lighter winds
Heavy showers will appear from the west later on Thursday from a cold front linked to a new northern low but there will be a more southern little low pressure heading towards Cornwall on Thursday night. This could bring some lively downpours too, which will spread eastwards over southern Britain.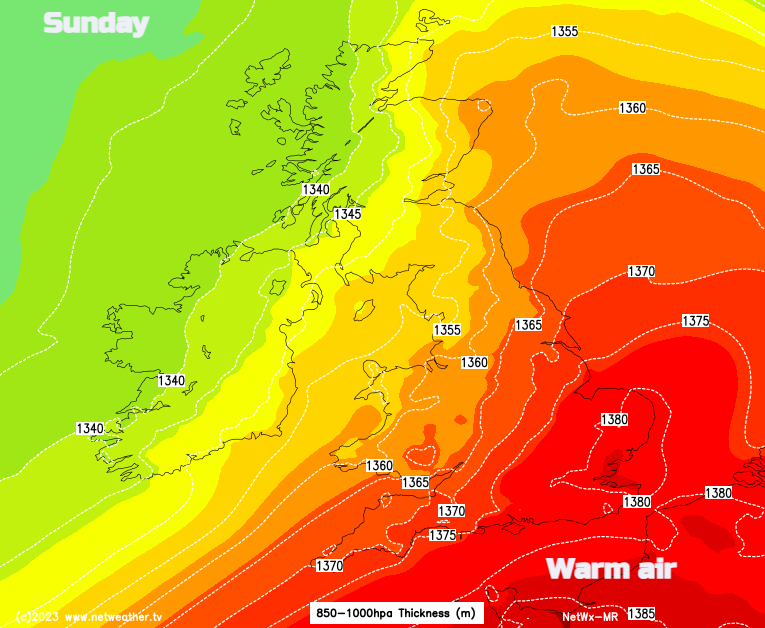 Weekend outlook
Friday looks more settled and fair although with plenty of showers for western/NW Scotland and it will be windy for northern Scotland. Saturday starts off fine, bright and cool but there will be a low pressure sweeping past which will throw heavy rain over Scotland and Northern Ireland. This will reach into NW England and north Wales during Saturday night with blustery winds. Cumbria looks to turn rather wet. Northern parts stay blustery as the frontal band fades on Sunday over Wales and England. There will be more cloud here but also some warmer air caught up. It could feel quite warm for parts of England on Sunday, possibly very warm in the southeast, around 21 to 25C.