While yesterday's heavy showers and storms, particularly across Yorkshire, Notts and Lincolnshire, have brought some relief from the drought, the hit-and-miss nature of these storms has meant that much of East Anglia and the South East remained dry. But today, it'll be the turn of these areas to see some rain ahead of a return to our more traditional weather from the Atlantic Ocean in the next few days.
The front responsible for yesterday's storms is weakening, leaving a band of mainly light rain across northern and some central parts that'll slowly clear away to the South through the day. Ahead of this, however, we already have a few heavy showers across the Midlands and southern England. These'll develop more widely across southern England and East Anglia through the day, with potentially severe thunderstorms giving local torrential downpours bringing the risk of flash flooding, although not everywhere will be affected.
A storm forecast has been issued for today.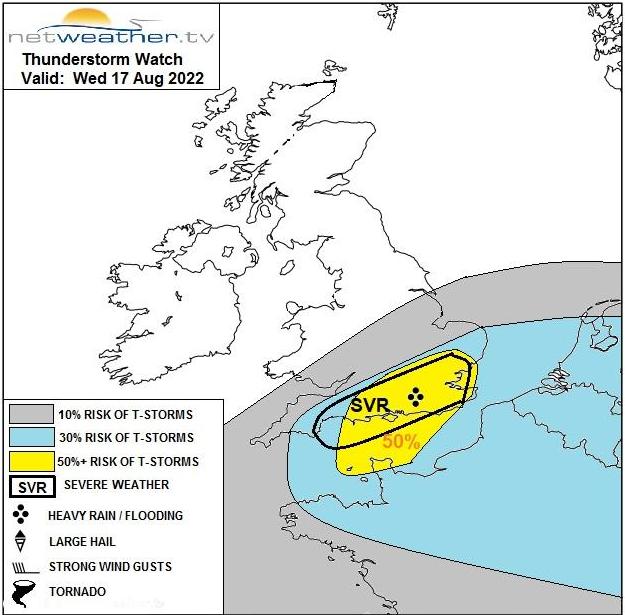 While the East and South are mostly cloudy, a weak ridge toppling into northern parts is giving some sunshine across Scotland and Northern Ireland on a primarily dry day here with light winds. Further East and South, there'll be a northerly breeze, but temperatures will reach 22 or 23C in any brightness despite this. For most, though, it's a cooler, much fresher day, with top temperatures mostly between 18 and 20C but only 15 or 16C in the far North.