Overall, for the rest of this week, high pressure will be building in from the south-west and bring settled, often dry and bright weather to much of the UK. There will be warm sunshine and temperatures creeping up a few degrees but we are looking to next week for signs of heat. Signs, not certainty.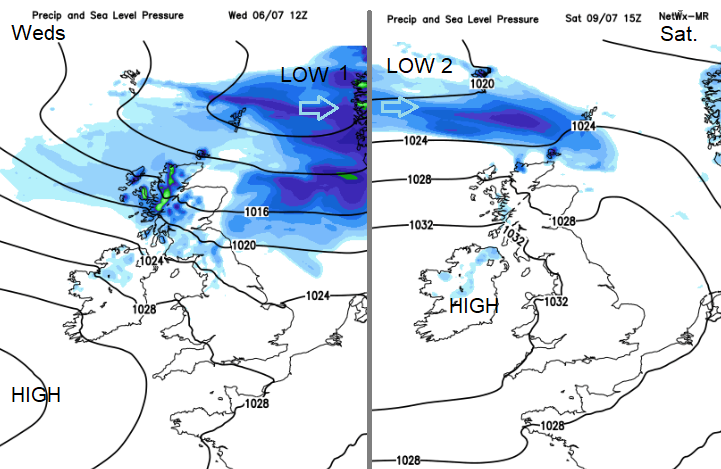 However, this high is not right over the UK and low pressures continue to pass to the north of Scotland with a cloudy, damp flow off the Atlantic for Northern Ireland and often NW Britain. Even reaching down through the Irish Sea into NW Wales too.
Wednesday will be a blustery day away from the southeast. Becoming windy through the afternoon and evening particularly for eastern Scotland, through the Central belt, NE England and over the Pennines. That's as the first low pressure pulls away to Scandinavia and our winds veer to the northwest. This continues to push the cloudy, damp feed into western Britain and north coast of Northern Ireland but a shift by Thursday morning in a more northerly flow. County Down will finally see brighter skies, even a glimpse of sunshine. Across Britain, there will be sunny skies, much lighter winds and although the surface flow will be from the north, the temperatures will respond as we lose cool air away to the northeast and pull in warmer air with the high.