The buzzing Danish capital mixes history and culture with "modern architecture, sustainable living and a mouth-watering restaurant scene."
The weather over Scandinavia will be cooler after recent high temperatures and also rather unsettled. The High pressure settling the UK weather down is keeping most of the low pressures away to the north. So still unsettled for NW Scotland and sometimes Northern Ireland but fine and sunny further south. The jet stream keeps these low pressures tracking towards Norway and Denmark. So more blustery and showers conditions are forecast later this week with temperatures in the high teens. Next week there could be the occasional warmer day. DMI- Danish Met. Radar
High pressure over SE United States is keeping the weather settled for Florida and Disney World this week but into next week a cold front looks to move down from the north and so there could be more cloud and a dip in the air temperatures. For now, the daily forecast stays at a hot and humid 36C which could feel more like 43C. American forecasts are often in Fahrenheit, so this is up into the Nineties F. Each day this week there is a risk of heavy showers or thunderstorms, in the region. So, they could miss DisneyWorld, or there could be a heavy downpour, gusty winds and lightning. The advice from the National Weather Service is "If thunders roars, head indoors". Good news at the moment is that there are no Tropical Storm or Hurricane warnings from the National Hurricane Centre.
London, UK temperatures will be rising as the high pressure remains nearby. It looks like London will see the high twenties Celsius and then just into the low 30s Celsius next week with more fine and dry weather for the capital.
Northern Italy has declared a state of emergency in five northern regions due to the worsening drought. There have been heatwave conditions, a lack of rainfall for months and this has been hitting agriculture, hydroelectric production and now water supplies.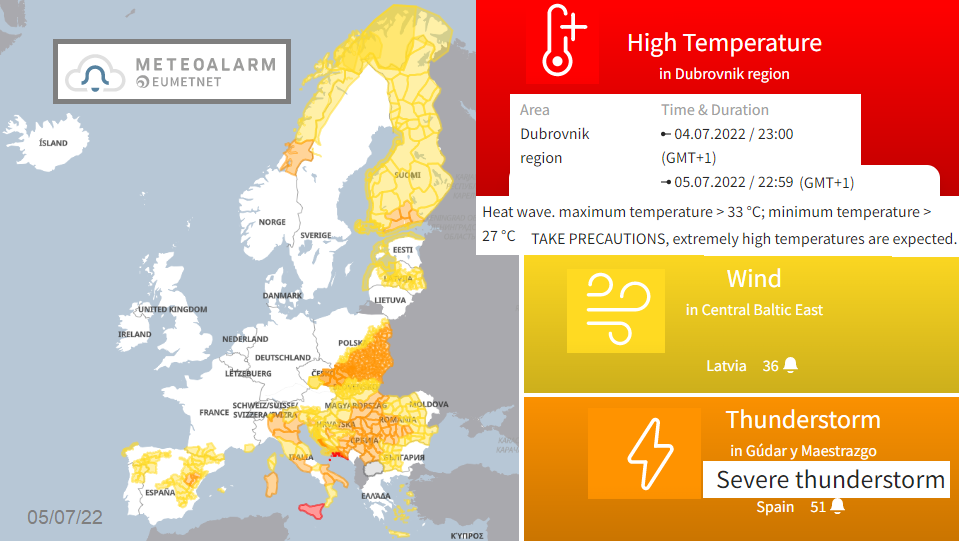 Meteo Alarm - European weather warnings for next two days
A quick way to check the warnings for many European countries is on the Meteo Alarm site. Here in the UK, you may follow the Met Office's official weather warnings but when abroad it can be tricky to know where to get official information. The Meteo Alarm site combines all the national meteorological service warnings on a clear map and you can find out the level of warning, dates and timings and summary information. Obviously, if the forecast is just warm and sunny you will have little need except to remember your sun cream.