High pressure looks to retreat back towards the southwest to start next week, but will continue to bring mostly dry, warm and sunny conditions to south Wales; central, southern and eastern England, perhaps still hot in the southeast of England on Monday. However, northern areas look to see more in the way of cloud with some rain early next week, as Atlantic fronts move through. But there are signs that high pressure close to the southwest will build back stronger through the week. Temperatures responding and rising into the mid-twenties more widely across England and Wales from mid-week, high twenties to low thirties degrees C in the SE of England and East Anglia on the most recent two GFS deterministic runs.
There continues to be the signal from models for a heatwave from the middle of next week, as very warm air piles up in the circulation of the extension of the Azores ridge building in across southern Britain.
What is the definition for a UK heatwave?
The Met Office definition for when a UK heatwave threshold it met is when a location records a period of at least three consecutive days with daily maximum temperatures meeting or exceeding the heatwave temperature threshold.
The threshold varies by county in the UK between 25C to 28C, with London previously the only area to have a limit of 28C but recently joined by Surrey, Berkshire, Buckinghamshire, Bedfordshire, Hertfordshire, and Cambridgeshire.
Most other counties in the southeast of England, south and east Midlands along with Lincolnshire have a threshold of 27C, while other central areas of England, including East Yorkshire Riding and south-east Wales have a threshold of 26C.
The rest of England and Wales, all of Scotland and Northern Ireland still fall under a 25C threshold.
Potential heatwave on the way next week?
The heatwave threshold for parts of England and Wales could well be met from the middle of next week into the weekend of 16th/17th July, based on current model output. 12z GFS deterministic run shows highs in southern England of 30-32C on Wednesday 13th; 30-31C Thursday 14th; 28-29C on Friday 15th; and 30-32C on Saturday 16th July.
Potential heatwave starting the middle of next week?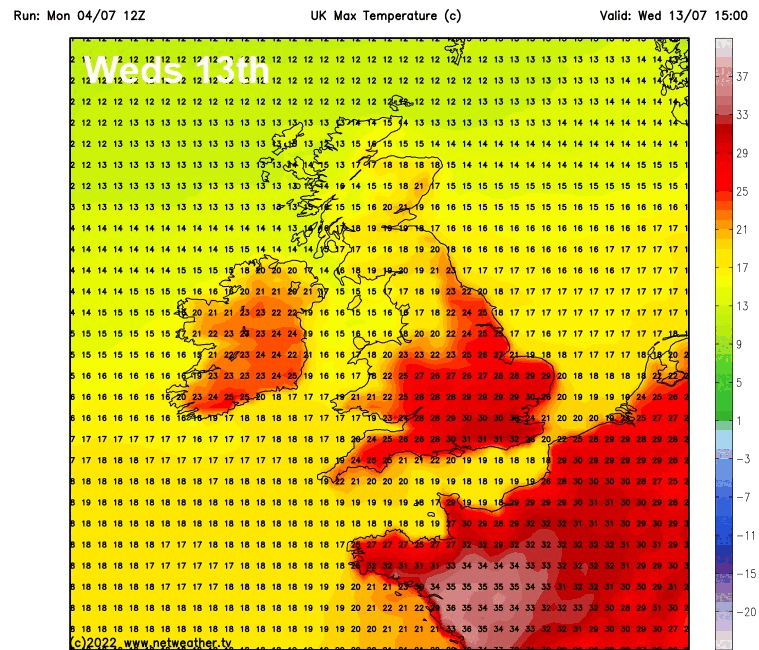 But the potential for extreme heat, as shown on the chart with 41C towards the top of the article, seem less likely based on recent deterministic and ensemble guidance pointing to a stubborn upper trough over Scandinavia and strong westerly flow close to the north of the UK out towards mid-month flattening the flow over NW Europe and preventing extreme heat over North Africa, Iberia and southern Europe from getting as far north as the UK. But there is still reasonable chance of a heatwave starting next week, though temperatures look to be more in the low thirties Celsius tops, nothing extreme showing for now.