Showers have pestered Wimbledon this week and it's been a little cool at times. The air hasn't been especially warm, coming in off the Atlantic with temperatures around 21C (70F) in London. That will have felt warm enough in direct sunshine. It is strong at this time of year for the spectators on the outside courts and for half the court when the roof is open. There are signs that the shower threat will fade during the weekend and Week Two looks fine and warmer at SW19.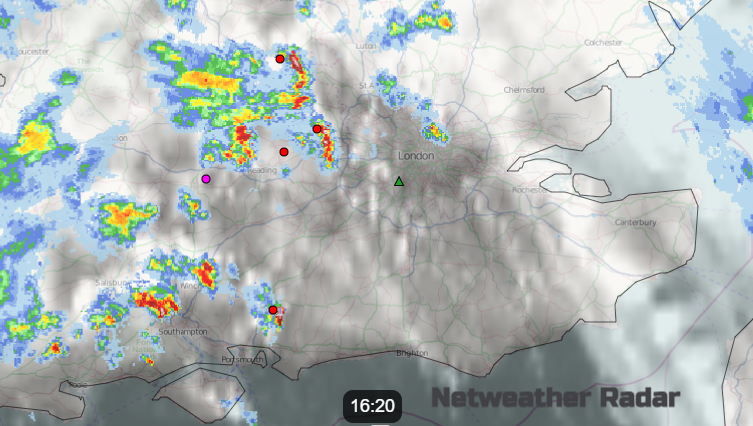 Wimbledon still managing to stay in the gap, with sharp showers and thunderstorms developing and edging northwards, rain and cloud out east too.
Thursday's action started with Centre Court and Court 1 under closed roofs. If a match starts with the roof closed, it has to end with the roof closed, that is the rule. The roof takes about 10 minutes to close but then an additional 30 minutes for the air-conditioned atmosphere to acclimatise. This can lead to players having to continue with brilliant sunshine beyond the roof and building heat. Katie Boulter pleased British fans on Centre Court with her win and Rafa Nadal has just headed out to an open roof.
Rather than low pressure feeding showers in from the south and west, as we've seen this week, high pressure will build in and settle the weather down.
Friday- a lot of fine, bright even sunny weather through the day with a low risk of a shower. There are still showers about for Greater London but the focus looks like it should pass over north London.20C with very light winds.