Sicily
Meanwhile, heavy downpours over Sicily and parts of southern mainland Italy since the start of the week led to flash-flooding and landslides, with some fatalities of those caught up in the floods.
A strong storm system, known as a 'Medicane' centred between southern Italy and Libya brought up to 600 mm to parts of eastern Sicily since Sunday, with 300mm alone falling on Sunday alone in Catania, triggering flash-flooding and mudslides. There were videos on social media earlier in the week of raging rivers flowing down the streets of the port town of Catania on the east coast of Sicily earlier in the week. The body of a 67-year old man was recovered from a car in the city after his car was trapped by rising floodwaters, his wife reported missing.
Medicane is the name given for a non-tropical area of low pressure which develops over the warm waters of the Mediterranean at this time of year and develops tropical characteristics as it strengthens over warm waters with a warm core as opposed to cold core like the typical depressions we see move in off the Atlantic here in the UK.
The medicane storm system has been churning around at a snail's pace over the southern Mediterranean between Sicily and the coast of Libya since the start of the week, torrential rain on the northern flank of the system started across Sicily on Sunday with heavy downpours and off since then across the island, also affecting Calabria and Puglia on the mainland.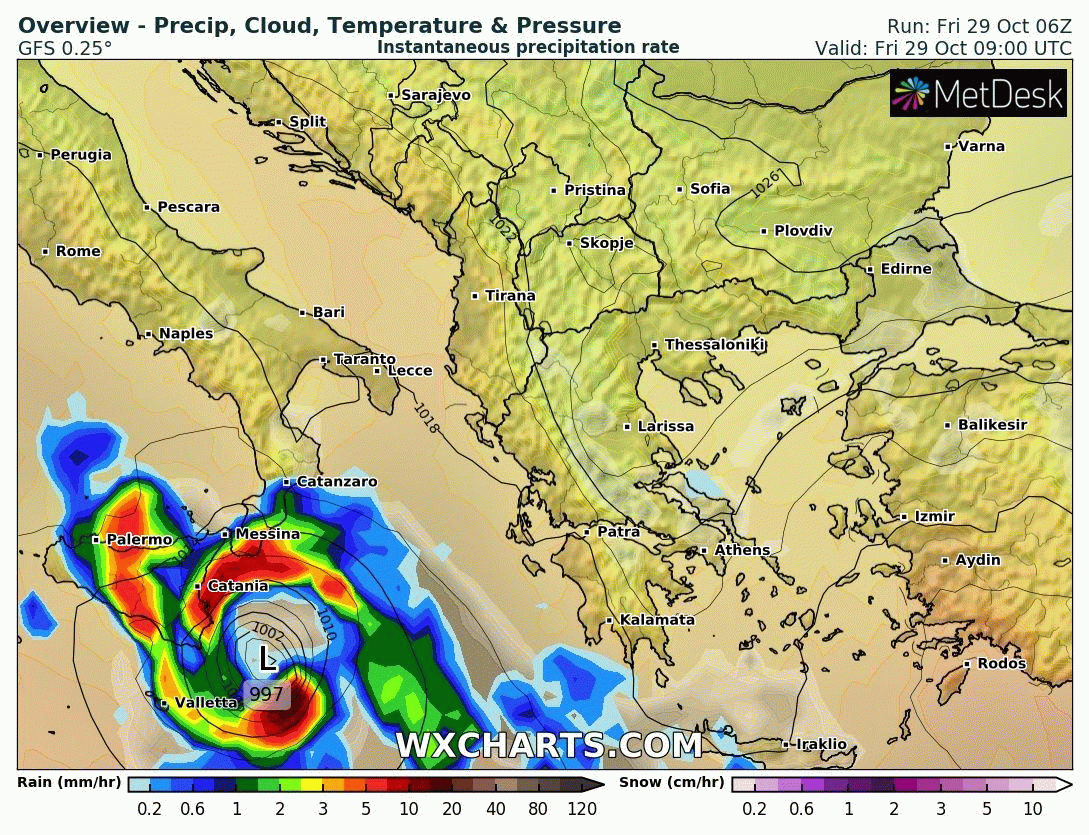 Although the storm weakened somewhat mid-week, it has restrengthened over last 24 hours and will move northwest over Sicily today. The storm will bring further torrential rain across eastern Sicily and Calabria on the mainland through Friday – with a further 100-200mm (4-8 inches) falling here, perhaps locally up to 300mm (12 inches). These additional large rainfall totals following days of rainfall and ongoing flooding issues across southern Italy could bring additional potentially life-threatening flash-floods and landslides in these mountainous areas.
In addition to the flooding rains, as the storm strengthens and moves northwest it will bring strong gusty winds, with gusts up to 60mph possible along coasts and over higher ground. The storm should weaken and move away southeast from the area over the weekend.
Tags:
Severe Weather
&nbsp
Climate