Elsa has made her way across the Caribbean, speeding her way south of Barbados as a hurricane on July 2nd then passing south of Dominican Republic. Moving as a Tropical Storm between Haiti and Jamaica then across western Cuba with heavy rain causing damage to crops, along with flooding as thousands of people were evacuated.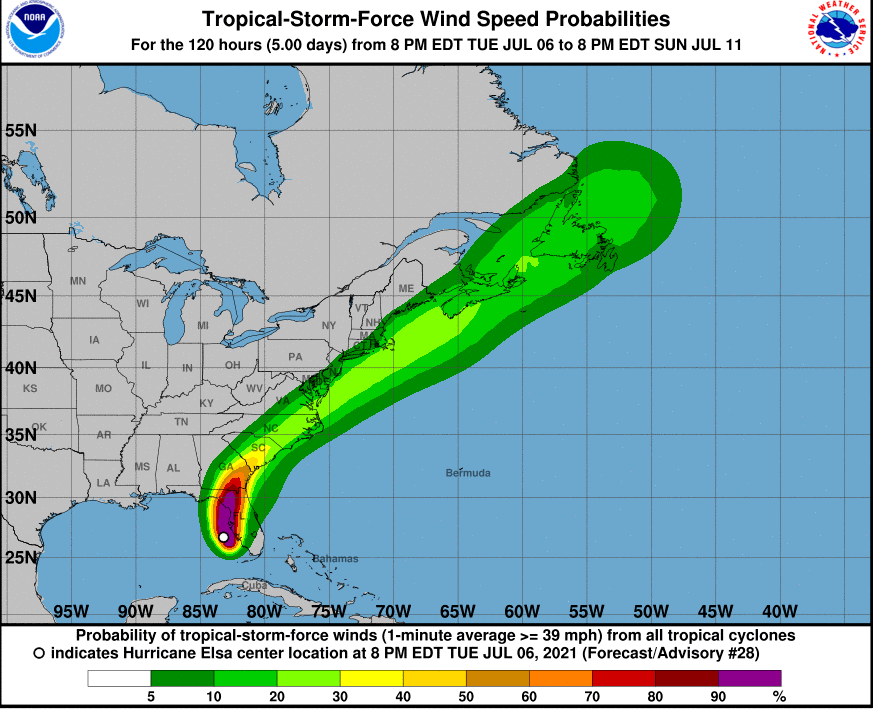 Tropical Storm Elsa has now passed the Florida Keys where there has been heavy rain and high winds. It strengthened briefly to hurricane status. It is forecast to move northwards and reach the western shores of Florida early on Wednesday local time. There is still a hurricane warning in place for the upper Gulf Coast. After that, the storm is forecast to move up the eastern seaboard of the United States and also affect the east coast of Canada by the weekend.
"Heavy rains and gusty winds continue spreading inland across SW and west-Central Florida" NHC Advisory 28a
Across portions of Cuba through tonight, rainfall of 5 to 10 inches with isolated maximum amounts of 15 inches is expected. "The environment over the eastern Gulf of Mexico is not ideal for strengthening, with moderate westerly shear and some dry mid-level air. " NHC advisory 25
However, this system will still be near hurricane strength and bring a lot of rain with the high winds. The sustained winds are reaching 60mph already. There is the risk of a life-threatening storm surge along the Gulf coast Tuesday night and on Wednesday, ranging from 1 to 5 feet.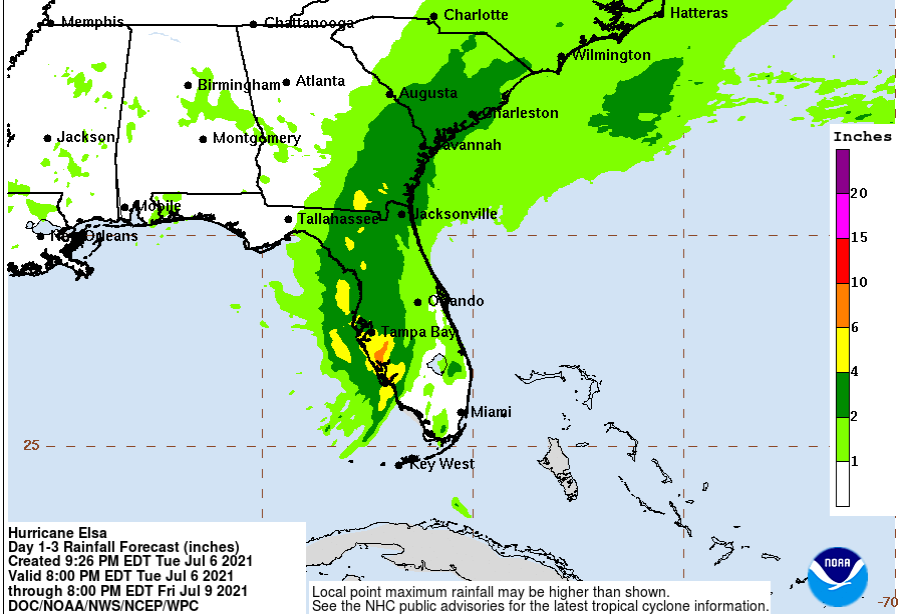 By Wednesday the heavy rainfall over Florida could bring flash flooding, river flooding and issues for urban areas. It is moving along though. The worst rainfall flooding comes from storms that grind to a halt just offshore or inland.
"Across portions of SE Georgia and the Low Country of South Carolina, 3" to 5" with isolated maximum totals up to 8" will be possible, which may result in considerable flash and urban flooding." NHC
By Friday night, post-tropical Elsa should have reached Nova Scotia and then Newfoundland by Saturday with the Canadian Hurricane Centre already mapping Elsa. A change from the current Heat and Thunderstorm warnings.
Once away from eastern Canada, Elsa looks to dissipate south of Greenland, so not directly impacting the UK weather.
More Elsa discussion in the Netweather community forum
Atlantic Hurricane Guide