The interior of Spain is colder in winter, with an average temperature of 10C for December /January time. SE England & London is around 7 or 8C so Madrid is experiencing a very cold spell and the 30 to 50cms of snow is "exceptional and most likely historic" according to AEMET.
This was a weather event, it snowed heavily for a few days, brought a huge amount of snow to an area that usually sees 2 snow days in a year and a pitiful covering at that, but it was an extreme weather event. And obviously a cold, winter one. All of that is set against a warming climate.
Copernicus: "2020 warmest year on record for Europe; globally, 2020 ties with 2016 for warmest year recorded."
We would expect more mild winters here in the UK and over Europe but there will still be cold episodes and snow within that, just not as often. Climate change can cause more extreme weather events with disruption to typical patterns.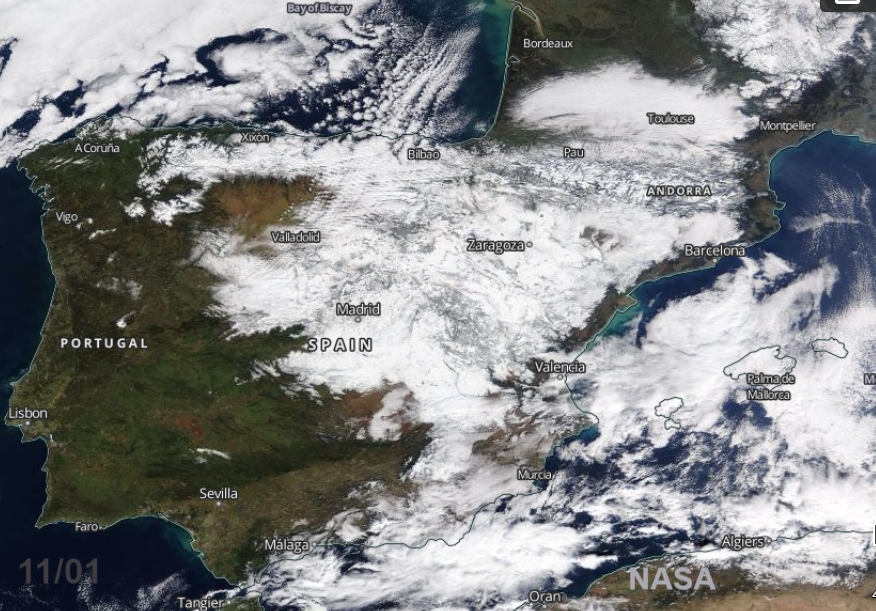 Clearing skies after Storm Filomena with dendritic patterns of lying snow over mainland Spain visible, some cloud cover too.
Storm Filomena is now over the eastern Mediterranean and as high pressure builds over the Iberian Peninsula, cold weather is causing issues with ice and hardened snow. With the lingering snow and clear settled weather, the temperatures are tumbling even in bright sunshine. Down to -10 even -20C is forecast in the interior region, with Madrid seeing -5C overnight and only +4C by day. The melt will also cause flooding issues when that comes.