Another wintry day on the way today, with a cold night to follow but a change is on the way this weekend as milder air starts to make a return.
There's been another fall of snow for many parts of Scotland and Northern England again overnight though, with higher regions, in particular, seeing further accumulations. There are Met Office warnings across most of the UK for snow and ice which are valid through the remainder of the day. The Rain, sleet and snow will continue to move south and west through today, but it will be fading out as the day wears on. Beyond that, with clearing skies, there's going to be a widespread, hard frost with plenty of icy stretches likely on untreated surfaces.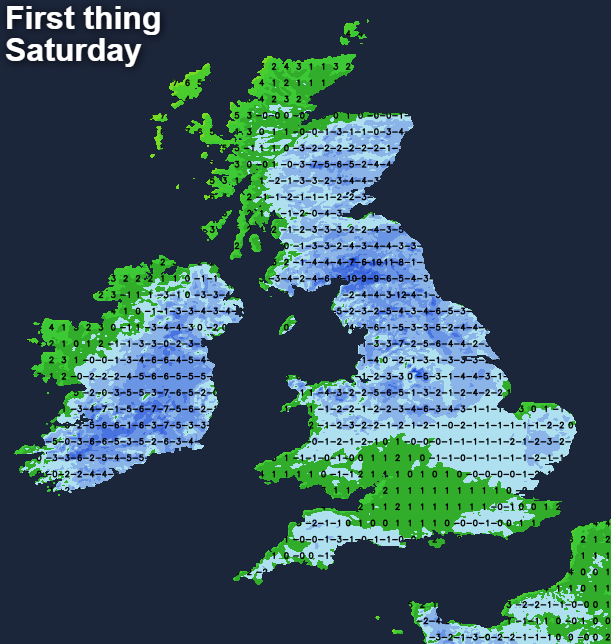 The reason for the clearing of the showers, and clearing of the skies later today is a nose of high pressure moving in from the west across the country. As that sinks south into the weekend, west or southwest winds will bring milder air into the north of the UK first, before it spreads south later on. In the meantime, there will be a brief return of colder air to the northeast of Scotland, but that'll be shunted out of the way by Sunday as those milder winds set in everywhere.
For England and Wales, Saturday will be a mostly dry day with just a few showers here and there near to the coasts. After a cold start, temperatures will struggle into the low single figures for many, and where any overnight fog patches linger in central and southern regions, it could well stay sub-zero all day. Scotland and to a lesser extent Northern Ireland will have a more cloudy picture with some outbreaks of rain and sleet with snow over the hills moving down from the northwest as those westerlies start to arrive.