Further south, a frontal wave swinging in across southern Britain on Thursday will bring outbreaks of rain to England and Wales, locally heavy across the south. Some snow is possible over higher ground of Wales and northern England, as the rain bumps into colder air further north, but not expected to be disruptive accumulations.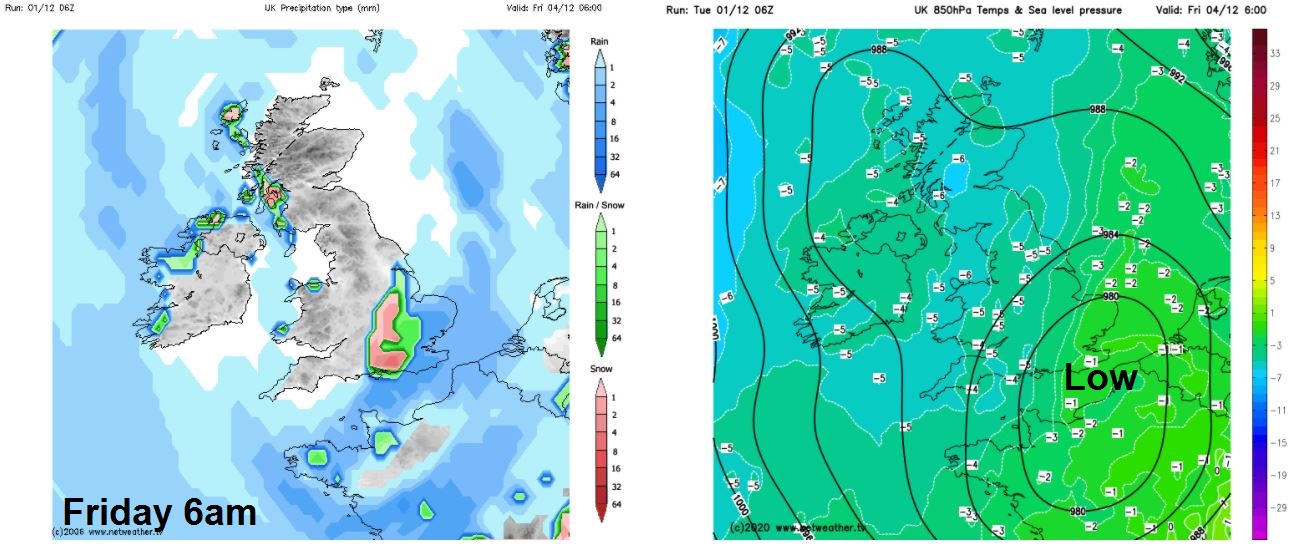 A low develops from the frontal wave running across the south Thursday night, which looks to swing northeast across SE England and East Anglia Friday morning, bringing a spell of heavy rain. Cold polar air tucking into the western flank from the northwest early Friday could turn the rain to snow over higher parts of SE England, such as the Chilterns and North Downs, maybe bringing some brief slight accumulations, some wet snow to lower levels can't be ruled out. There is some uncertainty over the track of this low on Friday though, the latest 12z GFS run today takes the low further north on Friday, bringing in rain and inland snow across northern and eastern areas further north too.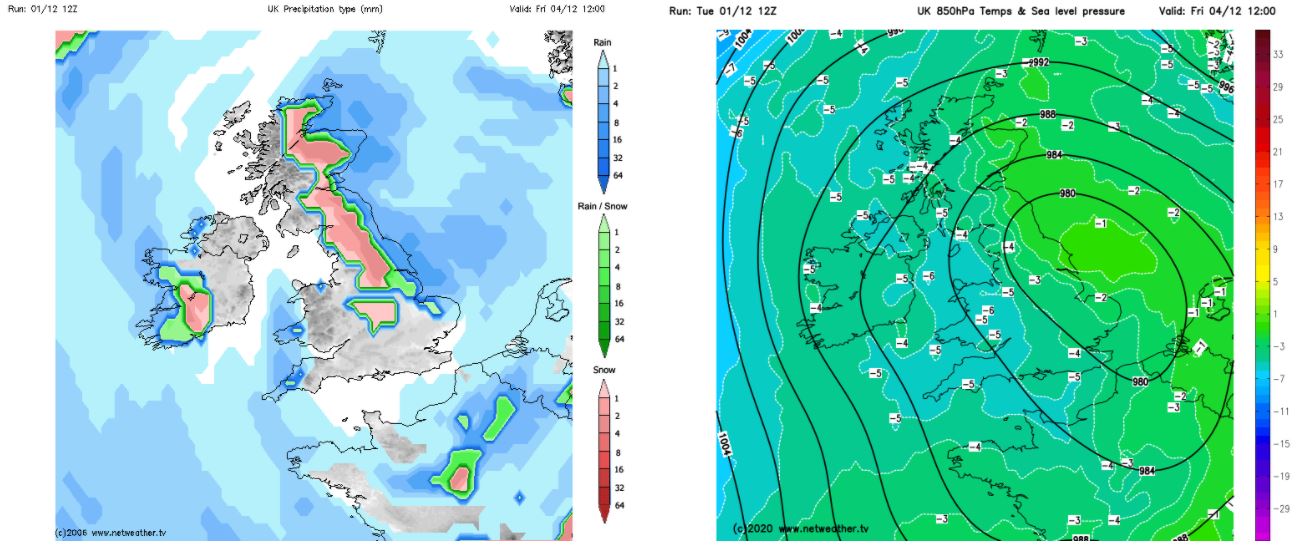 Staying cold this weekend and into early next week, with showers - wintry in places, with snow chiefly for higher ground
As we head through the weekend, it will remain on the cold side, an upper low circulation will be over northern Europe, drifting slowly northeast toward the North Sea. A few weakening or deepening lows will circulate around this upper low – one weakening low drifting south over the UK, while a deepening low over the North Sea moves toward eastern England by Monday. There is some uncertainty over the track of these lows, but there will weather fronts straggling the UK around these lows. This will mean there will be areas of rain or showers in places, with the air, still cold, a risk of snow falling over higher ground in the north. Where skies clear overnight, frost will develop, leading to icy stretches on untreated surfaces where rain/sleet/snow falls.
Early next week and the jet stream looks over the Atlantic could start edge further north across NW Europe, but will likely stay to the south of Britain. So staying on the cold polar side. Some uncertainties over tracks of low pressure, with lows and associated fronts trying to push in from the west bringing rain and hill snow, while low pressure in the North Sea could also bring rain and perhaps snow to eastern areas Monday for a time.
Wet snow may, at times, fall to lower levels, particularly on the northern side of surface lows moving in from the west, or western side of lows from the east. This potential for snow to fall to lower elevations, even in the south, could occur where precipitation is heavy and winds are light with little mixing of less cold air – which leads to greater evaporative cooling (raindrops evaporating as they fall through a layer of dry air, and cooling it as they absorb the energy needed to change from liquid to vapour).
Don't take the snow symbols on weather apps too literally!
At the moment it is too far out to predict exactly where snow is likely away from the favoured northwest, given the air will be so marginal and often the wrong side of marginal for snow. So don't take local forecasts on apps too literally when they may show snow, such as the forecast below for where I live.