While the weather continues to remain rather benign over the coming days for the UK, the Atlantic Hurricane season is in full swing, with three hurricanes on the go as of this morning, with Hurricane Teddy joining Hurricane Sally and Hurricane Paulette.
Closer to home, an area of low pressure over the Ionian Sea, characterised by thunderstorms, has developed tropical characteristics know as a 'Medicane' in this part of the world. It has been named Ianos by the National Observatory in Athens and expected to make landfall as a vigorous storm across southern Greece on Friday.
Hurricane Sally
Hurricane Sally is currently the main threat to land, with a threat of catastrophic life-threatening flooding expected along parts of the Gulf coast of the southern US. The hurricane now strengthened to category 2, with 105 mph winds in the northern outerwall and hurricane force winds spreading onshore along the Gulf coast from Alabama to Florida this morning. The eye of Hurricane Sally is close to the Alabama coast this morning, but its slow movement onshore will bring a prolonged period of flooding rains to the this portion of US Gulf coast. Also, a life-threatening storm surge is expected along portions of the Gulf coast from Alabama to the western Florida Panhandle. The hurricane should rapidly weaken later this week, as it moves northeast inland and becomes ex-tropical.
Hurricane Paulette
Hurricane Paulette is expected to weaken and lose its tropical characterstics over the next few days, as it moves over cooler waters while encounters strong wind shear and dry air. The storm currently moving northeast southeast of New Foundland will create large swells for the coasts of Canadian Maritimes and NE USA, but as it weakens it will swing south to the west of the Azores.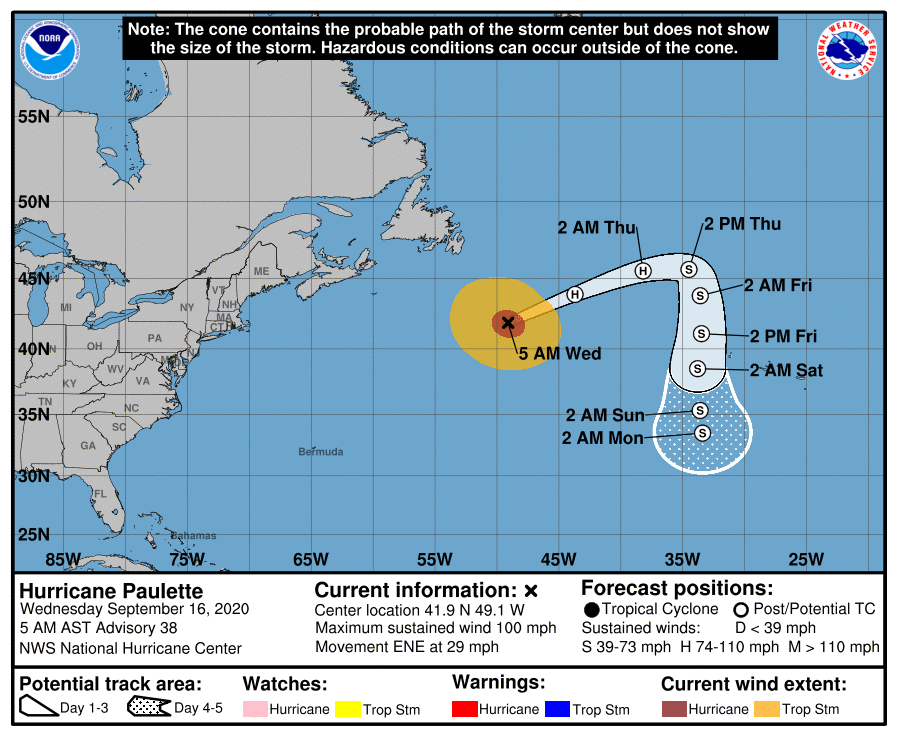 Hurricane Teddy
Meanwhile, Teddy rapidly intensified from a Tropical Storm into a Hurricane overnight, now a category 2 Hurricane. Further strengthening is expected and Teddy could become a major Hurricane into Thursday, forecast to become category 4 later this week. Current forecasts track the hurricane northwest over the central and north Atlantic towards Bermuda over the weekend. So Teddy will be watched closely for threats to these islands.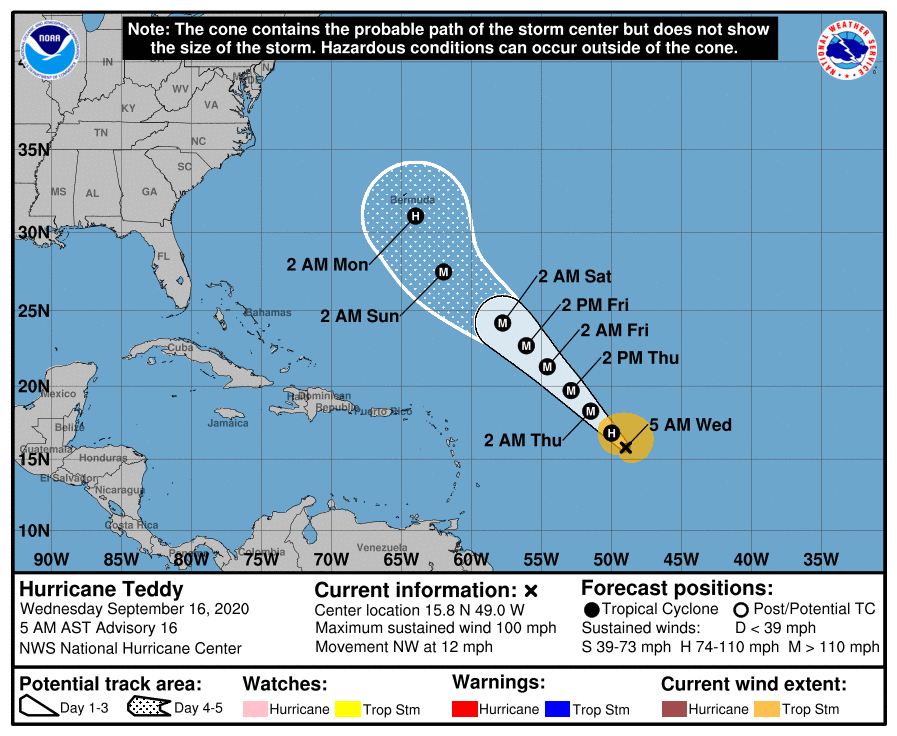 Medicane Ionas
Over to the Mediterranean, an area of low pressure, named #Ionas by the National Observatory in Athens, Greece, is expected to deepen over the Ionian Sea today and tomorrow, before hitting southern Greece with heavy rain and gusty winds on Friday. This storm bears the tropical storm characteristics of a Medicane.