This week temperatures will lift into the twenties Celsius after a cooler spell of weather from late August into the start of September. The highest temperatures will be on Tuesday, lingering into Wednesday for SE Britain. By the end of the week cooler air will sweep down from the north and after a nippy start on Thursday morning daytime temperatures will be back into the teens.
Warmth and fine weather at this time of year begin to feel like a bonus, especially if they coincide with a weekend. Summer is fading as the harvest steps up in the countryside. The evenings are just getting a bit darker slightly earlier now. How was summer 2020, now that the statistics are in?
It was wetter and cloudier than average for many areas. The far SE Britain was warmer (sunnier and drier) than average mostly thanks to the August heatwave. The far north of Scotland was also drier and sunnier than average with water scarcity notices in parts of northern/NE Scotland.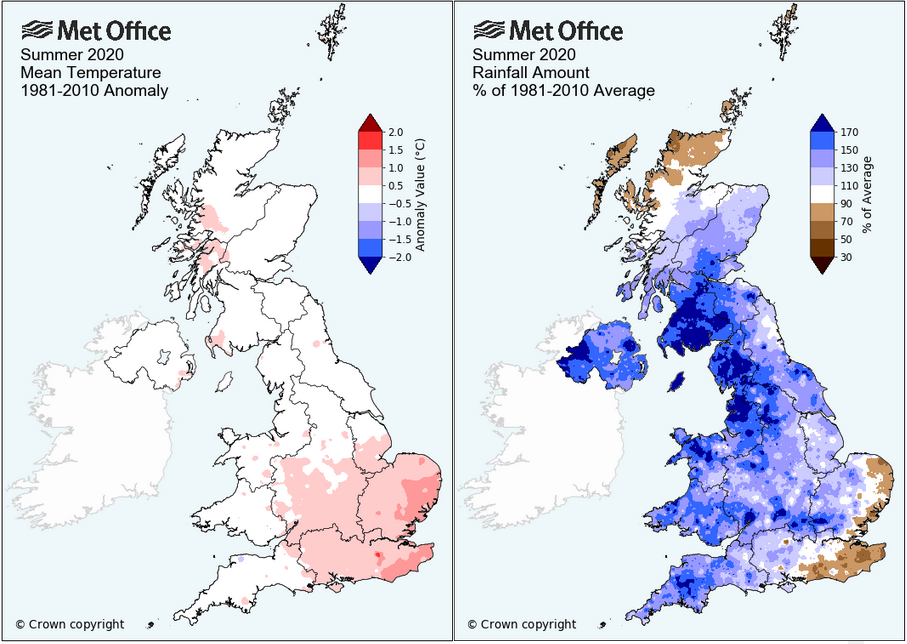 NW England, SW Scotland and western counties of Northern Ireland were particularly wet this summer, also NW Wales. Other parts of England totted up high totals as thunderstorms dumped sudden torrential downpours.