It is still difficult to pinpoint which locations will get the heavy showers and thunderstorms which is why large areas are highlighted. Again today there will be areas with thunder, heavy downpours and places which don't see any rain at all. But the higher end of the risk has to be considered and shared, so that people can make decisions about their day and property.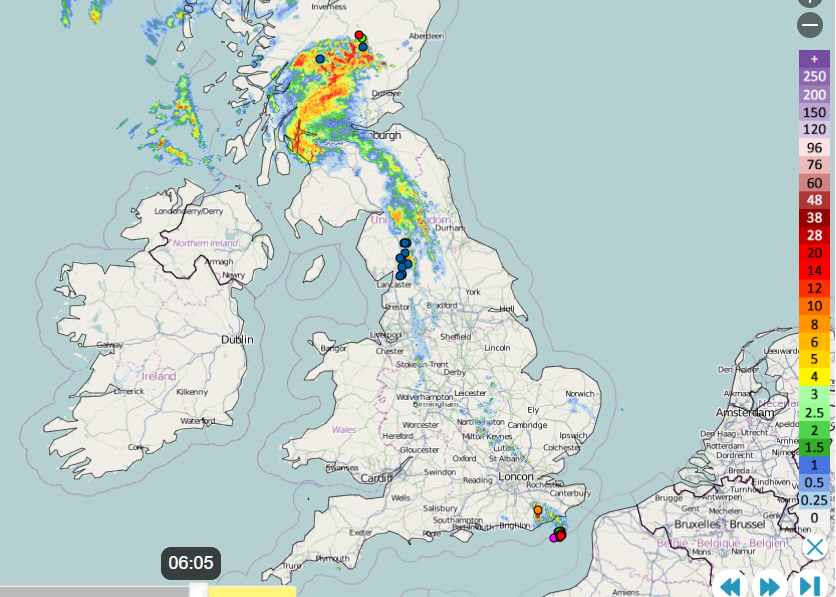 Watching the rain radar, the satellite cloud imagery and the lightning sferics can become almost hypnotic in these setups. And we have several more days and nights of thunderstorms to come.
The Heat
We are midway through a week of UK temperatures reaching over 33C. This also doesn't happen very often. Unusual, extreme weather. Temperatures around 37C are forecast for SE England inland Tuesday or Wednesday as a maximum. That is near to the all time UK record.
Public Health England continues their Heat health warnings for southeast, southern and eastern England. And an alert across the Midlands which could be upgraded to a warning midweek. It prepares health and social workers to consider high-risk groups. The heat, especially as it lasts by day and night can cause stress or add to pre-existing health conditions. Air pollution levels have also been rising during the late afternoons, as Ozone forms in the sunlight. This has been an issue for some spots in SE Britain over recent days.
So quite a week with more thunderstorms to come and the ongoing heat. It should all ease by the weekend.