We haven't had a decent weekend of weather since the end of May. But as pressure begins to rise tomorrow, things will improve on Saturday with increasingly fine, warmer conditions particularly over England and Wales by Sunday. Still, we've got to get there first, with central parts in particular still suffering from the wet, miserable and at times misty weather of the past few days, making it feel more like November than July.
Over Scotland, it's been brighter but with a scattering of showers and today will be no exception. Here together with Northern Ireland, there'll be sunny spells, but showers will develop again, mostly across Dumfries, Fife, the Central Lowlands and The Borders. Some will be heavy by the afternoon giving local hail and thunder, and with light winds, they could last a while should you catch one. In the West, though many places will stay dry with top temperatures, despite the sunny spells, only 13 to 16C in the North and 17 or 18C in the Central Lowlands, on the cool side for July.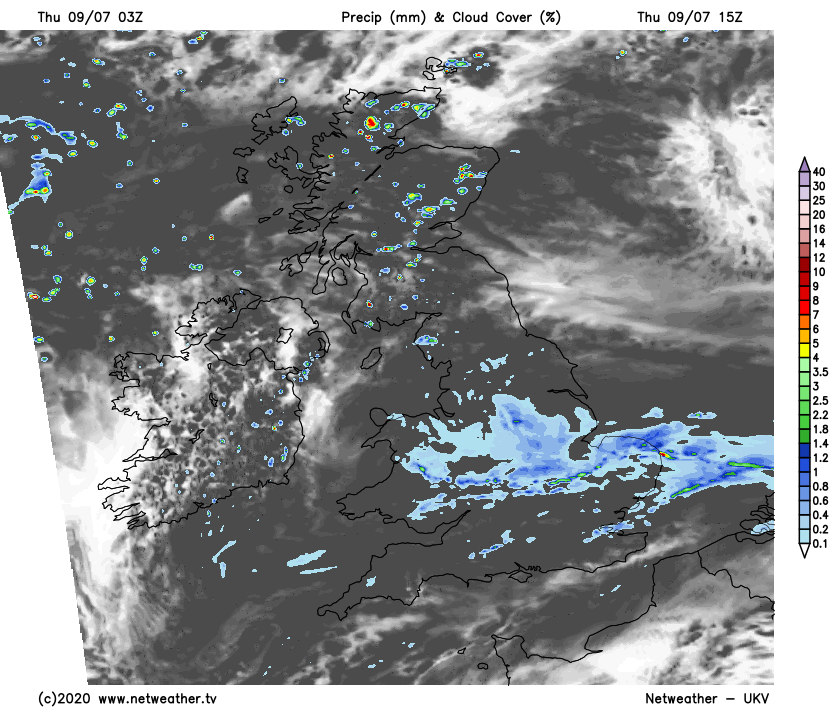 The far North of England may turn brighter, but much of England and Wales continue overcast. Sharp bursts of rain over parts of Yorkshire and Lincolnshire at first will fade, but while you may see the odd brighter interval, any sunny intervals will be limited. There'll be further mostly light rain or drizzle in places making it misty at times, especially in the South, which won't be good for the cricket at Southampton. Winds here too will be mostly light, with temperatures no higher than 15 or 16C in the gloom and 18 to 20C in somewhat humid conditions across the South.
It remains overcast into the evening in central and southern parts with further light showers in places, but later in the night, South Wales and the South West may see skies breaking. There'll also be a lot of cloud and a few showers East of the Pennines, with the showers over East Scotland continuing, but they shouldn't be quite so heavy. Clear spells elsewhere allow it to turn quite chilly in some rural areas, with a few sheltered Highland glens perhaps seeing a touch of grass frost briefly around dawn. A North or North Westerly breeze will develop, making it chillier in the South first thing when temperatures will be about 5 to 8C in the North and 9 to 12C further South.