I'm keeping my fingers crossed for the farmers, as most places will see rain during the next 48 hours. Some of it will be heavy although not everywhere will get a downpour and so amounts will vary as it turns much cooler from the North tomorrow.
For today, however, it's much of the same over England and Wales with lots of sunshine again, although for some there'll be more in the way of high cloud at times than yesterday. It continues mostly dry, although through the afternoon, cloud could develop sufficiently to produce a few sharp showers across the far North of England and the Pennines. It'll become very warm, with top temperatures mostly in the range 23 to 25C, but 26 or 27C in the hottest spots in a mostly light northerly breeze.
It'll also start fine with some hazy sun across Northern Ireland and central and southern Scotland, but cloud will increase bringing some rain, already affecting places to the North of the Great Glen. Towards Lothian and the Borders sharper showers may break out ahead of the main rain perhaps giving thunder. A northerly wind will freshen introducing much cooler weather, especially to the North, with top temperatures only 11 to 13C here, with 17 or 18C locally 19C expected towards the Scottish Borders.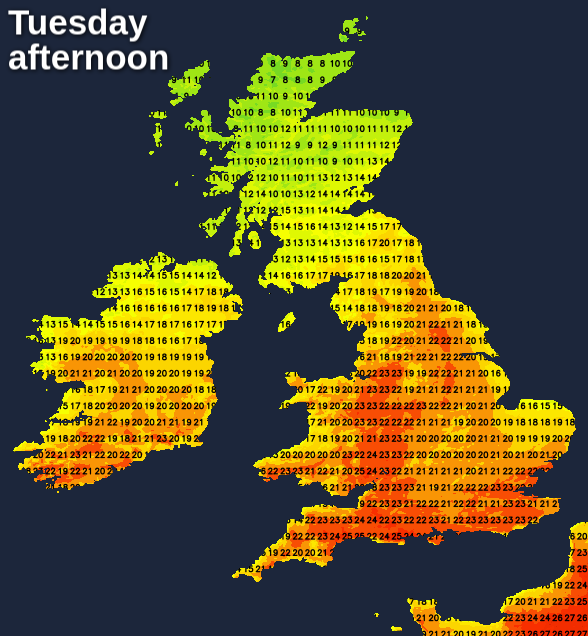 Much of the Midlands, the South East and East Anglia have another summery evening, but it'll be the last for a while. Apart from the odd shower though it'll stay dry and very mild, but with more cloud moving in after dark. Across the North of England, showery rain will push down from Scotland, this spreading to parts of Wales and the South West overnight. Some of it will be heavy, but the heavier rain will be patchy as a freshening wind brings cooler conditions already over Scotland and Northern Ireland from the North. Lowest temperatures 12 to 15C in the South and South-East and 6 to 8C in the North, where there'll be a distinct chill by morning.