That change begins to accelerate into Tuesday, although much of England and Wales won't see it, with more very warm sunshine here. For Scotland though, there'll be outbreaks of rain running down from the northwest with showers breaking out south of it. Those showers will be hit and miss but may extend down into Northern Ireland, Southern Scotland and Northern (particularly northeast) England. If you do catch one, it's liable to be heavy and maybe even thundery.
There'll be quite a range of temperatures north to south during the afternoon, with the northern half of Scotland into much cooler air with highs just about stretching into the teens. But just a little further south from central Scotland southward, right through England and Wales, maxes will again be into the low-mid twenties.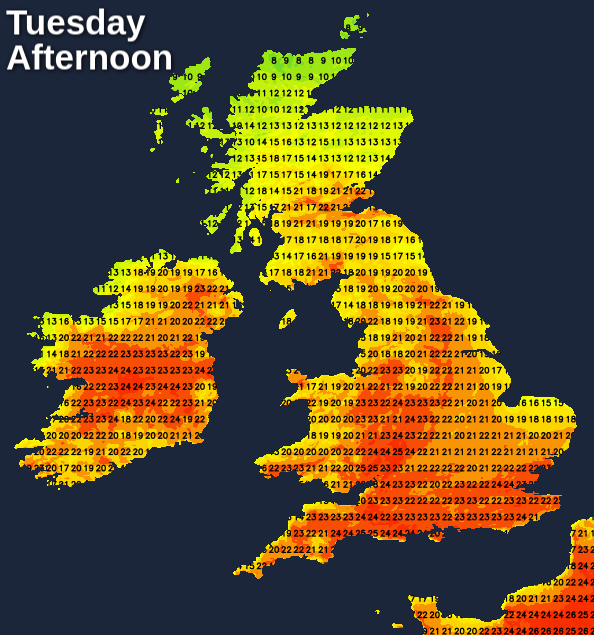 What a difference a day is going to make though. By Wednesday, those temperatures are going to be taking a dive with just the far south maybe reaching the 20's celsius, and many parts 10c or so cooler than Tuesday.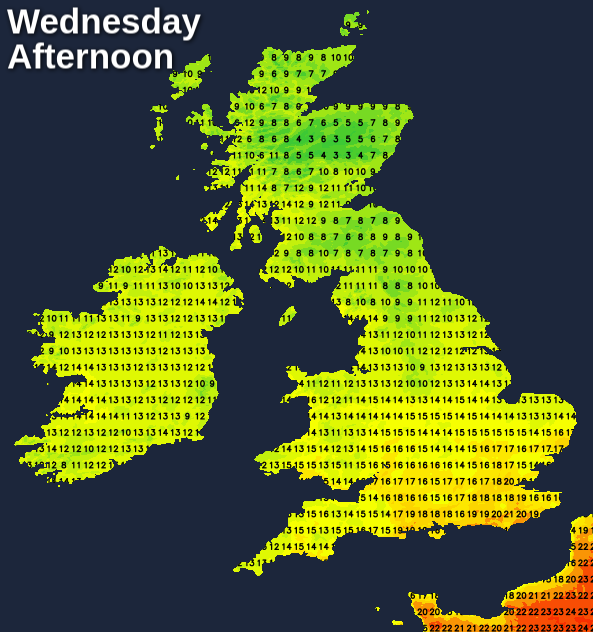 With the change in temperature, there'll also some sharp showers and the potential for thunderstorms across England and Wales, with that rain from northern Scotland having also moved south into Northern England overnight - although it's likely to be quite patchy by this point.
The remainder of the week sees the cooler, less settled weather in control. There'll not be huge amounts of rain, with any which comes through likely to be showery in the main, which won't be the best of news for gardeners and growers. There'll be sunny spells in between the more showery periods, with the south and west of the country likely to see the best of those, it's here too where the warmest temperatures will be.