"Expected to cross West Bengal and Bangladesh coasts on 20 May 0900-1200 UTC. Warnings from WMO Regional Specialized Meteorological Centre New Delhi" WMO. IST = UTC + 0530 hours, so Weds afternoon/evening local time.
"NDRF (India's National Disaster Response Force) has deployed 26 teams in Odisha and West Bengal and additionally teams are en route to these States. The teams are equipped with boats, tree cutters, telecom equipment etc. Rescue and relief teams of the Army and Navy along with ships and aircraft of the Navy, Air Force and Coast Guard have been put on standby...Cabinet Secretary directed that all necessary measures be taken to complete evacuation of people from low lying areas in cyclone path and maintain adequate quantities of essential supplies such as food, drinking water and medicines etc. "
As Cyclone Amphan ploughs northwards there is also the global pandemic of COVID_19 to contend with. Plans for potential mass evacuations and people heading to shelters now move up in priority above the invisible virus's danger. This area exists under the shadow of cyclone devastation. From tropical wind and rain but it is the storm surge that is most deadly. Even once the cyclone moves inland there can be deadly flooding as the rains meet the Himalayas and then famine, lack of clean water and so disease will follow. Millions can be displaced, and refugee camps then face the usual problems and COVID.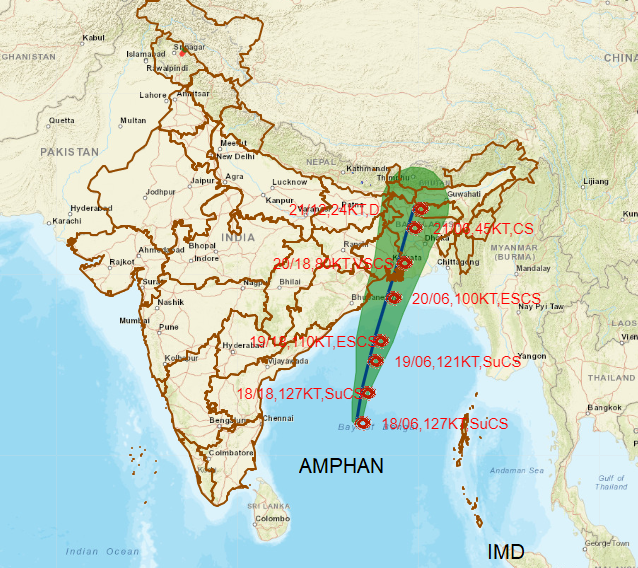 The Cyclone season is pre and post-monsoon, so April and May and also October until mid-December. Across in the Atlantic, the season has begun with Tropical Storm Arthur affecting North Carolina on Monday before heading out to sea.
The Bangladesh Meteorological Dept
Thread in the Netweather community forum about tropical cyclones and hurricanes.