Published 27th Feb, updated 5th March 2020
In the aftermath of Storm Dennis's rain, and Storm Ciara before that, resulted in serious ongoing flooding in February 2020. After huge amounts of water, the flood defences on the River Severn were compromised with overtopping at Bewdley. What no-one wanted to see in the forecast was more warnings of wet and windy weather for another weekend.
The Environment Agency, in its five-day forecast, continued the Severe Flood risk on the River Severn at Ironbridge. The red area "The flood barriers at The River Severn at the Wharfage, Ironbridge have been compromised and cannot prevent flooding of properties." Also a risk of Danger to Life flooding for River Severn in Telford and Wrekin, Shropshire and Worcestershire. This was the setting for the last storm of February 2020.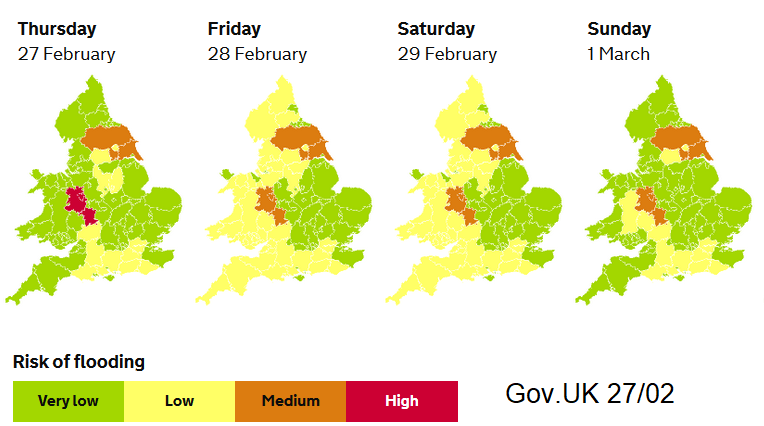 Yellow and Amber areas "Less severe flooding will then be ongoing for this part of the River Severn at least until Monday 2nd March. Flooding on the lower River Aire in Yorkshire is expected to continue for the next five days. New flooding from surface water and rivers is probable from Friday afternoon into Saturday for Wales and parts of the north, south-west and possibly south-east of England, due to further heavy rain. Local coastal flooding impacts are also possible for parts of the south coasts of England and Wales on Saturday and Sunday due to gales and large waves."