Flooding: "Local flooding is possible but not expected from rivers and surface water across parts of England on Monday, with local flooding from rivers continuing into Tuesday. Properties may flood and there may be travel disruption. Local flooding is also possible from rivers and surface across the west of England and Wales on Wednesday." Gov.uk
Northern Ireland and Scotland dipped just below freezing last night and there certainly is a cooler feel in the air for Monday morning. Temperatures by day will reach 12 to 17C today, 18C in London but as the week progresses cooler air will be pulled down around the Atlantic low and the highest maximums will be of 16C. Overall it will be too blustery for a frost this week and although it will feel cool in the wind and rain the air isn't Arctic cold. Early Thursday morning looks cooler for northern Britain.
The rain over Ireland is edging into SE counties of Northern Ireland this morning and will spread north and west on a cool day with increasing cloud. Wales has a fair morning, but the area of rain will clip inland Wales this afternoon with a few showery bits before and later this evening. In the SE wind, Gwynedd should see some fair weather. Scotland has got a fine start for Monday with light winds and a bit of an autumnal nip in the air. There have already been just a few scattered showers this morning and this afternoon the rain over Ireland will reach the Inner Hebrides then Glasgow this evening. Otherwise some fair weather.
Southern England and East Anglia have been stuck with a waving front since last week, bringing cloud and rain. Today's area of rain is going to shift northwards to Yorkshire and Lincolnshire by this evening but there will be the risk of heavy downpours for parts of SE Britain before that and still for Monday evening rush hour with scattered thunderstorms. There will be a tuck of warmer air for the SE along with these heavy showers through this afternoon and evening.
Today's rain has a low likelihood but a risk of high impacts if it does occur, on the Met Office matrix. The warning starts at 12 noon.
"Rain is expected to move northwards across parts of central, southern and eastern England on Monday. This will be heavy at times, especially during the afternoon and evening. 15 to 25 mm is likely to fall quite widely, and there is potential for 40 to 60 mm to fall in a few places. This brings a risk of flooding and disruption, though many places will miss the worst of the rain. " MO
Tonight
The rain over Ireland fades after a soggy day in the west, the rain over England nudges out over the North Sea with some blustery winds wrapped around the low. A line of showers and blustery winds moves in from the SW tonight linking to lingering showers for Co. Fermanagh and Co Tyrone but otherwise drier more settled weather which will last into Tuesday.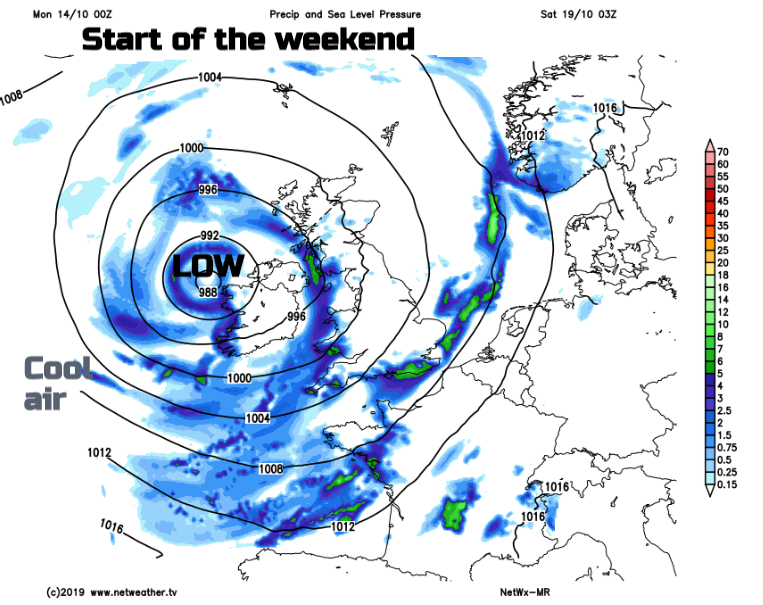 Tomorrow looks quieter, drier for most with bright or sunny spells. The line of showers could still be around on Tuesday morning working its way across England and north Wales so worth keeping an eye on the radar for that. The winds begin got pick up from the south or SW for Ireland and western Britain as the frontal rain from the big Atlantic low begins to arrive from the west.