Many parts of Britain have had a fine start this morning but there is cloud and rain already appearing out west. The warm front is bringing rain to Ireland with showers for Scotland and NW England and patchy rain around the Irish Sea and Bristol channel. Although the SW wind will pick up during the day temperatures in SE Britain should reach 17 or 18C and it will feel pleasant enough in the sunshine. That will be inside the warm sector. Northern Ireland will have a wet morning as the front goes through but some improvement this afternoon although there will be a good deal of cloud lingering and a fresh wind. Temperatures around 14 or 15C. Wales has quite a mixed day with rain moving past, mainly for Anglesey and NW Wales as the SW winds freshen. Temperatures of 15 or 16C today. The frontal band moves NE, weak and patchy over England, although with some heavier rain for Peak District up to Cumbrian Fells today and heavier rain for Scotland away from the east.
A mild and cloudy night for the southern half of the UK, cooler further north with some clear spells and showers.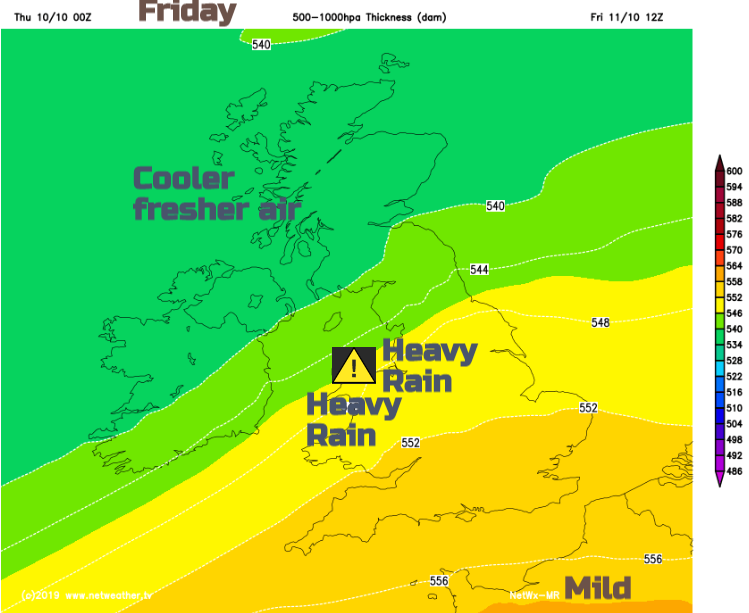 By Friday there will be areas of rain which don't move much, so some parts of the UK have a very wet day and others miss it. There will be more heavy showers coming into western Scotland, some spreading to Northern Ireland later. The frontal rain for Wales and NW England and another band over southern England before the two merge later on Friday and lurk, await a wave.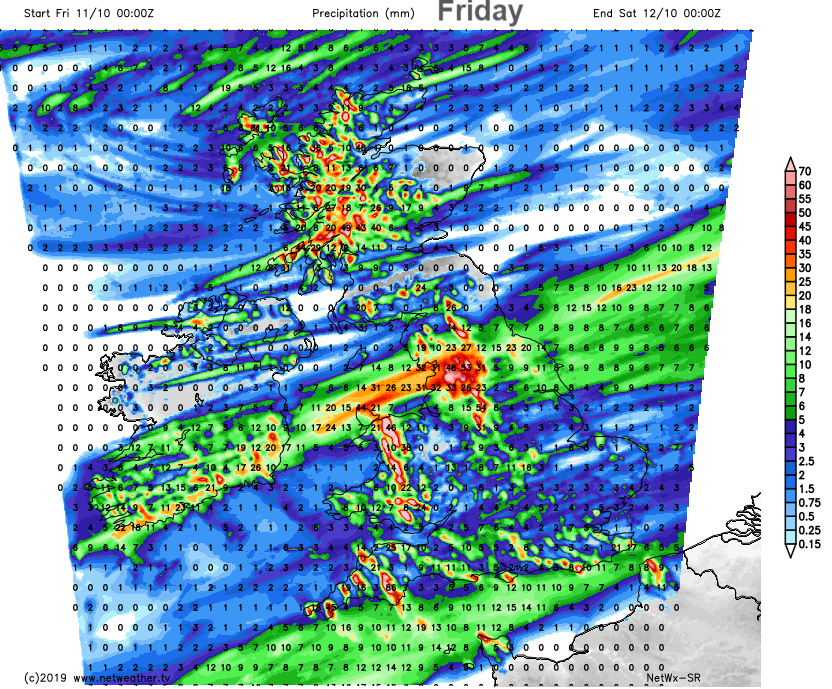 Local flooding is probable from rivers and surface water across parts of Wales and the north of England on Friday. Local flooding from rivers and surface water is possible across Wales and many parts of England and Wales on Saturday and Sunday. Env Agency & Natural Resources Wales.
The weekend.
If you were thinking of staying in to watch the Rugby world cup or Japanese GP this weekend rather than encountering the unsettled UK weather, there have been two cancellations. Incoming Typhoon Hagibis is still on track to affect Tokyo, so England's match is now cancelled. Ireland's is still scheduled but Scotland's may move. No decision about the F1 race have been announced yet.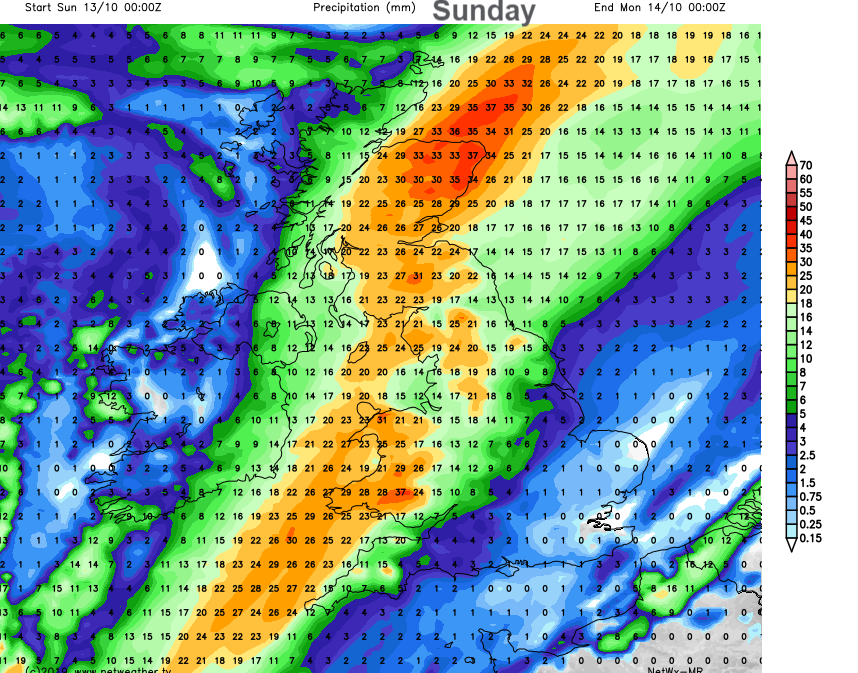 It looks like a damp start in the far south of Britain, showers again in the far north and then more heavy rain from the SW on Sunday with strengthening winds.