It's a bank holiday weekend for most this weekend, the grand summer finale with events up and down the country, and the weather is playing ball. It's not too often you can say that on a long weekend. Sunshine and warm, if not hot temperatures will be the theme for a good part of the country - with just the far northwest seeing some rain from time to time.
Yesterday saw temperatures peak at 28.8c in Hull, that's likely to be bettered by a few degrees over the coming days. There are some temperature records to keep an eye on over the weekend. Firstly, the hottest temperature ever recorded during the late August bank holiday is 31.5c (2001 at Heathrow). The highest recorded late August bank holiday Monday is currently 28.2c (Holbeach in 2017). And regardless of whether it's a bank holiday or not, daily records across the weekend could also be in danger:
24th August: 33.9c (Gravesend, 2016)
25th August: 32.5c (North Heath, 1976)
26th August: 32.8c (Cromer, 1964)
Today's record (Saturday 24th) may be safe though, with forecast maxes likely to be around the 29c mark in eastern and central England.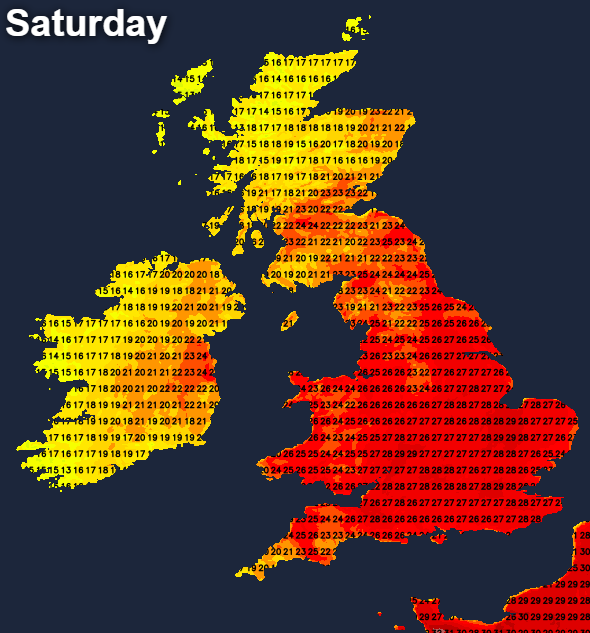 Much of the rest of the country will see highs into the mid-twenties with the exception of western and Northern Ireland, along with the northern half of Scotland. Here, there'll be a bit more cloud around and a few outbreaks of showery rain running in at times. For the majority though, it's a day of long sunny periods, albeit with a bit more cloud running into the west later in the day.