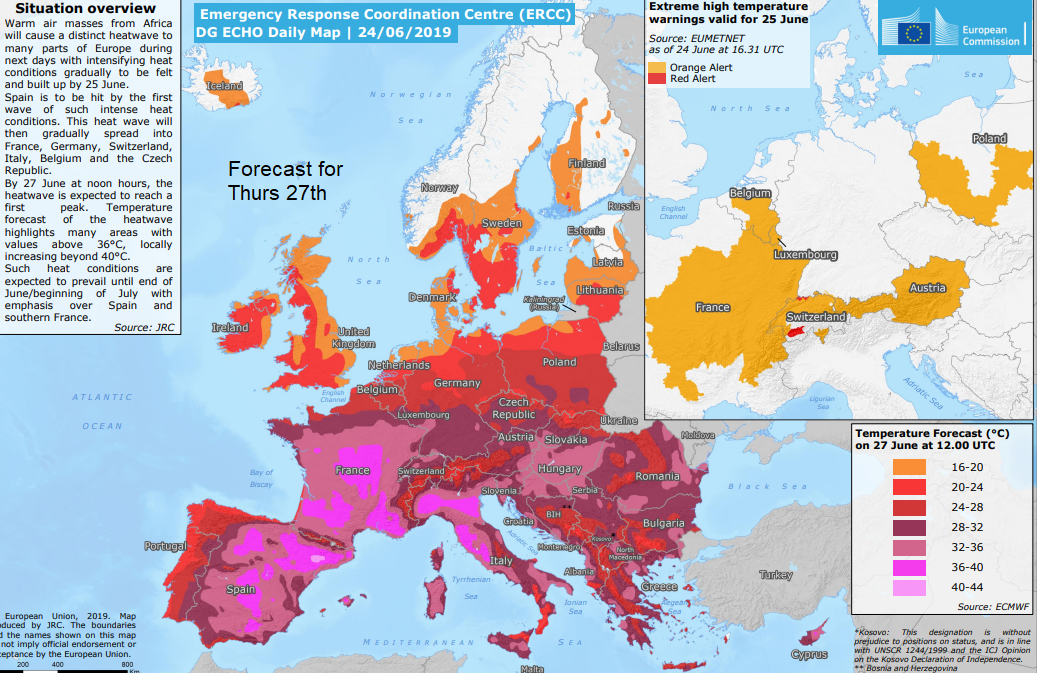 Alert by the Emergency Response Coordination Centre.
By 27 June, the first heatwave for 2019 is expected to peak in, with extreme temperatures all over Europe. Be very careful, avoid any fire hazards and pay extra attention to your health.
Heatwave definitions vary. There have been words issued by the WMO, World Meteorological Organisation over the years, relating to two or five days with temperatures above a set figure, occurring within the warmer seasons. There has been plenty of discussion around the definition and its helpfulness. Especially with climate change and the need for action plans as lengthy hot and dry weather causes more issues around the world.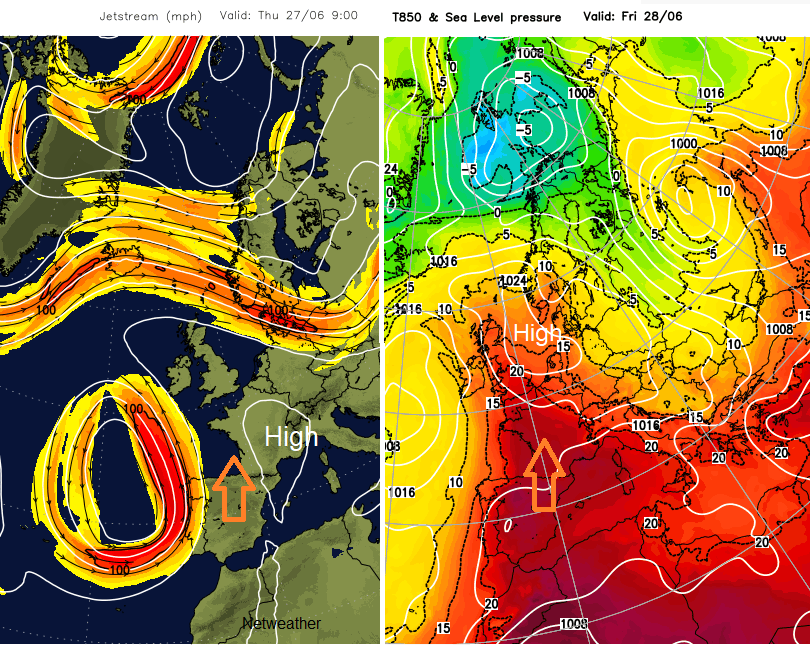 International Meteorological Vocabulary (WMO) A heat wave is: Marked warming of the air, or the invasion of very warm air, over a large area; it usually lasts from a few days to a few weeks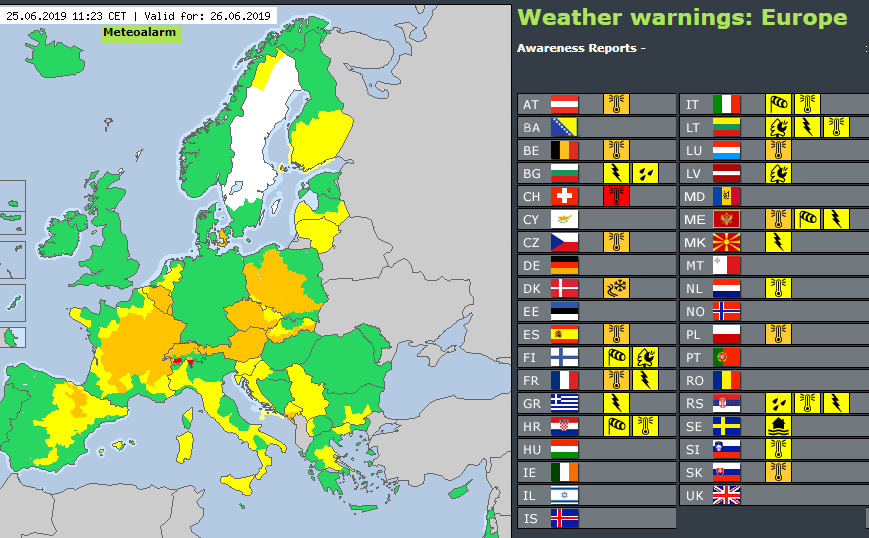 Meteo Alarm- Extreme high temperatures for northern and southwestern Switzerland. There has also been flash flooding. Other parts of Europe have heat warnings out for the end of June 2019.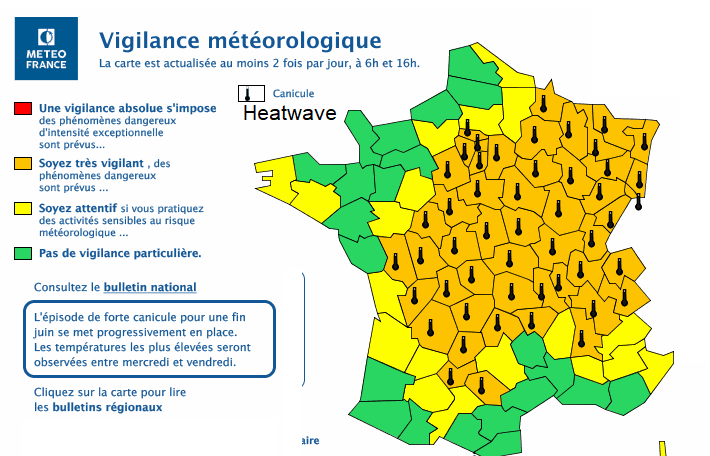 In the IPCC glossary (Intergovernmental Panel on Climate Change): a heat wave is a period of abnormally and uncomfortably hot weather.
The latest WMO thinking "A period of marked unusual hot weather (maximum, minimum and daily average temperature) over a region persisting at least three consecutive days during the warm period of the year based on local (station-based) climatological conditions, with thermal conditions recorded above given thresholds." The UK June record is 35.6C. That looks safe enough. Back in August 2003, there were heatwave conditions for 10 days and the all-time highest UK temperature of 38.5C, resulting in at least 2,000 deaths. The European heatwave that year is thought to have caused tens of thousands of deaths.
Aviso especial Ola de calor AEMET Spain - Due to the intensity, duration and extension of this episode of such high temperatures, AEMET considers it exceptionally adverse and therefore issues this Special Notice by "heatwave". June 2019
You could have "a warm spell", similar to heat waves but not as extreme. Warm spells are defined as a persistent period of abnormally warm weather. A warm spell occurs at any time of the year, whereas heat waves can only occur in the warm season. The phrase heatwave has weight now (no mini-heatwaves please) as the effects become more serious. Thinking about society's health needs and the effects on water, transportation, the countryside, crops and energy supplies.
As the heat moves about in this warm spell, places may not qualify for an official heatwave as under the three consecutive days. You may find the end of June heat and humidity quite something though, or just enjoy it.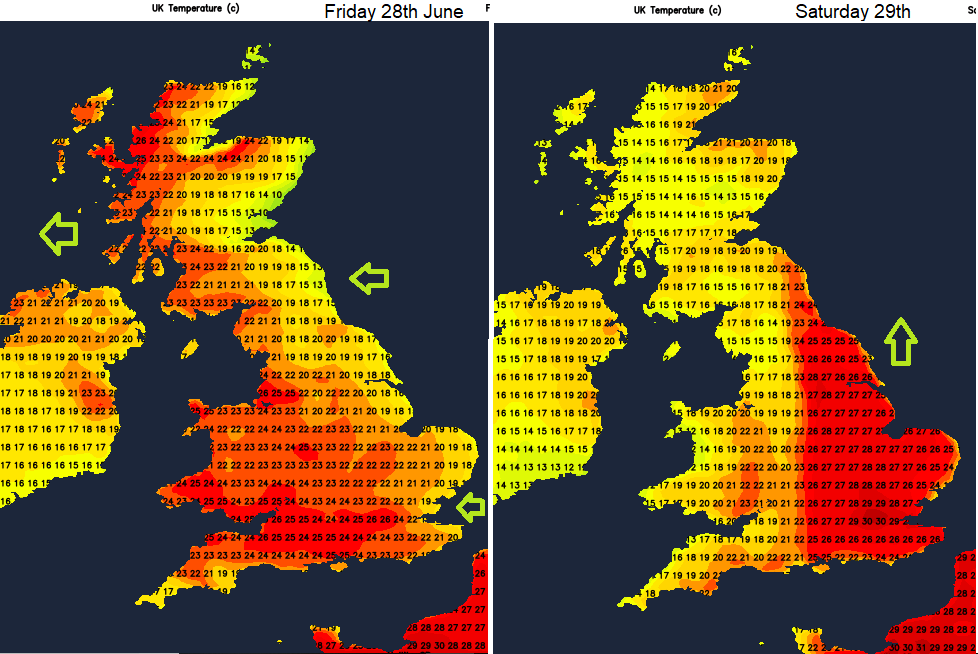 The WMO guidance on heat-health warning. "Heatwave: a period of unusually hot and dry or hot and humid weather that has a subtle onset and cessation, a duration of at least two to three days and a discernible impact on human activities. " Take care in this spell of heat and humidity.
Public Health England in conjunction with UK Met Office issue Heat Health alerts, currently at yellow but could rise to amber, a forecast for health professionals
Chance of summer heatwaves now thirty times more likely Met Office study