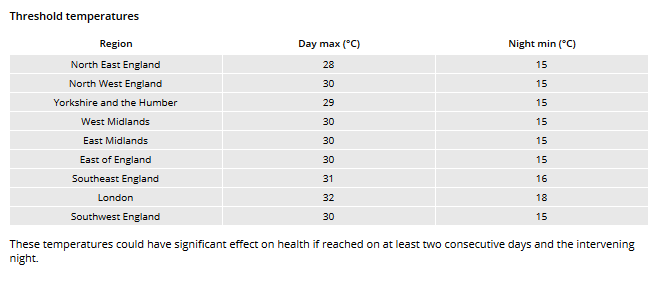 In 2018 parts of England had an Amber alert with a 90% likelihood of heatwave. The current Yellow alert carries a 70% likelihood of heatwave for SE England, London and East Anglia.
Met Office 21/06/19 "A spell of very warm and locally hot, humid weather is likely to begin this coming weekend with temperatures gradually climbing during next week, particularly in south east England ...With this hot weather, there is an increased risk of rain and thunderstorms especially in the North and West of England. This alert may be revised on Monday."
Just as in extreme, or lengthy cold spells, there can be serious health consequences from too much heat and vulnerable groups are particularly at-risk as the heat continues and .intensifies. Heatwaves can be dangerous, especially for the very young or very old or those with chronic disease. These alerts set off recommendations and procedures to reduce the risks to health as the heat continues for:
The NHS, local authorities, social care, and other public agencies
Professionals working with people at risk
Individuals, local communities and voluntary groups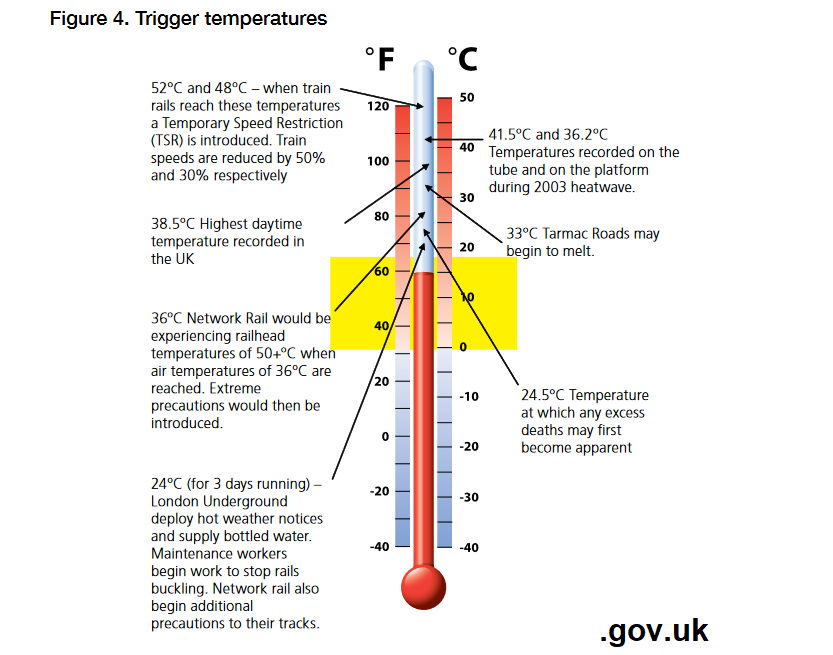 People do die from the excess heat, just as there are excess winter deaths, excess summer deaths begin to happen as UK temperatures pass the mid 20sC
Level 3: Heatwave action: PHE will continue to monitor any increases in heat-related illness reported in calls to NHS 111, GP in hours and out of hours consultations and emergency department attendances (on a daily basis, week days only) Then look at how severe the effects are, including the impact on regions and age groups. Any increase in mortality is monitored.
Level 4: Emergency Response: Further monitoring, daily
Advice from the NHS
"Stay out of the sun. Keep your home as cool as possible – shading windows and shutting them during the day may help. Open them when it is cooler at night. Keep drinking fluids. If there's anybody you know, for example, an older person living on their own, who might be at special risk, make sure they know what to do"
There will be impacts on water supplies as people and infrastructure demands increase, on farming and a higher risk of wildfires. Luckily now most schools are closed for the summer holidays but holiday child care providers still have to manage their settings safely. Often air pollution levels rise in still, hot air, there are signs of issues for S.Britain on the DEFRA air quality forecast.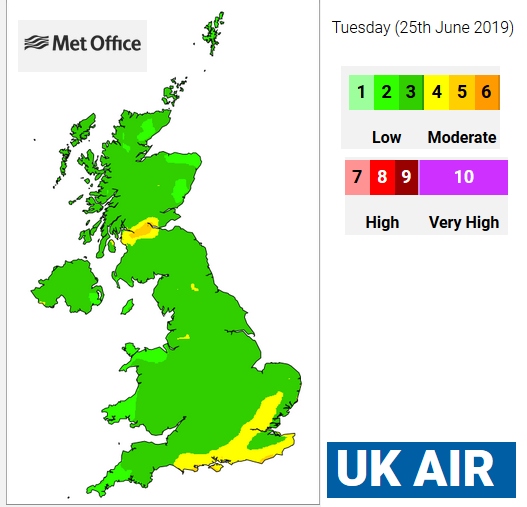 What would it take for a Level 4 , Emergency Response?
"Declaring a Level 4 alert indicates a major incident. The government will decide whether to go to Level 4 when there is a very severe heatwave which will last for a considerable period of time and will also affect transport, food and water, energy supplies and businesses as well as health and social care services. The decision to issue a Level 4 alert is made at national level and will be taken in light of a cross-government assessment of the weather conditions, co-ordinated by the Civil Contingencies Secretariat (Cabinet Office). A Level 4 alert is not triggered automatically by a greater than four day period of severe hot weather"
This would happen when major issues with transportation network, power supplies, water supplies, health and the environment start to occur. Will it be hot?
Heatwave Plan England - updated May 2019
Heatwave Plan Wales 2012