Newspapers are enjoying the opportunity to compare our UK forecast temperatures with resorts abroad.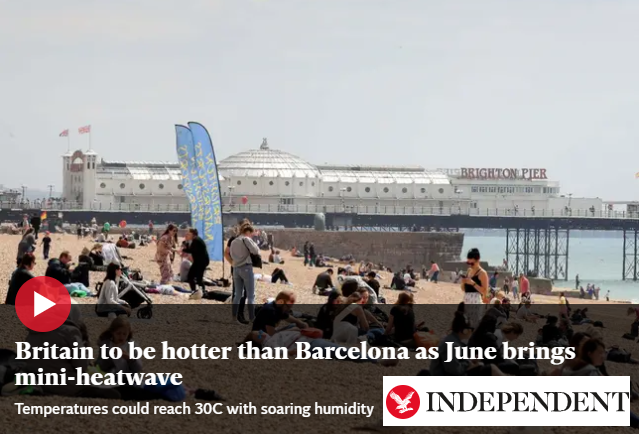 Not that keen on "mini-heatwave", it is just going to be warm or hot for a day or so.
There isn't any official definition of a heatwave. There have been words issued by the WMO, World Meteorological Organisation over the years, relating to two or five days with temperatures above a set figure, occurring within the warmer seasons. There has been plenty of discussion around the definition and its helpfulness. Especially with climate change and the need for action plans as lengthy hot and dry weather causes more issues around the world. Linking heat and health issues, the impacts are now considered important rather than set temperatures and time frames.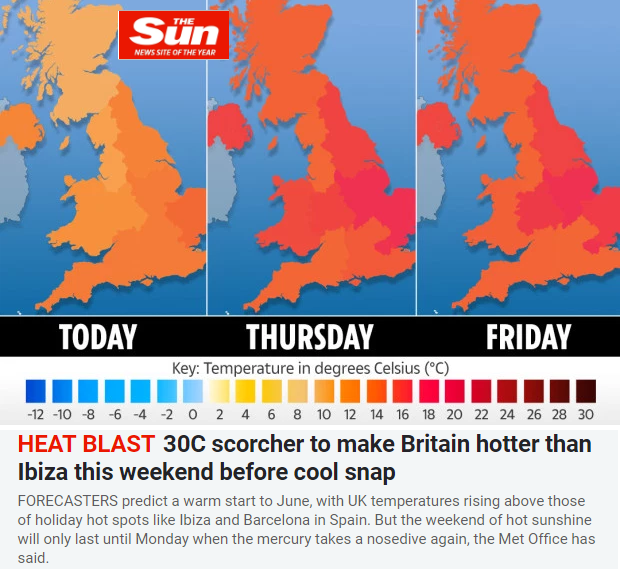 International Meteorological Vocabulary (WMO) A heat wave is: Marked warming of the air, or the invasion of very warm air, over a large area; it usually lasts from a few days to a few weeks
The WMO guidance on heat-health warning. heatwave: a period of unusually hot and dry or hot and humid weather that has a subtle onset and cessation, a duration of at least two to three days and a discernible impact on human activities.
In the IPCC glossary (Intergovernmental Panel on Climate Change): a heat wave is a period of abnormally and uncomfortably hot weather.
The latest WMO thinking "A period of marked unusual hot weather (maximum, minimum and daily average temperature) over a region persisting at least three* consecutive days during the warm period of the year based on local (station-based) climatological conditions, with thermal conditions recorded above given thresholds.
You could have "a warm spell", similar to heat waves but allowed at any time of the year. Warm spells are defined as a persistent period of abnormal warm weather. A warm spell occurs at any time of the year, whereas heat waves can only occur in the warm season. Are the headline writers going to go with that? Warm spell or HEAT BLAST! However, there has to be careful use of these phrases as the effects become more serious. Thinking about society's health needs and the effects on water, transportation, the countryside, crops and energy supplies.

Is it going to be the hottest ever June, a really hot summer?
We don't know yet. The UK June record is 35.6C back in 1976 in Southampton and 1957 in Camden. With climate change and continual global heating, records will keep on getting broken. Not sure that these 'key stats' in the Express article do reveal anything as they are a bit confusing to read. The seasonal Central England Temperatures (CET) data set shows summer JJA (Jun Jul Aug) at 17.27C for 2018 5th warmest, with 2003 and 1995 warmer. So yes, last summer was very warm, and dry but it was quite an extraordinary year all round after the Beast from the East.
Looking at the UK as a whole, the Met Office did declare summer 2018 as the joint hottest on record together with 2006, 2003 and 1976. The mean temperature around 15.8C with records back to 1910. Another hottest summer on record again, is possible, even probable in the next few years, but it doesn't help you plan for a specific date in the next few months here in the UK.
The quote in the Mirror Headline, is actually from the Met Office, in their contingency planning forecast. Probably the bane of their lives, as it does really need a lot of understanding and wider reading, not just a grab of one line from the summary. "For June and June-July-August as a whole, above-average temperatures are more likely than below-average temperatures." Importantly "does not imply hot weather throughout the 3-month period"
This weekend England and Wales should see temperatures in the low to mid 20sC on Saturday and there is the potential on Sunday for high 20sC (30C looks less likely now 30th May) for eastern and SE England as warm and humid air flows up from the south. Most of the wet and cloudy weather stays further north affecting other parts of the UK until a cold front sweeps across the UK during Sunday west to east. Along this, there could be thunderstorms, but ahead of it will be the highest temperatures.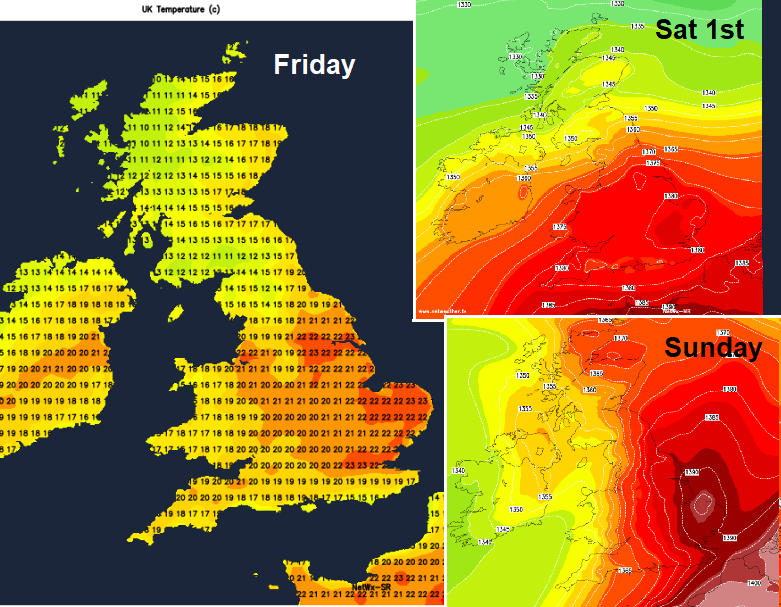 CET Central England Temperature covers a roughly triangular area of the UK, enclosed by Bristol, Lancashire and London. The monthly series begins in 1659, and is the longest available instrumental record of temperature in the world. Met Office