We are presently in somewhat of a rut, as our more traditional Atlantic westerlies try to get themselves re-established. It's a time of pressure re-organisation that often occurs in late May, and as a result, any changes will be slow. So what you have today you'll probably keep.
It's a sunny start over much of southern Scotland and North East England, while other parts of northern England mostly West of the Pennines have cloud and patchy light rain. For most of England and Wales though it'll be pleasant enough with some sunshine, although cloud amounts will vary. It'll also be mainly dry, although cloud could build sufficiently across the South West and Dyfed to perhaps produce the odd shower. It'll feel warm in the sunshine in a mostly light West or North Westerly breeze, with temperatures reaching 18 to 21C in most parts and 22 or 23C in the South where you see the best of the sunshine.
Remaining parts of Scotland will see more cloud, With Highland and the North East continuing to see bursts of rain (heavy in places) in a cold and blustery North West wind. As a result, temperatures here will get no higher than 10 to 12C, but over central and western parts of Scotland, 13 to 16C is more likely, in somewhat drier, brighter, less windy conditions. Cloud across Northern Ireland will give some patchy light rain at first mostly over Armagh and Tyrone. But it should be a mainly dry, bright day across the province with sunny intervals - top temperatures here 15 to 17C.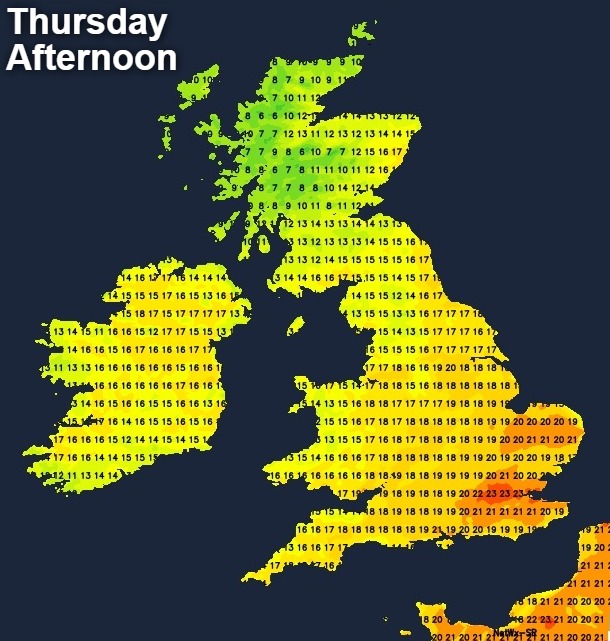 The North and North East of Scotland will see further bursts of rain into the evening and overnight accompanied by a cold North West wind. With cloud across parts of Northern Ireland, South Wales, Cornwall and perhaps Devon also producing the odd shower. For most though it'll be a dry evening and night with skies breaking sufficiently at times to give clear spells. Where skies stay clear and with a West or North Westerly breeze mostly light, a few mist or fog patches will form towards dawn in rural areas, but these will be short-lived. Although perhaps turning a little chilly in some rural locations it's not expected to be a cold night, with minimum temperatures mostly in the range 6 to 11C.