So far this week, it's been the north that's seen the highest temperatures, thanks to southerly winds here, with the Scottish Highlands reaching 24C at Drumnadrochit along the shores of Loch Ness, southern areas have been less warm thanks to a brisk breeze from the east off the North Sea. Today will be another fine day with strong sunshine for many, highest temperatures towards the north and west – where winds will be lighter, cooler towards southern and eastern coasts with the easterly breeze. However, from tomorrow it will turn cooler and cloudier for many and on Friday low pressure over the near continent will begin to influence our weather, bringing showers to the south, then further north through the weekend, with many areas staying on the cool and cloudy side.
Today
For now, not quite as chilly a start as yesterday morning, but nevertheless many parts away from the west have dipped into single figures overnight, but with many seeing blue skies to start the day, it will quickly warm up in the sunshine this morning.
High pressure once again in control of the weather today, centred to the northeast, so most parts staying dry with prolonged sunshine, the cloud will build over hills of northern England and Scotland to bring a low risk of shower. Winds a little lighter too across SE England and East Anglia – so feeling warmer than the last few days, but again, the highest temperatures will be across the north – with Scotland seeing temperatures this afternoon reaching 21-24C inland, Northern Ireland along with most of England and Wales reaching 19-21C inland, cooler along southern and eastern coasts of England – with an easterly breeze here – temperatures reaching 15-16C here.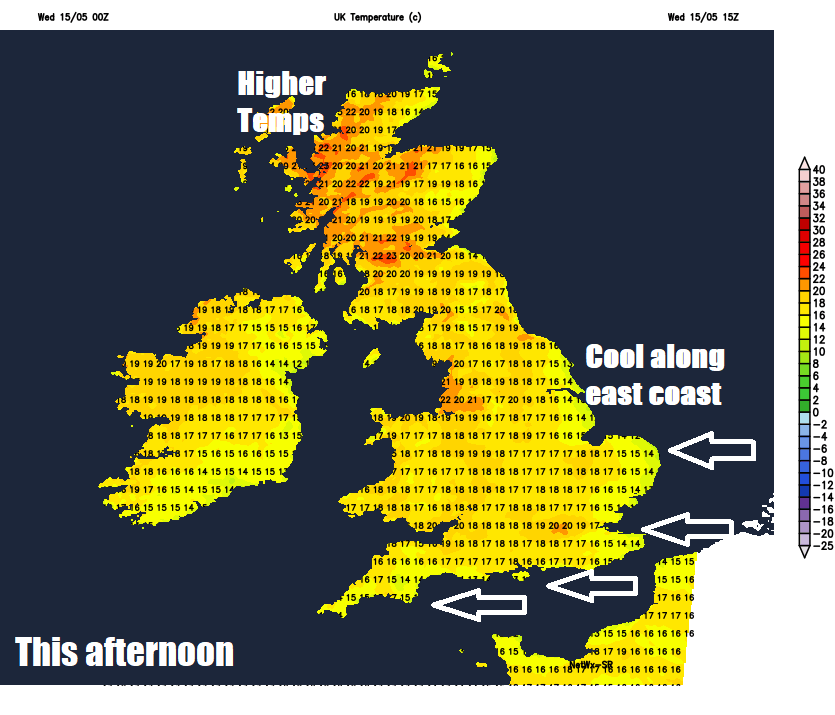 A reminder that the sun is strong at this time of year, so UV levels will high in many parts away from the far north and northwest, so be sure to protect yourself from the sun. Also, pollen levels will be moderate as we start to enter the grass pollen season.
Dry and clear for most areas tonight, perhaps some cloud arriving for western Scotland – which may bring a spot of drizzle. Sea mist or fog may lap on to North Sea coasts, while some mist and fog patches could form inland.
Thursday
Then tomorrow, high pressure will retreat further northeast while low pressure drifts west over central Europe allowing isobars to tighten, so the easterly or southeasterly breeze strengthening again bringing a cooler feel in general with more in the way of cloud. However it will remain mostly dry with some sunny spells. A trough moving in across the northwest will bring the risk of a few showers, perhaps heavy and thundery, across western Scotland and N. Ireland. Temperatures generally lower than today, coolest along eastern coasts where we can expect 14-15C, further west 15-18C with some sunshine.
Cooler air spreading from the east on Thursday, so not quite as warm as today