This week started with some pleasantly warm sunshine for some, with 19.6C reached at Santon Downham in Norfolk on Monday afternoon. And although for many it will stay dry and sunny for the rest of the week, temperatures will take a tumble, as increasingly cold air is pulled west on easterly winds across NW Europe from a cold Scandinavia.
The cold easterly winds will stay with us through the coming weekend and, if anything, it looks to turn even colder, as models forecast a pool of unusually deep cold air for early April, pushing west from NE Europe and NW Russia towards the UK. 850 hPa temperatures on Saturday afternoon, that's about 1500 metres or 5000 feet up, falling to -8C across SE Britain, which is rather cold in deep winter - let alone mid-April.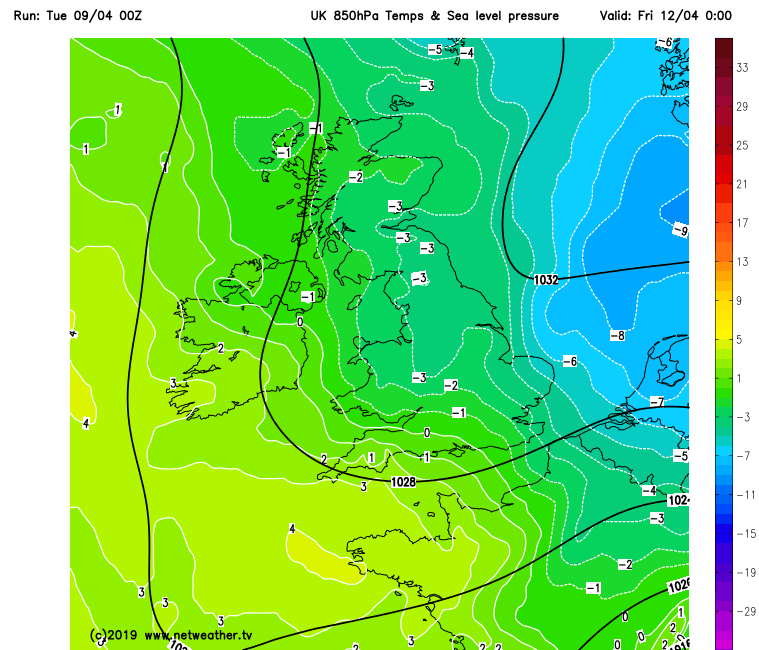 Such temperatures aloft in deep winter would translate to surface temperatures struggling to get much above freezing with cloud cover, but being April it won't be nearly as cold. Nonetheless, daytime temperatures are forecast to stay in single figures away from the far west on Saturday. The brisk easterly flow may bring light showers to eastern coastal areas too over the weekend – which could bring a wintry mix, particularly overnight, with snow possible over hills in the northeast.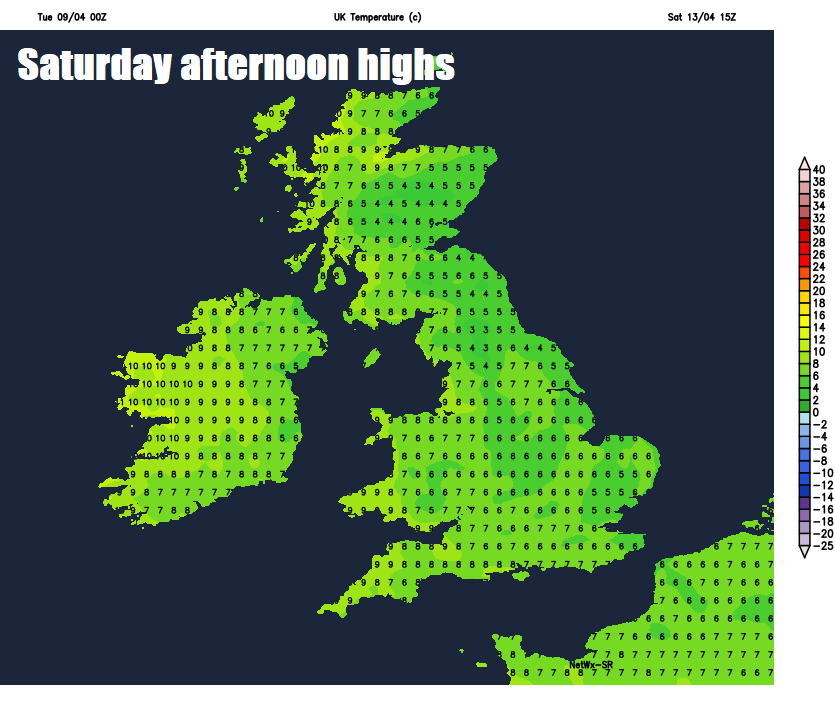 April can bring a taste of all four seasons in one month, sometimes within a space of a few weeks
April is infamous for showers, but naturally one expects winter to be well behind us, with the weather progressively improving and temperatures rising week by week as we head towards late Spring. But in reality, April and certainly Spring in general often doesn't conform to this idealized concept. More typically, warm weather comes and goes in fits and starts, with setbacks towards more winter-like conditions, even in April, not that uncommon.
Sudden sharp frosts in April and May are not unusual, nor is heavy hill snow in early April. Lowland snow in April is not common but has happened in recent years, even in the south. In 2008, and area of sleet and snow in a cold northerly flow brought 5-10cm of snow across parts of SE England and the Midlands on the morning of the 6th April, with Kenley in the southern suburbs of London reaching a high of just 2C that day. April 2012 was colder than March that year, with winds frequently from a northerly quarter, with widespread snowfall in the north in the first few days of the month, with drifting snow closing higher routes over the Pennines for a time.
Early April 2008 snow in London and SE England