Tuesday certainly had a wintry flavour, with snow falling from wintry showers in many areas, settling as far south as parts of London and SE England. Whether it was rain, sleet or snow that fell over the past 24 hours, wet surfaces and freezing temperatures overnight means a risk of ice this morning. Today will be mostly dry, sunny and cold, bar wintry showers in the far west. However, we will see a change taking place in the far west tonight, as a warm front introduces less cold air and cloud here. Cold with further wintry showers tomorrow at first, cloud and milder air in the west, which eventually spreads across all parts by Friday, with patchy rain, which will turn heavy and persistent across the north and west. The cold air will return though this weekend, as cold front sweeping south on Saturday morning, bringing mostly rain, is followed by a surge of arctic air from the north, with wintry showers following.
Today
For now, clearing skies following the wintry showers yesterday and overnight has meant temperatures have fallen widely below freezing, leading to a risk of icy patches on untreated surfaces to watch out for journey to work or school run. Lowest temperatures have been across central Scotland, and have fallen as low as -9C at Perth and -7C in Glasgow. There are also some dense fog patches to watch out for across NW England. Wintry showers continue across western coastal areas, adding to the ice risk, with snow falling and settling from these showers over western hills causing some slippery conditions over higher routes. There are also wintry showers clipping coasts of eastern England as far south as east Kent.
After the cold and icy start, many places will have a dry day with plenty of wintry sunshine and light winds, though wintry showers will continue across the far west and far north of Scotland, falling as snow over hills in the west and lower levels across northern Scotland. A cold day, despite the sunshine, temperatures reaching 2-4C across northern, central and eastern Britain, across N. Ireland, Wales and SW England 5-8C.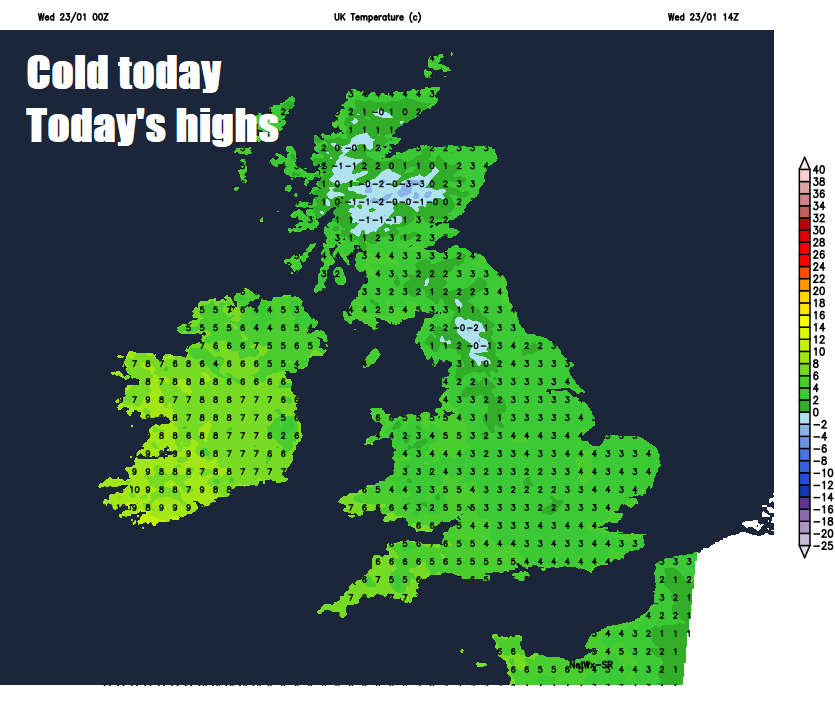 Tonight
Warm front moving in off the Atlantic will bring thickening cloud later in the day across the island of Ireland and far SW of England before nightfall and some patchy rain overnight, temperatures holding above freezing. Further east, wintry showers will continue to affect Wales and NW England, moving inland across the Midlands too, some icy patches where temperatures dip close to freezing. Clear spells and widespread frost developing across Scotland and eastern areas of England – where temperatures will drop below freezing.
Thursday
Thursday starts off cold, frosty and bright or sunny for eastern areas, wintry showers across central and western areas tending to spread towards southern and eastern areas through the morning before easiing into the afternoon. For eastern Scotland and northeastern England it will continue dry, bright or sunny through the afternoon. However, a change in the west, as that warm front brings thickening and cloud and patchy rain, already affecting the island of Ireland in the morning, eastwards across western Scotland, where it will turn to snow over higher ground, along with NW England, Wales and SW England. Temperatures across central and eastern areas reaching 3-5C, across the cloudier west less cold with 6-9C.
Friday
A warm front will continue to head off east on Friday, introducing milder air from the Atlantic across all parts. It will be a rather cloudy in wake of the warm front clearing east, with patchy light rain and drizzle in places, though there could be some bright spells developing across the south and southwest. A trailing cold front will bring more persistent rain across northern and western Scotland in the afternoon and through the evening. Temperatures reaching 6-9C generally, perhaps 10-11C across the far west.