Thursday saw much colder air arrive from the arctic, with quite a few seeing snow falling from wintry showers in the morning, with some settling in the northeast. Though the blue skies and sunshine partly compensated for the cold, particularly after quite a few days featuring anticyclonic gloom since Christmas. And the cold is here too stay today and through the weekend and if you think it's cold the next few days, there is potential for the weather to turn even colder towards the end of next week, as easterly winds develop drawing bitterly cold air from NE Europe.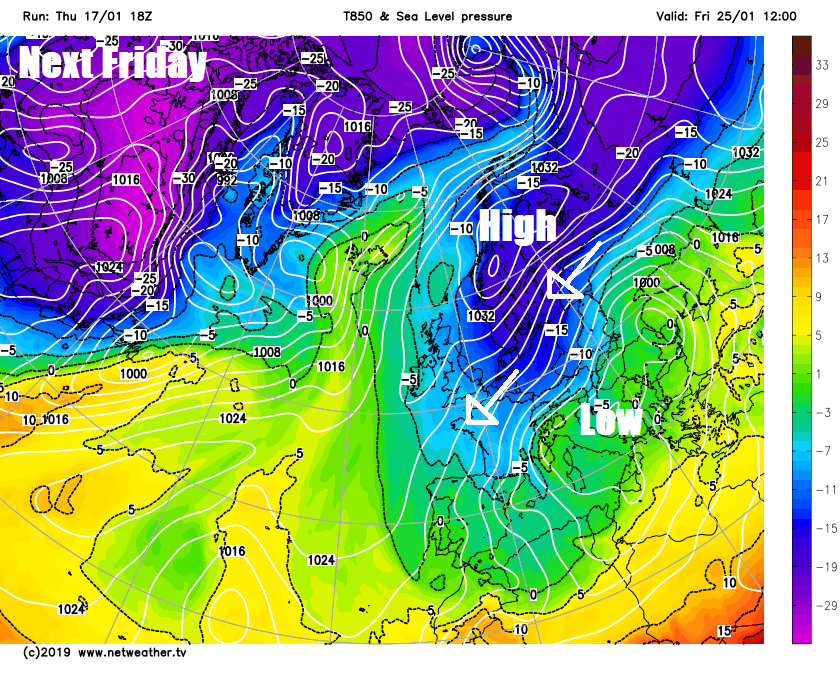 Today
But for now, clear skies overnight and the arctic air that arrived yesterday means temperatures have plummeted overnight, widely below freezing away from the far west even in towns and cities in the south. Aboyne in Aberdeenshire was the coldest spot, with -10.7C, making it the UK's coldest night of the year so far.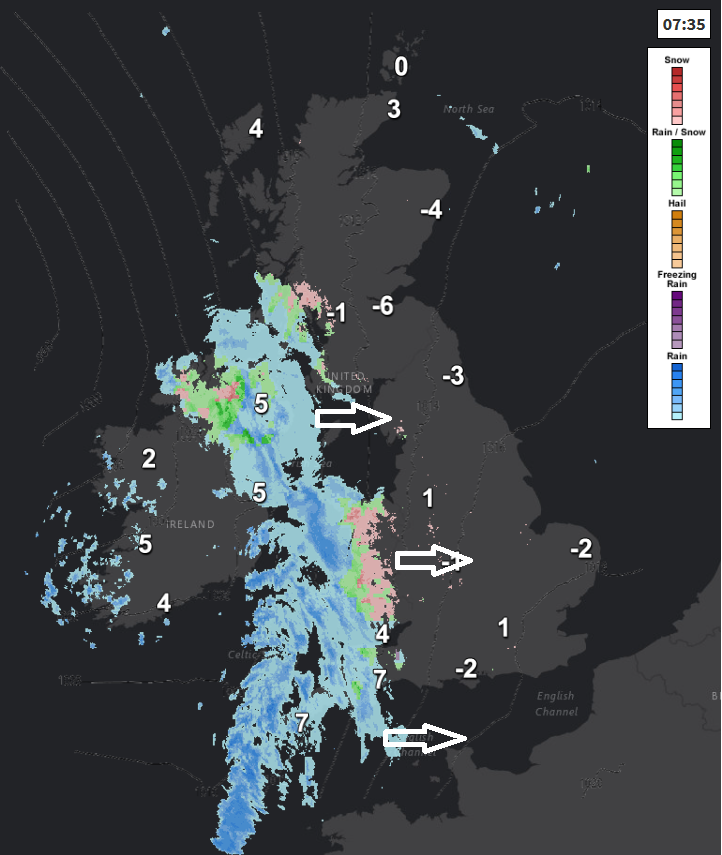 So, a cold, frosty and bright start across many areas, eastern areas will hang onto the sunshine the longest today. However, across N. Ireland, west Wales, Devon and Cornwall a band of rain and hill snow mixed in is moving in, this will continue to spread slowly north and east across Wales, SW England and SW Scotland through the morning, reaching NW England, Midlands and central southern England into the afternoon, perhaps with snow to lower levels inland for a time. Likely staying dry and bright across much of Scotland, away from the southwest, along with eastern England. Any snow generally not too disruptive, though over the hills of Wales it may cause some slippery conditions over higher routes, a yellow warning for snow has been issued.
Temperatures reaching 2-4C across Scotland and eastern England in the sunshine, 4-6C under the cloud, rain and hill snow, perhaps as high as 9-10C in the southwest.
Tonight
Then tonight, the band of rain, sleet and hill snow along an occluded front will continue north and east across central and southern Scotland and eastern England, again generally snow hopefully not too disruptive, though higher routes may be affected by slippery conditions for a time. Rather cloudy following the rain and hill snow band, with showers of rain or sleet affecting mainly southern and western areas of England and Wales. Temperatures generally staying above freezing with all the cloud, though clearer skies across northern Scotland will allow a frost to develop.