There has been a bit of snow this morning and there is plenty of ice about. Snow showers moved over Scotland, into northern counties of Northern Ireland, a little over the Welsh mountains and an occluded front which has worked its way southwards bringing a wet and wintry mix. There has been snow in North Yorkshire, Coventry and the Peak District. The band is still moving southwards this morning as more snow showers appear in the far north and NE of Scotland. It is cold this morning, by Loch Ness has been down to -5C. Cumbria and Co. Down -3C and inland Wales was around freezing at dawn.
The northerly wind is making it feel bitterly cold. That will ease off for Northern Ireland this afternoon and then over western Britain. A moderate to fresh N then NW wind will only ease off this evening for eastern Britain but that backing of the wind will keep most of the showers out in the North Sea.
For most today, it will be a fine and bright day with plenty of sunshine but cold. This morning a few more wintry showers will clip eastern England and NE Scotland, that is the main feed to watch on the Netweather Radar app.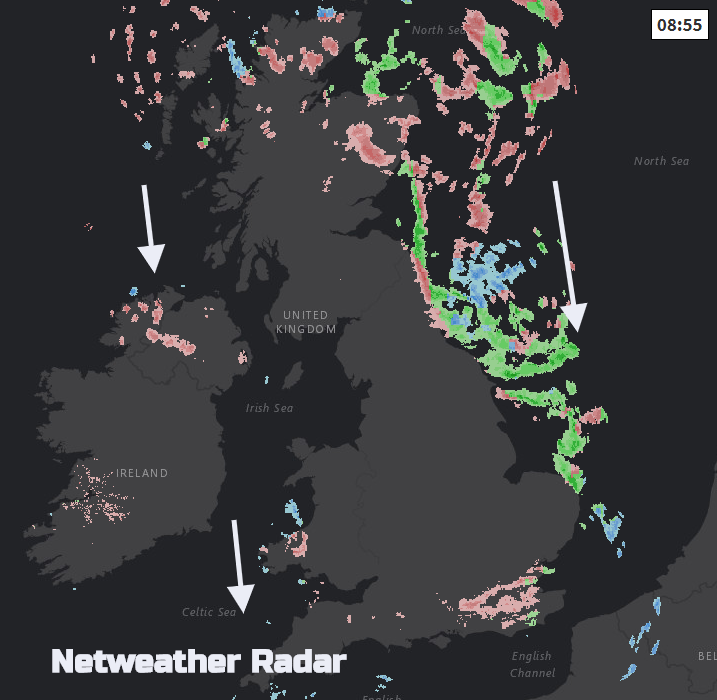 Although there are a few more moving south through Northern Ireland and a cluster for SW Wales (Pembrokeshire) into Cornwall and Devon. The frontal band over the M25 will take its flurries and clear away from Kent by lunchtime, so a better afternoon, but still cold. Temperatures will be around 4 to 6C today but feeling more like -3C in the wind.
Pressure rises through the day, settling things down as high cloud begins to appear from the west. It will turn cold and frosty tonight, again with the risk of ice. It looks dry for Britain as the last few wintry showers fade from Norfolk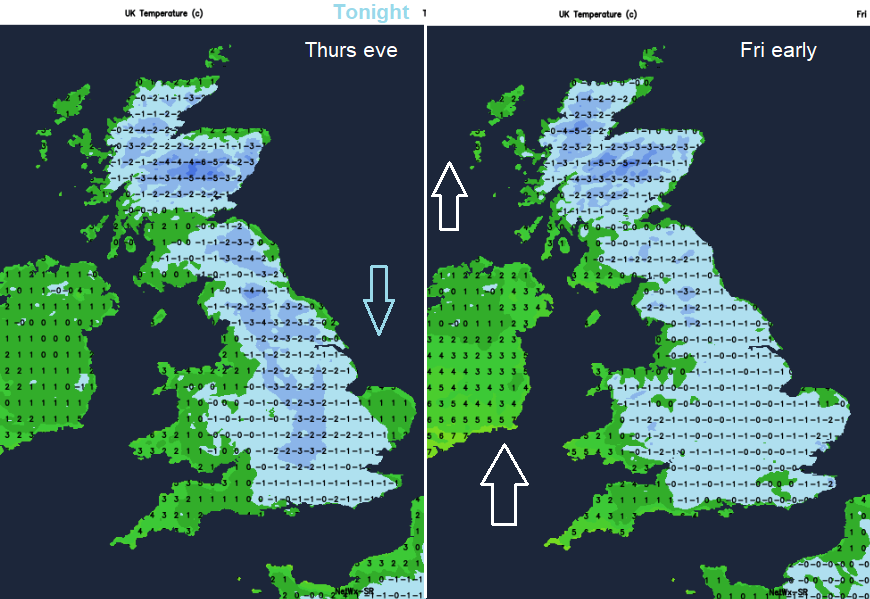 The high pressure is over Europe and as a new occluding low tries to move in for Friday, the frontal band falters. So, there will be cloud and rain with the risk of sleet, hill snow and ice for Northern Ireland for the Friday morning commute. Ahead of this, it will be a fine bright start but cold and frosty, without the raw wind of today though for eastern Britain. Venus and Jupiter were visible this morning, looking SE. Venus the brighter higher one, jupiter fainter nearer the rooftop.